Specialist doctors in Sri Lanka unanimously oppose 'Sinopharm' Chinese marala vaccine..!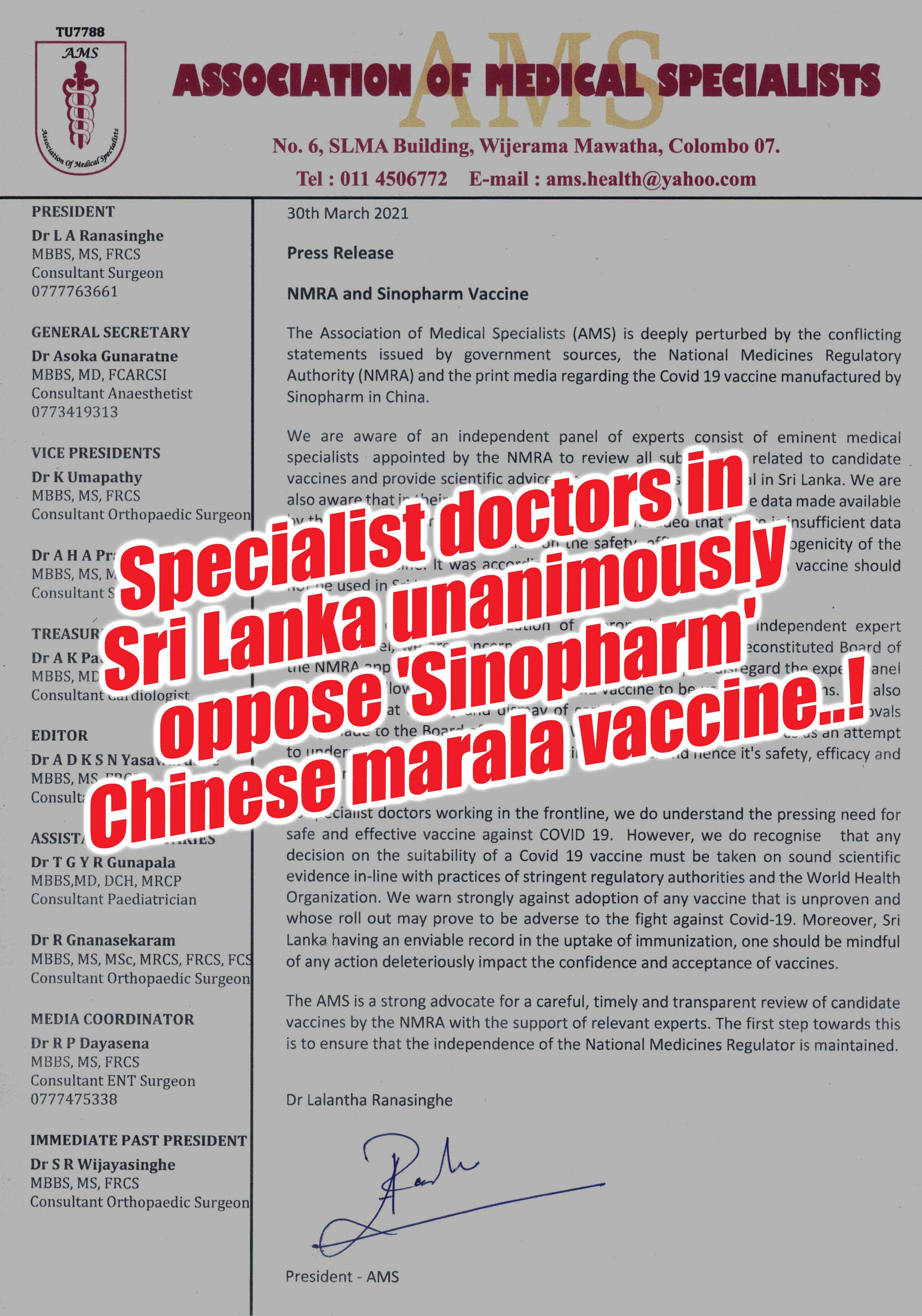 (Lanka-e-news-March 31, 2021, 4.45 pm) The Association of Medical Specialists has strongly objected to the illegal approval of the Chinese corona vaccine 'Sinopharm', which is unsafe and ineffective.
The full text of the official statement issued by the association as follows.
NMRA and Sinopharm Vaccine
The Association of Medical Specialists (AMS) is deeply perturbed by the conflicting statements issued by government sources, the National Medicines Regulatory Authority (NMRA) and the print media regarding the Covid 19 vaccine manufactured by Sinopharm in China.
We are aware of an independent panel of experts consist of eminent medical specialists appointed by the NMRA to review all submissions related to candidate vaccines and provide scientific advice for emergency use approval in Sri Lanka. We are also aware that in their report of 17.03.2021, after reviewing all the data made available by the manufacturer of Sinopharm, the panel concluded that there is insufficient data provided to make a determination on the safety, efficacy and immunogenicity of the Sinopharm vaccine. It was accordingly concluded that the Sinopharm vaccine should not be use in Sri Lanka under the present circumstances.
Despite this clear recommendation of a properly-constituted independent expert advisory panel, we are concerned about reports that a newly reconstituted Board of the NMRA appears to have taken an unprecedented step to disregard the expert panel opinion and allowed the import of the said vaccine to be used in Sri Lankans. We also note with great anxiety and dismay of certain arbitrary appointments and removals being made to the Board of the NMRA. We strongly believe such moves as an attempt to undermine the scientific basis of vaccine approval and hence it's safety, efficacy and acceptance by the general public.
As specialist doctors working in the frontline, we do understand the pressing need for safe and effective vaccine against COVID 19. However, we do recognise that any decision on the suitability of a Covid 19 vaccine must be taken on sound scientific evidence in-line with practices of stringent regulatory authorities and the World Health Organization. We warn strongly against adoption of any vaccine that is unproven and whose roll out may prove to be adverse to the fight against Covid-19. Moreover, Sri Lanka having an enviable record in the uptake of immunization, one should be mindful of any action deleteriously impact the confidence and acceptance of vaccines.
The AMS is a strong advocate for a careful, timely and transparent review of candidate vaccines by the NMRA with the support of relevant experts. The first step towards this is to ensure that the independence of the National Medicines Regulator is maintained.
Dr Lalantha Ranasinghe
President - AMS
---------------------------
by (2021-03-31 13:16:18)
We are unable to continue LeN without your kind donation.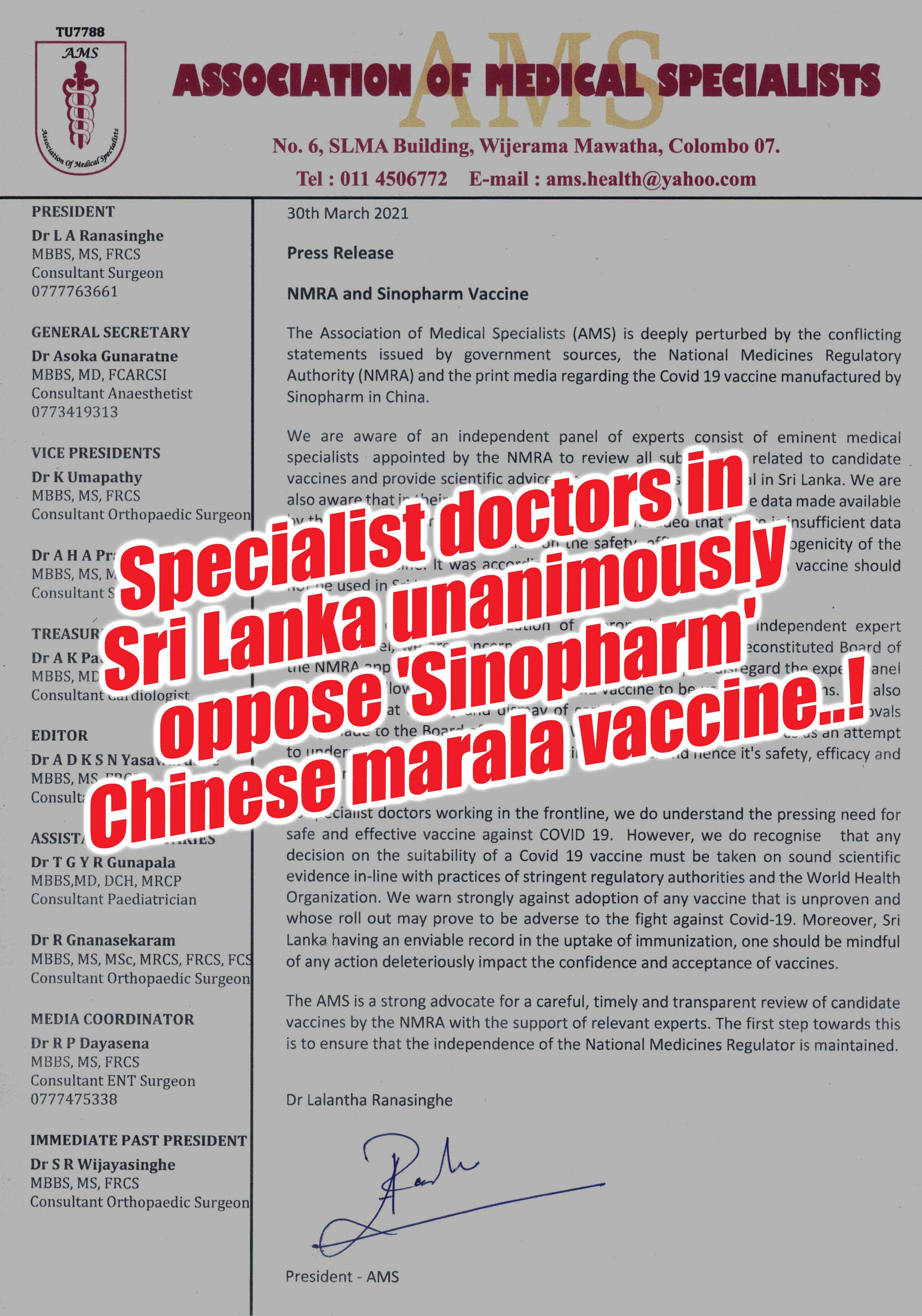 Leave a Reply