Many clauses of the Traitor Port City Act are unconstitutional ..! Two thirds majority and a referendum is needed ..! Supreme Court strips Gota regime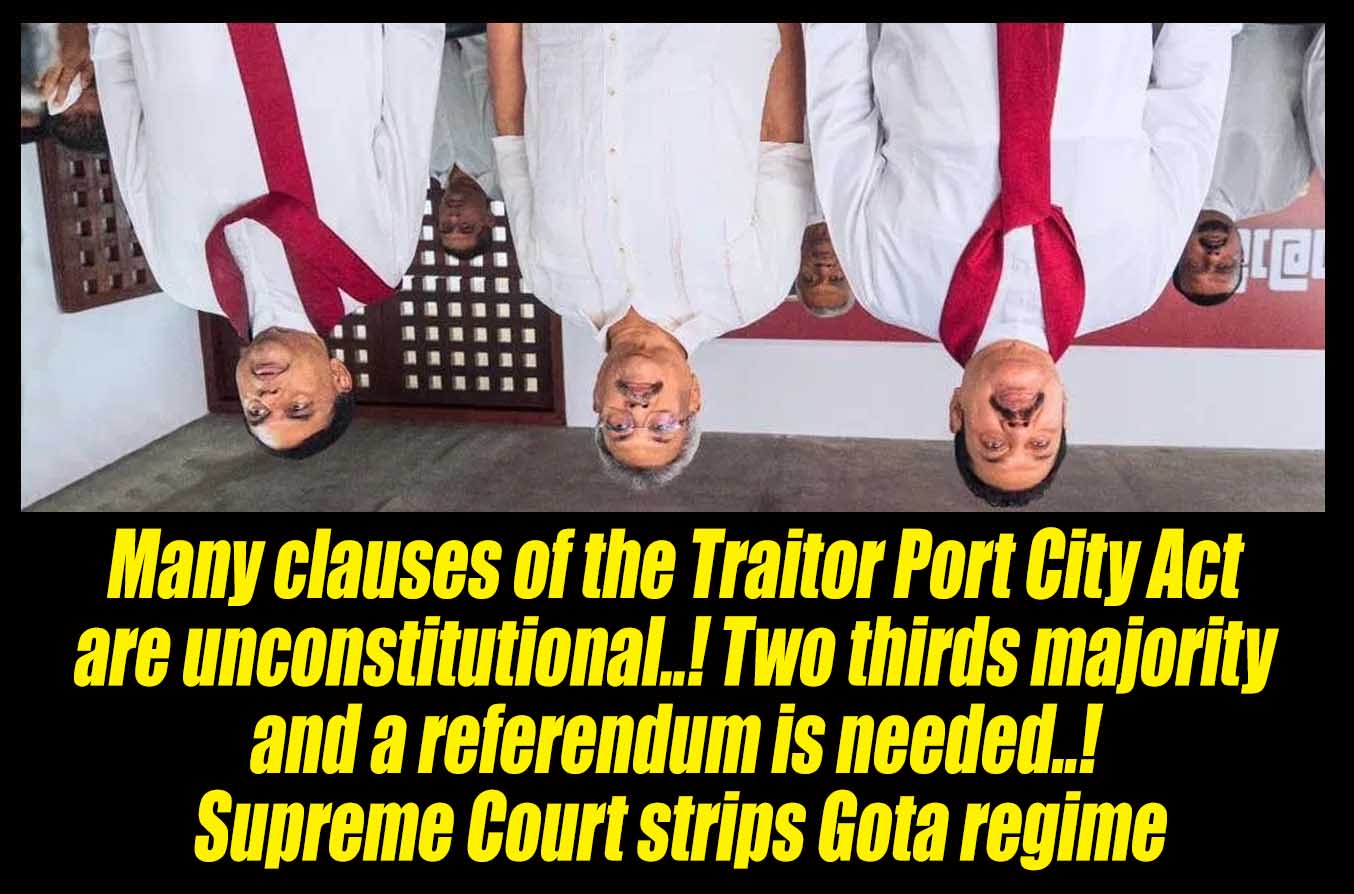 (Lanka-e-News -18.May.2021, 3.00PM) Similar to the Kandyan agreement that betrayed the country, many clauses of this agreement, that the Gotabhaya Rajapaksa government betraying the country to China are unconstitutional, The Supreme Court has ruled that not only a two-thirds majority in parliament but also a referendum, and bursted the treacherous efforts and protected the sovereignty of the people.
Accordingly, Bill 3 (4), 6 (1) (d), 68 (1) (e), 68 (3) (a), 52 (5), 71 (2) (j), 53 (3) (B), 53 (2) (b) All clauses are unconstitutional and must be approved by a two-thirds majority in Parliament and a referendum, the Supreme Court ruled.
The Supreme Court has ruled that all clauses 3 (6), 30 (3), 55 (2), 58 (1), 3 (5), 3 (7), 6 (1) (b), 30 (3), 71 (1), 74 (interpretation 'regulatory authority'), 30 (1), 33 (1), 40 (2), 71 (2) (o), 60 (d), 60 (e), 37, in the provisions of the Constitution are unconstitutional and do not require a referendum but must be approved by a two-thirds majority.
There is a separate department for the purpose of drafting bills in the Parliament of the country. The Supreme Court's verdict, that such a large number of clauses are unconstitutional shows that the legal draftsmen department of bills has acted like idiots who do not know the Constitution of the country due to Gotabaya political influence.
The Gotabaya regime after winning the election by a two third majority and strengthen it power by the 20th amendment became very dis-popular within a year. Going for a referendum at this time is suicidal. The best thing they can do is to repeal this treasonous bill rather than amend it and representing again.
The announcement is shown in the images below
The full verdict of the Supreme Court can be downloaded below.
https://www.lankaenews.com/home/downloads/82/Determination.pdf
---------------------------
by (2021-05-19 22:25:17)
We are unable to continue LeN without your kind donation.
Leave a Reply