How three Army intelligence chiefs involved in racketeering with narcotic lords..! Soldiers who knew these secrets are to be killed..!
We are in fear of death..! The soldiers in hiding write to the Secretary of Defense and the Army Commander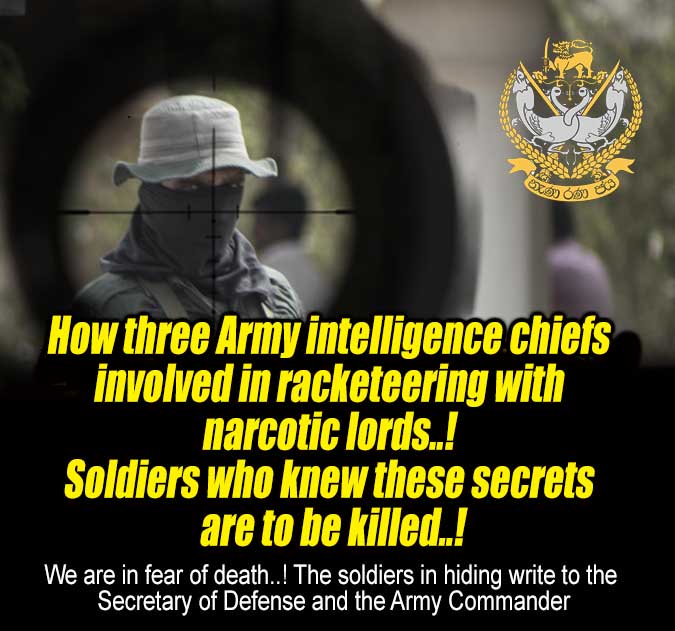 (Lanka-e-News -03.June.2021, 8.00AM) Colonel Shammi Kumararatne, the then Commanding Officer of the Giritale Army Camp, who was charged by the High Court as the first respondent in the abduction and murder of Lanka e News journalist Prageeth Eknaligoda, has joined the Army Intelligence following Gotabayas presidency and obtained cash extortions from drug traffickers. A group of intelligence officers who knew these secrets has been threatened to kill supposedly exposing of these secrets. These intelligence officers have made many revelations to the defense secretary and army commander about this in fear of their lives. The full written disclosure follows.
01 June 2021
Hon. Secretary Defense, Commander of the Army,
We are a group of soldiers who have recently been on drug raid duties in the military intelligence service. Hope you are aware of the recent large scale frauds at the Battaramulla Army Intelligence and the large scale robberies from the rich people the country. We engaged in those duties, were removed from those duties and attached to our original units, fear of exposing these large scale frauds and extortion.
We are in a trance..
However secretary of Defense, Commander of the Army, we are currently on duty are in hiding because of the death threats from the underworld leaders who associate with those corrupt officials. Due to this we live a secret life without even being able to live with our families. We have also given up the use of telephones because the intelligence services can locate us by phone. We humbly request that an impartial investigation be carried out into this serious crime to ensure the safety of our lives
How Shammi and Kasun started this racket..
This begins in February and March 2020 during the time of then General Hewavitharana. This was headed by Colonel Shammi Kumararatne. Under him, Major Kasun Karunaratne joined the Army Intelligence Unit on narcotic raids. Major Kasun was the best disciple of Colonel Shammi. Dematagoda Chaminda, a leading underworld leader in the country, and his brother Ruwan had links with another team and Colonel Mahathanthila. (As Chaminda is in prison, Chaminda's brother Ruwan is currently running the narcotic trade)
Although we report information independently while on duty, some officers deliberately did not act on those. When we found the reason, we realized that Dematagoda chaminda's narcotics are not apprehended but only the drugs of his opponents are apprehended. Although information about Chamida was given, his narcotics were not seized. The seized narcotics were also returned to Ruwan. The number of arrests made of Chamindas narcotics was very limited.
Extortion money unimaginable in numbers..
Under the guise of buying heroin, they demanded money from Colombo money lenders on interest on a repayment basis. Sometimes we were sent to collect this money but the money will never be repaid. They are ransom monies.
The money was received daily and the amount of money received for about a year cannot be calculated in numbers. Only a handful of the narcotics seized by the military intelligence were presented to the police. The hidden narcotics were returned to the drug lords by a team of Colonel Kumararatne.
Only a selected group of soldiers and selected police officers from the police and army were taken for these raids. Although about Rs. three million bonuses were received for the seized drugs, no other ranks involved in the operations have been paid to date. It is said that the money was shared by Colonel Shammi and Major Kasun. Although the Intelligence Board had given cash rewards to those who provided information, the money was not given to those who provided information. With this money Colonel Shammi and other officers has bought lands in areas such as Habarana and Ratnapura.
The mastermind is none other than Colonel Mahathanthila..
Recently, Colonel Shammi was removed from the Army Intelligence for some reason and attached to the Headquarters. Following that Colonel Chandika Mahathanthila, acting as Colonel (Intelligence), has taken over the division. But the mastermind behind these extortions is none other than Colonel Mahathanthila, who is also trying to impose us the fraudulent corruption and extortion activities carried out by Shammi Kasun and three other officers. At the same time we have been removed from duties and sent back to the preliminary units. Today we have no recourse and many have had to go into hiding for safety as they realize they are going to kill us in fear of their secrets would be revealed. We urge you to conduct an impartial inquiry into this matter as soon as possible and remove the threat on our lives.
Signed,
(Lanka e News will not reveal those names - Subtitles belong to us)
Translated by Robinhood
---------------------------
by (2021-06-03 02:41:01)
We are unable to continue LeN without your kind donation.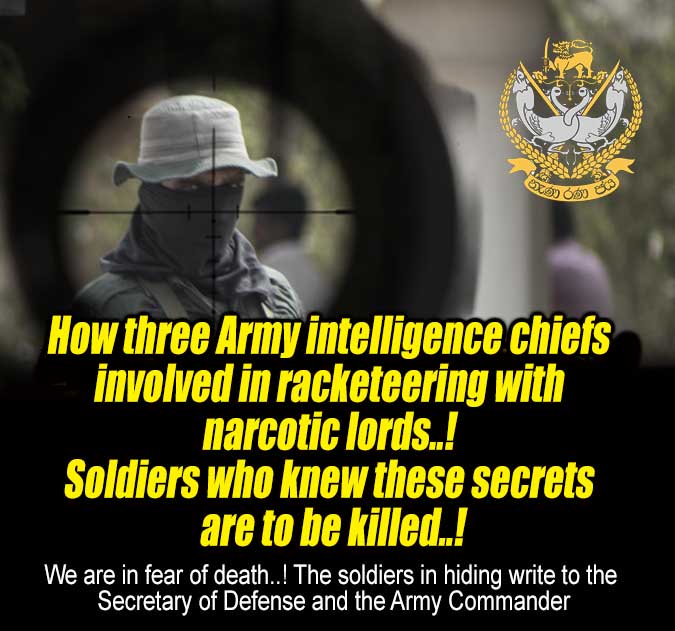 Leave a Reply