Deshabandu is a murderer, a traitor, a contract killer, he follows the footsteps of Vass, evidence in hand, start the investigation
By Keerthi Rathnayake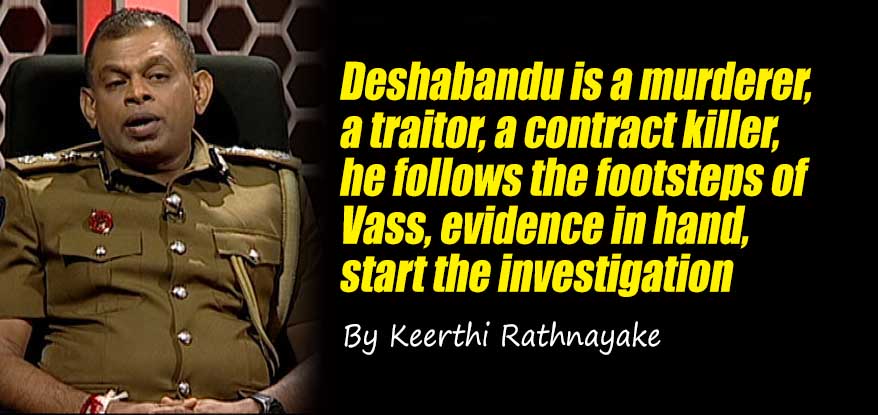 (Lanka-e-News -24.June.2021, 11.30PM) Lanka e News opposed the killings of the suspects in police custody by DIG Deshabandu. But there was a group which justified the killings of the underworld. Stepping up the rule of the law is characteristic of a mafia state. Sri Lanka is moving towards a land of the jungle law. Majority of Sri Lanka's police officers are involved in serious rackets. They are a group of criminals wearing Uniform. Some are contract and hired killers and another group provides protection for a selected group of criminals.
Police mafia is now in operation. Lanka e news owes evidence of Deshabandu's murders. Deshabandu's murder conspiracy is now unleashed towards honest police officers. Lanka e-News has evidence that Deshabandu receive money from underworld leaders and hunt honest police officers. Although Deshabandu shows that he is combating narcotics what happens inside is something else. That is an ironic confidential deal. Deshabandu receive money from one underworld group and kill the other underworld group. He took money from Kosgoda Suji and killed his enemy Kosgoda Tharaka. It is a story that can write a book.
The information about the Tharakas killing was first received to Lanka e news. We received information 24 hours before the killing of Tharaka. Lankaenews could inform Tharakas mother about his killing conspiracy before 12 hours of his murder. Moreover, Lanka e news could transmit the news to a number of powerful politicians in Sri Lanka. Tharaka's mother visited the Peliyagoda Police Station nine hours before his son's murder and appeal to the police. Following that all human rights activists and lawyers woke up. We exposed the murder of Tharaka by Deshabandu as we had all the evidence. Despite all revelation Deshabandu killed Tharaka.
Another evidence of the killings of Deshabandu..
There were two underworld gangs called Anju and 'Roha', in Mount Lavinia. Anju was residing in France and Roha was in Sri Lanka. Anju living in France wanted to kill Roha. He even shared a Facebook post that Rs. 20 million would be given to anyone who kills Roha. The money was later increased to Rs. 50 million. On September 23rd 2020 Roha was killed by a team operated by Deshabandu. Roha was killed by the Peliyagoda police hit squad. Deshabandu received the money. Followinng the killing, Anju carried out his crime with the blessings of the police. They fired at Soysapura Hotel in front of three police officers in the area. (See the video of the letter)
Telephone call for the president and the Secretary of Defense..
Anju's second is Dharmasiri. He is in Dubai. Soysapura shooting was operated by 'Dharmasiri'. After the shooting, Dharmasiri called the hotel owner and said to come with the Mountlavnia SSP and collect the empty bullets. (Mount Lavinia SSP Rohan Premaratne, who collected the empty bullets, has become the director of CID now) Zoysapura hotel shooting happened due to not paying extortions to Anjus underworld group) this was the group which shot the father of cricketer Dananjaya Silva. The President and the Secretary of Defense were very angry when they heard the Soysapura shooting through the media. According to the present system, the shooters should be taken to show weapons, but Deshabandu will not serve Anju's gang from the same spoon because Deshabadu is in the payroll of Anju.
Deshanbandu has violated the evidence ordinance, criminal procedure code, penal code and the establishment code..
Deshabandu unleashed a plot to save the criminals who did the Zoysapura shooting. Deshabandu discussed with Anja's group and presented a fake suspect and an old T56 weapon. Deshabandu received three million ruppes for saving the Sousapura criminals. However, the Mountlavania crime OIC Hettiarachchi had already apprehended the driver who drove the vehicle used for the shooting. Hettiarachchi also found a GPS chip in the vehicle. When checking the route of the vehicle more conspiracies of Deshabandu were found. Subsequenntly a clash between Deshabandu and IP Hettiarachchi erupted. Deshabandu illegally suspended IP Hettiarachchi's duty. Deshabandu conspired to kill Hettiarachchi. Despite nine months has exceeded no charge sheet has been given. Not even called at least for a proper investigation. It is a violation of the establishment code, violation nof fundamental rights, Evidence Ordinance and the violation of Criminal Procedure Code and penal code.
Police inspector victimized by Deshabandu's mafia..
At present under the influence of Deshabandu, underworld gangs including Kosgoda Suji, Kudu Anju and Dharme are thriving well. Mount Lavinia crime OIC inspector Hettiarachchi has been suspended and made an orphan for protesting against underworld activities. It is a great tragedy that the upper echelons of the police are dealing with criminals. IP Hettiarachchi is an alumnus of Dharmapala College. He completed the 42nd STF course and joined the police as a Sub Inspector. He was awarded as the outstanding Sub-Inspector of the course. He also served in the Prime Minister's security unit for some time. IP Hettiarachchi, who served in the STF for 11 years, joined the police force in 2012. IP Hettiarachchi was an expert in crime prevention. He went beyond standard framework and suppressed crime.
Suspending skilled police officers, courtesy to 'Most wanted' suspects Soysapura shooting took place on May 29th 2020. IP Hettiarachchi reported the matter to the Moratuwa Magistrate under case number 884/2000 on June 2nd 2020 and obtained an open warrant against Dharmasiri Perera. (Laid the background for Dharmasiri's arrest through Interpol) Dharmasiri Perera was arrested by Dubai police on November 28, 2020 for violating visa regulations. But the Sri Lankan police did not make effort to bring the 'Most wanted' Dharmasiri to Sri Lanka. Sri Lanka police lied that Dharmasiri had escaped from Dubai police custody. Meantime Deshabadu suspended Hettiarachchis duty who was investigating about Dharmasiri based on absurd allegations. This situation is a great tragedy.
Demonstration of a crime raid and the dirty media in Sri Lanka..
It is a sad state of affairs that the Sri Lankan police and the media are working together to spread outrageous lies. Although Dharmasiri was arrested by the Dubai police, the Sri Lankan police did not produce the documents required to bring him back. Accordingly Dharmasiri was released. The Sri Lankan police without performing their duties fabricated a lie that Dharmasiri had escaped from Dubai police custody. The Sri Lankan media, without any hesitation, spread such lies. Someone escaping from a Dubai police cannot happen. But the Sri Lankan media did not question it. However news of the seizure of kilos of narcotics can often be heard through Hiru and Derana media. Most of them are blatant supterfuge. Moreover, it is a foolish act and contrary to security principles to demonstrate a crime raid pointing out someone after the raid.
How Deshabandu and Kudu Salindu covered up the day light murder in Panadura..
In the Kalutara South a sub inspector was arrested for transporting 52 kilograms of heroin on the 18th. This SI was a best disciple of 'Kudu Salindu'. On January 25th 2021, at Palliyamulla Junction in Panadura, a gunman on a motorcycle killed a person travelling in a three wheeler with a T-56 weapon in broad daylight. The killig was carried out by Kudu Salidu. But DIG Deshabandu covered up the murder for a transaction of Rs. 20 million. The friendship between Kudu Salindu and Deshabandu is so great that it is common to call Kudu Salindu for any transfers in the Pannadura police division. When Kudu Salindu speaks to Deshabandu the problems resolves accordingly. If Kudu Salindu's emo number is checked, all his connections with Deshabandu could be revealed. Deshabandu can also locate where Kudu Salindu resides.
Sri Lanka police is an institution that assists crimes..
India currently has a number of wanted key Sri Lakan criminals in custody. Many of them have "Interpol" red warrants. But the Sri Lankan police are not working to bring them to Sri Lanka. This is because of the underhand cash transactions. All except Kosgoda Nandun in the list below are in Indian custody. If the Sri Lankan authorities want, Lanka e news can send all the criminals to Sri Lanka within a month. The details of Sri Lankan criminals in the custody of India as follows
1. Mohammad Mahir Mohammad Nawaz - The main suspect in the Rangajeewa assassination conspiracy
2. Kimbula Ela Guna - A suspect in the Chandrika targeted town hall bombing. A heroin king
3. Nallaperuma Thanthrige Dhanuka Roshan - an underworld leader
4. Sunil Gamini alias 'Kota Gamini' - Assassin of Provincial Councilor Sunil Mendis, the main suspect in the assassination attempt on Mangala Samaraweera
5. Stanley Kennedy alias 'Bumma' - Accused of multiple murders
6. Mohammad Afnas - A leading drug smuggler from Pakistan
7. Gamage Suranga Pradeep alias 'Welle Suranga' - an underworld leader as well as a drug distributor
8. Pradeep Kumara Bandara alias 'Police Bandara' - A heroin dealer sold heroine within the police premises. 23 kg of heroin was cught from his house.
9. Ahmed Sharim Mohammad Shihab - The owner of the private sector who swindled Rs. 300 million of public money.
10. Nandun Dharmawickrama alias Kosgoda Nandun (STF Nandun) - in Italian custody.
Deshabandu is following Vaas' footsteps..
Deshabandu is not the first DIG in the history of Ceylon to commit hired murders. At that time there was a great patriot named DIG Vass Gunawardena and a crime suppression star. Vaas was also more sympathetic to Gota than Deshabandu. He has close contacts with Mahinda and Shiranthi. But today he is in Welikada Prison. That's because of hired murders. It was proved that it was Vass Gunawardena who abducted and killed the millionaire businessman Mohamed Shiam. Mohammed Shiam is just one murder of Vass Gunnawardne murders. Deshabandu is following in Vaas' footsteps.
In a country ruled by a people whose philosophy of life is theft and corruption, it is inevitable that there will be a legal framework that supports crime. There is also a culture of praising crime. That is what has happened in Sri Lanka today. The facts are therefore that citizens should be keen to identify foxes covered in lion skin as well as wolves in sheep skin. Instead of applauding the corrupt, there should be a backbone to extend the finger.
Keerthi Rathnayake
Former air force intelligence officer
Translated by Robinhood
---------------------------
by (2021-06-25 00:22:28)
We are unable to continue LeN without your kind donation.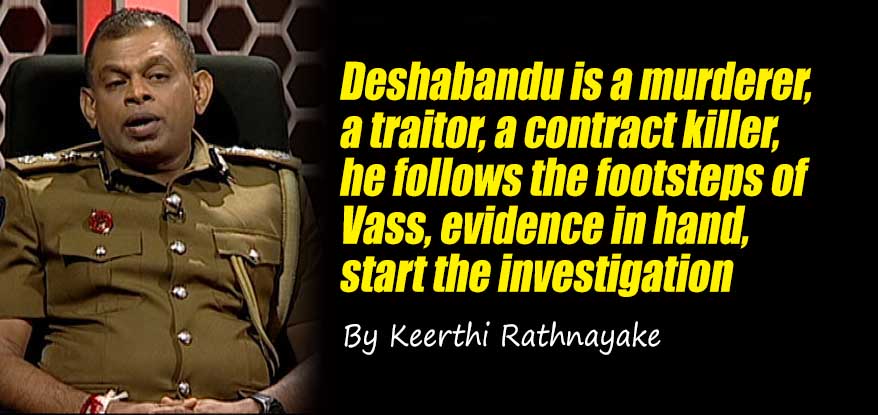 Leave a Reply