A non-political review of Political Roles of Ranil Wickremesinghe
By JR Mallawarachchige (Part 1)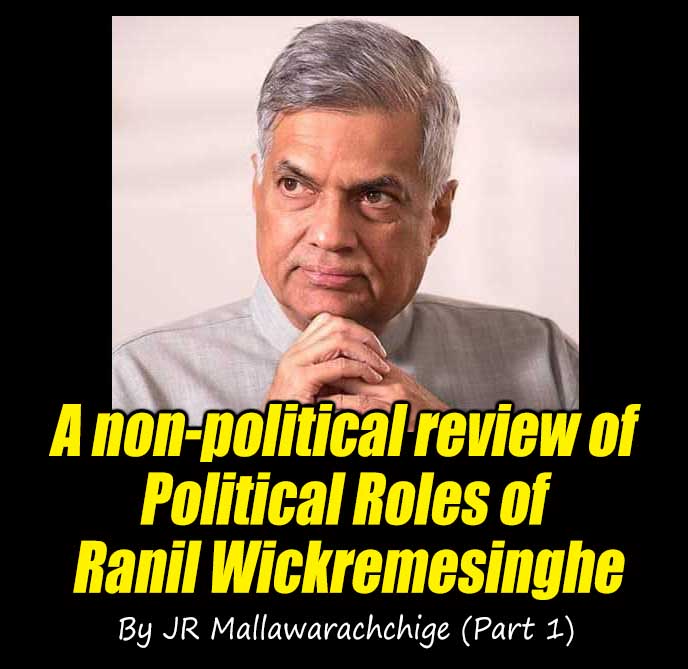 (Lanka-e-News -26.June.2021, 8.10AM) Ranil Wickremesinghe was a 28-year-old young handsome man when he first appeared in politics from the Biyagama electorate in the parliamentary elections in 1977. Today, he has completed 72 years of his life and 43 years of his continuous political career. Some critiques say, Ranil is a political visionary and a mature politician. However, four decades later, the people rejected him, leaving only a precisely random opportunity to "survive" in politics. Apparently, this is Ranil's last chance to stay in politics has been secured by the national list of UNP, and on taking oath as parliament member on 23rd June, Ranil had a rebirth in Politics. He himself must find the answer to the question of "how he will use this opportunity constructively! Meanwhile, 43 years later, it is obvious that he has no other 43 years left to raise from the hindrance him and his party encounter today!
Ranil's political path not a free-highway..
Starting as the youngest minister in JR Jayewardhana's cabinet in 1977, Ranil completed a long political journey. He accomplished all the tasks delegated to him. In his early social-political developmental assignments, he showed a creative management skill comprised of problem-solving skills and constructive outcomes. In particular, he revitalized the National Youth Services Council by transforming it into a major national project. He contributed to the political management of numerous disciplines, during his tenure as Minister of Education and Minister of Industrial Science and Technology; his accomplishments were creative and constructive and long lasting.
Over three decades from 1977 to 2009, the country was persistently confronted with a severe socio-political upheaval. The country was subjected to unceasing genocides. The consequences of these upheavals are not still being studied on a scientific or humanitarian basis. As a nation, Sri Lanka did not understand the destruction it caused to the country, did not plan for the future. The result of this failure was the barbaric attack on Easter Sunday in 2019. In general, Ranil was a prominent political activist at a time when all these socio-political and economic upheavals were taking place in Sri Lanka. In this scenario of Sri Lankan Politics, Ranil was one of the leading politicians who had been subjected to severe socio-political humiliation and misrepresentation during this period.
Ranil is a Politician..
Among many moderate viewers, in general, it is believed that Ranil is a polymath. He has a broader knowledge of the world. Ranil had an inherent personality and maturity in politics because of the facts such as the family environment he grew up in, being influenced by prominent intellectuals, and spending his life with literature. After JR Jayewardhana, Ranil Wickremesinghe was the leader who participated in many diplomatic events attended by a Sri Lankan politician. Among many Asian leaders and politicians, Ranil was one of the most prominent peer politicians. In diplomacy and international cooperation and affairs, Ranil maintained an outgoing personality, management skills, and was a recognized political scholar. Comparing to the "gallery politicians"(who win elections), at the grassroots level in Sri Lankan politics. Ranil is a "great politician" in its fullest sense. He deserves the qualifications and legitimacy to be called a politician.
He has the ability to reach a deep political vision to the country. Whenever he came to power he spoke of democracy and its political concepts etc. Often, Ranil sought to solve socio-political problems, in civilized and strategic manners within the context of democracy. Today, among many politicians, Ranil is the only politician who can be expected to build a political vision and project that the country needs based on key socio-political-economic theories and concepts. But, when he had gained power in 2015, He did not have an understanding of the people's aspirations, national requirements. He did not assess the people's position in a "bastardized socio-political system" of the country.
Ranil was the last Sri Lankan politician carrying many humane and mature political traits and characteristics descended from "real leaders" such as DS Senanayake, Bandaranaike, Dudley Senanayake, Sirimao Bandaranaike, and JR Jayewardhana. Ranil's existence in politics establishes a range of variables specific to him his political practice. He was the Prime Minister of Sri Lanka a most number of times from 1977 to 2019. He also held the position of opposition's leader in the parliament for the longest time. Also, he is today at the rejected end of this range and has to start as an ordinary parliament member. All these characteristics determine the fact that how long a human can go in the path of politics he plunges and the space he can experience in politics. Ranil has become a historical political model which consists of a political persona of his own.
No power struggle but not giving up once in power..!
JR Jayawardhana is considered to be the most creative leader of the UNP, for this claim, the strongest factor is that he led the way to open Sri Lanka to the world after its independence in 1948. There, a young politician like Ranil is exposed to a vast range of experiences. Later among these experiences, Ranil enhances his political knowledge and his political "run-through". However, today it is clear that he did not study "what needs to be changed" among some of the lessons he learned that day. In particular, certain structures of Jayewardene's political theory had to be reformed or eliminated later. In this respect, Ranil was the most suitable pilot to lead that process. However, along with his growth in politics, Ranil did not go to power struggles within the party until the opportunity was accessible itself. When Lalith Athulathmudali and Gamini Dissanayaka left the UNP, Ranil was one of the members who should have been there in that group. But, he did not leave Premadasa. After Premadasa's death in 1993, Gamini Dissanayaka returned to the party and took over the leadership, but Ranil did not instigate any power-fight with Disananyaka.
Becoming the Prime Minister in 1993 may have been a tribute to his patience. By 1994, all the senior leaders of the UNP had ended their political careers. At the time, Ranil was 45 years, he was in a somewhat mature political background. On the other hand, it may have been a serious challenge for him to lead the party under in complex social-political situation in the country. From the moment he became the leader of the party, he worked hard to protect the part from both external and internal conflicts and even he had to bear the damages it made to his self-respect and personal life. In particular, the period between 2005 and 2015, Ranil engaged in a lonely political struggle within the UNP. Conflicts within the party were so severe. He confronted the conflicts opportunely considering the then circumstances. The pressure on Ranil to step down from the UNP leadership and hand it over to someone else has intensified since 2005. Among all these pressure and threats, Ranil's perseverance to stay in the party as its leader marks his great patience. The general opinion was that if Ranil had left, the UNP would be destroyed. Some said that this was a "political ploy" that Ranil plays as usual.
Never in the recent history of Sri Lankan politics, has no politician been blamed more than Ranil. To this end, conflicts within the party should be studied as a subject of a political lesson. There, the basic principle to be learned is that it was the people who decided the cost of the party's internal strife, it was the end of the party and people paid the cost. Again, UNP will never get an opportunity that is similar to what they had in 2015. Today, Ranil and the UNP have a rare and solitary chance left to resurrect and stand up.
Ranil did not have a sufficient understanding of how images are formed in modern politics which is established in the country after 2005. Also, his party did not have the unity or holistic standpoint that should exist within an established political party. The conflict that the party struggled with insulted the basic human intellect and human maturity. It socialized the fact that the very presence of the UNP in the country's politics was a burden to the country. Ranil was not adequately assertive to deal with the "bastardized socio-political culture" that emerged during his presence in active politics. Ranil had no idea how to lead his party in this context of politics. But, he could centralized power around his leadership, managed and led the party for a victory in 2015. After a long run complexity, Ranil was able to bring the UNP into active politics by gaining the premiership for himself.
Ranil's political roles and characters..
As the array of Ranil's political roles are concerned, he demonstrates a variety of characteristics or practices. At times he behaves like a "political-naive", at other times he acts like a "great political genius". Often, he is either rejected or accepted by people within these extremes. Most characteristics of his roles in active politics are not constant or focused on a purpose; especially he has no sense of leadership and control over his clique. There were occasions, he turns himself to a position of a custodian and protects his colleagues who play out or abuse their power. However, among many admirable traits in Ranil's political career, the most praiseworthy characteristic is his "genuine" and "non-abusive" political practice, for which he is known as "Mr. Clean" in popular political media.
Even in a ruthless criticism or mud-slinging campaign against Ranil, his political rivals never used the terms "Ranil is a robber". Ranil maintained an ethical-political practice and did not involve his family in politics. There is no evidence that he ever used his power for personal gains. He did not summon his family members into politics and his family members did not abuse his political power. Compared to the political behavior of the Rajapaksas, Ranil is a "great saint" in politics. He has been subjected to all possible insults unique to socio-political culture of our country, to which Ranil responded with a non-aggressive response and tolerance. In a country like ours where there is an abusive mass media practice, Ranil never tried to "bloat" his image through the free media which he treated as a pillar of democracy.
Among his roles in politics, the most prominent characteristic was the "Political- Naiveté" when members of his own government or another government abused the state property; Ranil maintained silence or ignorance. His silent response meant a clue such as, "Let any of those buggers abuse anything they want, I don't mind, I don't do that!" This irresponsible behavior in Ranil's politics reached its climax in 2015-2019 during the government of "good governance". A priceless abuse took place when the country's treasury was assigned to his best friend. Ranil remained silent, signaling that he was responsible for the abuse. He defended his friend and betrayed the referendum and disrespected it. It was the ugliest "black scratch" in his political career.
Though people accepted and paid tribute for his long-term patience by giving him a golden opportunity in 2015, Ranil did not make the justice for that opportunity. He did not capitalize on that opportunity. Four years later, in response to Ranil's dereliction of duty, the people ruthlessly decided the end of his politics without showing him any gratitude.
Ranil cannot capitalize on political opportunities..
When Ranil became the Leader of the United National Party and the Leader of the Opposition in 1994, an opportunity was opened for him to go on a long political journey. Although Ranil was politically stable from 2002 to 2004 he did not have a far sight, he was unable to liaise with the then-president Chandrika Bandaranaike. Ranil ridiculed Chandrika's attempt to abolish the executive presidency. It was the onset of the current bastardized social-political system where several Sri Lanka's Freedom party members defected to UNP! During Chandrika-Ranil's rule, both of them were in equal social-political equilibrium, there were many stances for them to work together irrespective of the differences of their political parties, and they had similar socio-political ideologies. Ranil's political "immaturity" was well demonstrated during this period. When Chandrika ended her tenure as the president and retired from Politics, Ranil could not get there and secure his place in her absence because of his dearth of far-sighted political vision.
Mahinda Rajapaksa actively used tactics Ranil introduced to destabilize Chandrika's government. In 2007, a group of 17 parliament members of the UNP went to strengthen Mahinda Rajapaksa's hands. Although the defections in party-led politics are not strange practices in Sri Lankan politics, in the socio-political culture that emerged after 1977, this political game has made sarcastic damage to the country's social-political culture. And its consequences are now being uncontrollable and devalue the referendum and abuse people's preferences. However, Ranil's short-sighted political practice at the time kept him in the opposition until 2015. Similar to his early errors, in 2019 he experienced the same error caused by his short-sightedness. Though Ranil's political personality is matured and intellectual, his political usage, and adaption have three strongest voids as inability to capitalize when he has the opportunity, impractical political stratergies, and inability to plan and construct the future.
Ranil is an enlightened politician but not a problem solver..!
After 2002-2004, Ranil had his second golden opportunity in 2015. Even, after a long stay as the opposition leader, Ranil did not have the feeling or vision on how to use his leadership and his party he had defended for a broader national political mission in 2015. The country did not get the benefits it needed from Ranil's mature politics at the right time. When the country needed a strong "leadership" Ranil did not build it! He intentionally or unintentionally avoided the opportunity and did not use unique political beliefs or insight of his political characters to build a decent humane socio-political environment in the country.
A Politician in active politics should always master the skills and strategies of gaining and retaining power. On the other hand, such power should be transformed into "leadership" by standing up for and fulfilling the objectives of the people who empower the politicians and look for leaders. Ranil was smart at "hanging on while skipping hurdles". But, the result of the hanging or skipping did not bring the desired benefits when he had the opportunity and in a moment country needs such benefits! In practical politics, Ranil's "inability" is more intense than his "ability". The "anarchy" in the country today begins with the end of the war in 2009. By 2015, the country was at its worst; it turned into a state where wild beasts rule the country!
The problems faced by the people at that time were immense when Ranil secured the power to bring up good governance for the country. The life of the ordinary citizen grasped by the problems in their daily existence; such problems were ranging from admitting a child to a school and giving a sum of 250 rupees to a helpless elderly citizen. Both the country and the state were declining and the country needed a "problem-solving mechanism". More obviously, it needed a leadership to start up this problem-solving mechanism. Against this backdrop and "anarchy", the majority of the people endorsed the "concept of good governance" that Ranil created and socialized. To this end, it is pertinent to note here, more than the value of the concept of the good governance ,the people believed and hoped that Ranil "will lead" that good governance operation!
(Please expect the part 2 of this article as well)
JR Mallawarachchige
---------------------------
by (2021-06-26 02:48:18)
We are unable to continue LeN without your kind donation.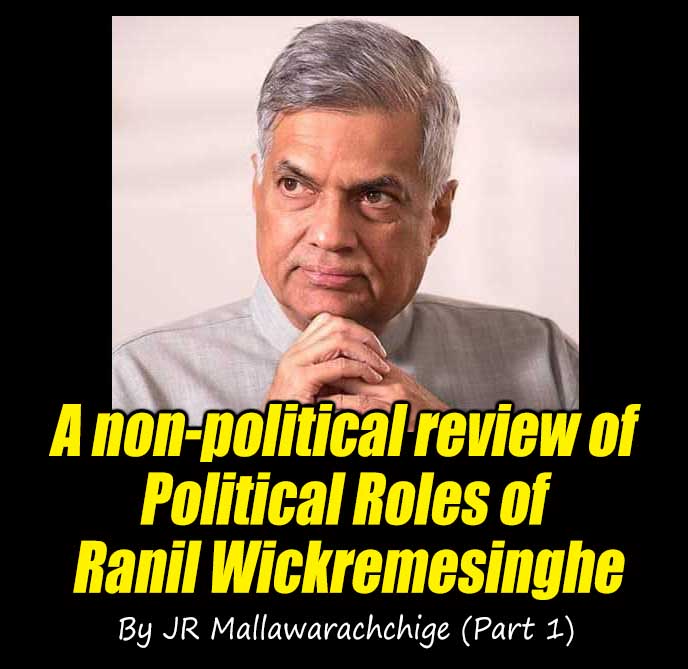 Leave a Reply