Conspiracy to cover up 52 kg of heroin raid caught with SI..! The real owners of the drug stocks are Raththaran Rohitha and Deshabandu? War within police starts
An exposure by Keerthi Rathnayake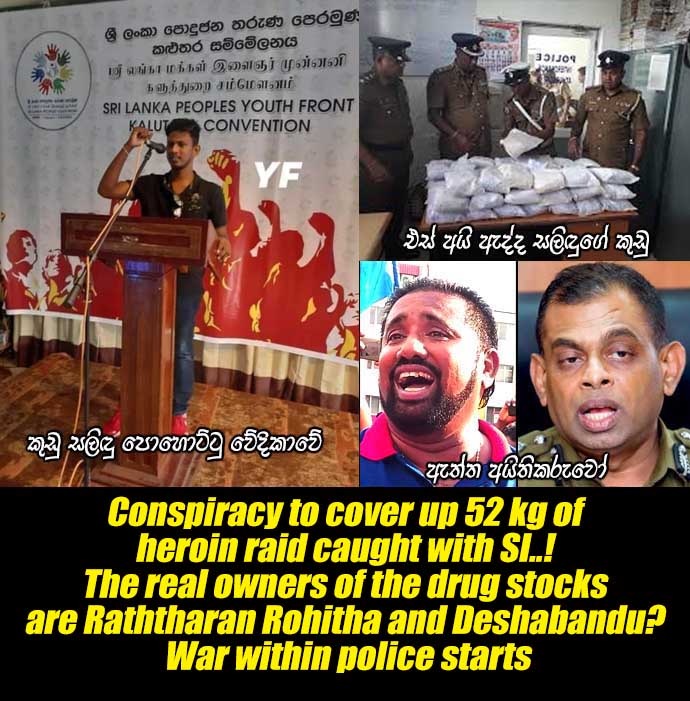 (Lanka-e-News -27.June.2021, 12.05PM) On June 18th a sub-inspector was arrested with 52 kilograms of heroin. I police history 52 kg heroin raid is a small quantity. Loads of powder containers have been seized in the past. But at no time did the senior DIG call a press conference. However, a group of senior DIGs including Ajith Rohana and Pathinayake appeared before the media after the arrest of 52 kilos of heroin this time. This was due to pressure from another powerful party to cover up the raid. In the face of this situation, the police in Sri Lanka have been divided into two groups as Sura and Asura and the Police Sura Asura war has begun.
Kudu Salindu is an ally of senior DIG Deshabandu..
The seized heroin was found to belong to Salindu Lakshitha alias Kudu Salindu, an underworld leader in the Panadura area. This sub inspector is a best disciple of 'Kudu Salindu'. The heroin racket is being carried out with the full blessings of Senior DIG Deshabandu.
Salindu and Deshabandu are so close that when a police officer in Panadura has a transer problem he goes to meet Kudu Salindu to solve it. The problem resolves inn a single call given from Kudu Salindu to deshabandu. The connection between Kudu Salindu and Deshabandu is known to the entire police force. Salindu's gang committed murder on January 25th 2021 in broad daylight in Panadura. The murder was covered up by Kudu Salindu's colleague Senior DIG Deshabandu. It is a transaction of Rs. 20 million. There are many such incidents known to the police.
Here is the Rohitha - Deshabandu - Salindu, drug triangle..
On June 18th 2021, the Sub-Inspector transported heroin with his uniform. Police investigations have revealed that this Sub Inspector is Deshabandu's henchman. It has also been revealed that the news published by pro-Deshabadu media that Salindu had gone abroad is untrue. It was Deshabanduma who gave that false news to the media.
Police investigations have revealed that the Kudu Salindu is in Sri Lanka. According to a secret police report Kudu Salindu had been living under the shadow of ports minister Rohitha Abeygunawardena alias 'Raththaran'. Kudu Salindu Pohottu has spoken on stage to support Rohitha in the last election. Salindu has also been a major philanthropist in Rohitha's election campaign. (A photo with relevant evidence is shown here)
Would salindu become a prey of Deshabandu's hit squad?
A special team led by senior Dig Pathinayake has launched a special operation to arrest Kudu Salindu. If Salindu is arrested, Deshabandu is sure to suffer the same fate as DIG Vass Gunawardena. However, Deshabandu is likely to get activated before Pathinayake. If Deshabandu's kills Kudu Salindu with his 'Hit Squad the story would end without evidence. There is even a chance that Salindu will receive the same kind of support as Nimal Lansa. These officers can be silenced in the same way that Mount Lavinia crime OIC was silenced. It is now clear why a group of senior DIGs held a press conference for the first time in history.
A numbing true story..
This writer has previously stated that Deshabandu is not killing underworld leaders with the pure intention of curbing crimes. It is contract killings that are funded by one party. Arbitrary killings have caused another catastrophe. With the killings of the underworld leaders, the control of the heroin market has been lost to everyone, including the government and the underworld leaders. Drug dealers are littered everywhere. The supply is high. A packet of heroin which was Rs.3000 before has been reduced to Rs.500 today.
Another heartbreaking story about this is a top political figure in Sri Lanka is planning to become the 'Drug Godfather'. He plans to conquer the drug market through a Muslim drug lord. DIG Pathinayake of the CID received information about the 52 kg stock of heroin. There is evidence that DIG Deshabandu is involved in this racket. Due to this incident and other incidents, the police are now divided into two gangs. As the racketeering police gang and the non-racketeering police teams.
Deshabandu is the leader of the racketeering gang. The anti narcotics chief and the head of CID is in the racket. DIG Pathinayake, Ajith Rohana and others are with the non racketeering group. Sarath Weerasekera is also with the Deshabandu racket team.
Keerthi Rathnayake
Former air force intelligence officer
Translated by Robinhood
---------------------------
by (2021-06-27 06:42:19)
We are unable to continue LeN without your kind donation.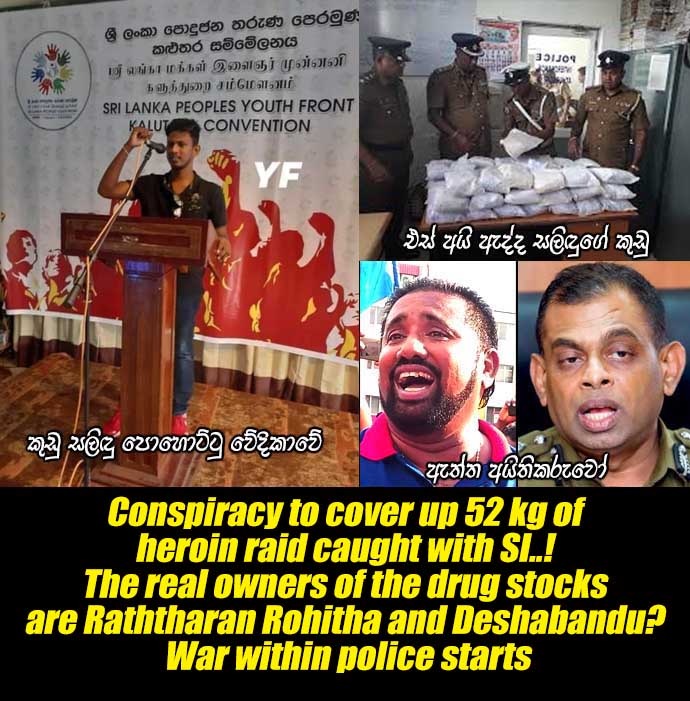 Leave a Reply