Judges, lawyers, detectives, danger..! Danger..!! Danger...!!! Death threats following Kudu Duminda's release by his underworld disciples who grew up in freedom
Chadrapradeep writes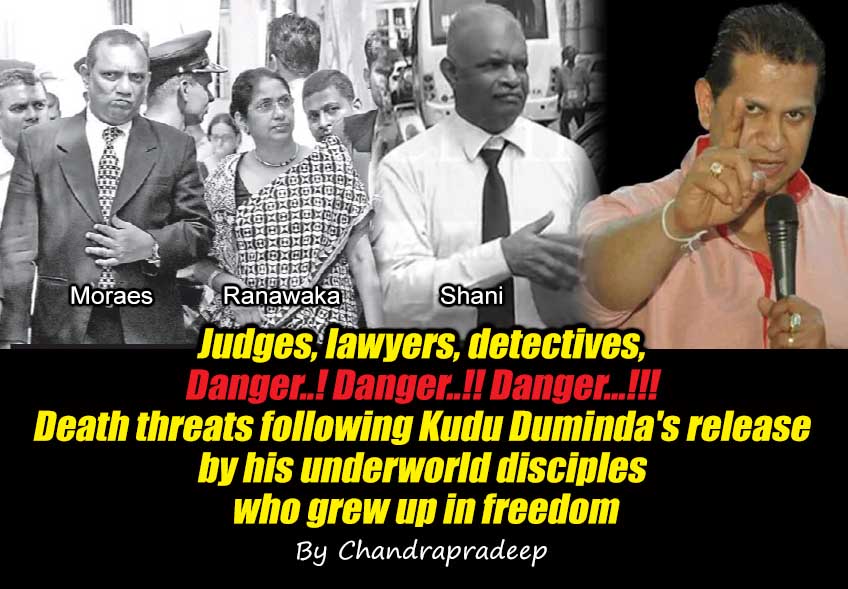 (Lanka-e-News -30.June.2021,3.00PM) Arumadura Romelo Duminda Silva alias 'Kudu Duminda' who was a mass murderer as well as a drug kingpin of Sri Lankan drug trafficking was released from prison unconditionally and sent home. Lanka e news is reported that high court judge Padmini Ranawaka who pronounced the first death sentence to Duminda and the judges who upheld the death sentence, Thusitha Mudalige, the lawyer who prosecuted Kudu Duminda on behalf of the Attorney General's Department and Shani Abeysekera who conducted the CID investigation has death threats.
With the release of their leader, Kudu Duminda's underworld comrades are chanting "We will take revenge on all those who executed our boss".
The easy targets of these underworlds are retired judges who currently have no protection. Kudu Duminda was first sentenced to death by High Court Judges M.C.B.S. Moraes and Padmini N Ranawaka. The appeal court judges Nalin Perera, Buwaneka Aluvihare, Priyantha Jayawardena and Vijith K. Malalgoda presided over by Chief Justice Priyasad Dep upheld the judgment.
Retired judges have more threats..
Former Chief Justices Priyasad Dep, Nalin Perera and Padmini N Ranawaka have retired. The biggest threat is to them. Judge Chamath Moraes is safe because he is in duty in Fiji. Since Priyantha Jayewardene is a pro Rajapaksa ally he has no threat. Although Buwaneka Aluvihare and Vijith K. Although Malalgoda are on duty now with security they too were not unaffected by Kudu Duminda's underworld.
His brother Reno de Silva's who campaigned for the release of his brother Kudu Duminda campaigned mostly through his drug channel targeting Padmini Ranawaka who proouced the first death sentence. Padmini Ranawaka was in vain insulted and subjected to revenge by the voice of a stupid actor who is now imprisoned because of his mouth. The revenge was so great that even though she retired, her pension has been suspended to this day. Judge Ranawaka had spoken with a stupid actor on the phone shortly after Kudu Duminda's verdict was announced, but Reno de Silva was sly and created a false impression that she had influenced Kudu Duminda's verdict. This has now ingrained in the hearts of the underworld disciples who are overjoyed with the release of Kudu Duminda.
Thus, the most threatened judge is none other than former judge Padmini Ranawaka.
Threats against Shani and Thusitha Mudalige..
Attorney-at-Law Thusitha Mudalige who prosecuted Duminda is now ill and SSP Shani Abeysekera who conducted the investigations against Duminda, has been suspended and his firearm seized. Therefore, they are easy targets of Kudu Duminda's disciples.
Shani Abeysekera is already under serious threat. It happens with the most despicable ban on the work of that outstanding detective. Police seized not only the pistol and gun provided to the detective but also ammunition bought with his personal money with the permission of the Ministry of Defense. Now the great police detective who convicted and prosecuted about 82 major crimes from 1996 to 2020 until his duty was suspended is disarmed and made him an easy target for the criminals.
Shani will be suspended on January 7th 2020. Later that night, a man spoke on his phone in a female voice, threatening to kill not only his life but also his wife and two children.
Be ready to carry the corpses of your wife and children..
The person calling from a VOIP number marked 501 and threatened Shani as "You F . . .all your acting is over now, We are very happy now, Instead of washing pots at Ranjan Ramanayake's house, come and wash pots in my house pots. We have been waiting for a long time to give you a good treatment, before we take revenge from you, be ready to carry the corpse of your wife and two children. How happy we can be to see what we do for you and your family. You son of a bitch we will never keep you alive. We can see wherever you are going. You will be burned to death, remember this is our turn now"
He informed about this to the IGP in writing the next day, unfortunately until to date no investigation has been carried out but he was remanded in custody. It is very easy for Gotabhaya's security forces to find out whether the VOIP phone number 501 is legal or not but they deliberately neglect, Doesn't that mean that the Gotabaya government is involved in that threat?
Shani Abeysekera, who was released on bail today, is also under serious threats from henchmens of the drug Kingpin who have revived up with the release of Kudu Duminda.
The threats of Kudu Duminda's disciples cannot be ignored..
"We will take revenge on all those who executed our boss." Lanka e News does not ignore the above threat imposed by Kudu Duminda's followers because they have a lot of money in their drug network and there is nothing that money cannot do in Sri Lanka, and we have a good assessment of what can happen in a Sino-Rajapaksa colony where the police and the CID have become the Rajapaksa's checkpoint, combined with the state power of the Rajapaksas.
Judges, lawyers, detectives, danger..! Danger..!! Danger...!!!
Chadrapradeep
Translated by Robinhood
---------------------------
by (2021-06-30 09:35:11)
We are unable to continue LeN without your kind donation.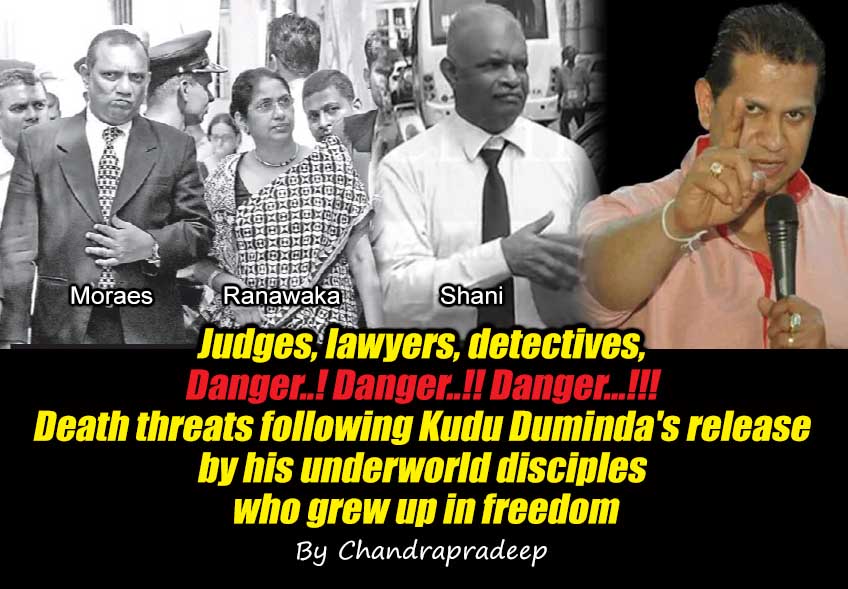 Leave a Reply