A cabinet paper from Namal to sell all the stadiums in the country including Sugathadasa, Khettarama and Diyagama ..! Here is the evidence..!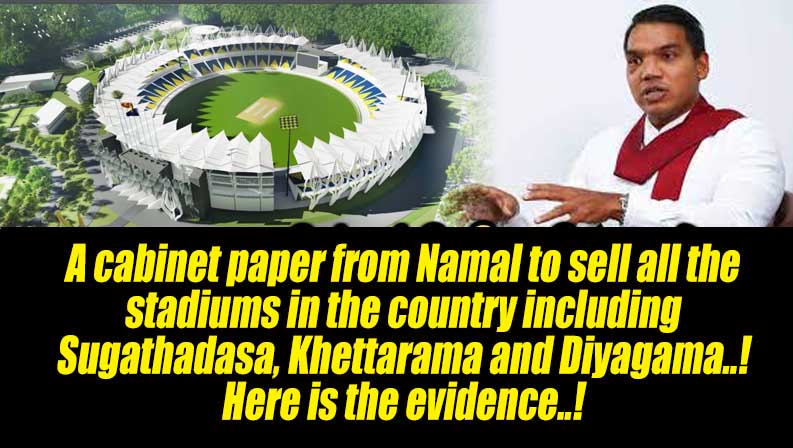 (Lanka-e-News -11.Aug.2021, 4.15AM) Sports Minister Namal Rajapaksa is preparing to present a cabinet paper Monday 9th on the sale of stadiums under the Ministry of Sports and all stadiums maintained by the Municipal Councils and Pradeshiya Sabhas across the country.
Lanka e News has received a summary of the Cabinet Memorandum on the Cabinet Meeting to be held today at 5.00 pm through Video Conference Technology. The plan is outlined on 11th page of the 30-page document.
Namal have resorted a pseudo-tactic to suppress this conspiracy, which is a very serious matter. He has attached a cabinet paper as a verdict given by a lawsuit for Avant Garde to resume its business. He is planning to stifle this highly treacherous scheme by sparking public protests against the hated Avant Garde Company.
According to Namal, there are major stadiums under the Ministry of Sports and the Department of Sports Development, as well as provincial stadiums, district stadiums, municipal stadiums, pradeshiya sabha stadiums, state institutions and semi-stadiums under the local government of the country unable to perform maintenance. Therefore, it has been decided to do all this on a profit basis under self-financing control with the participation of public-private partnership (PPP). To this end, it will seek to enter into agreements with private investors. Namal has sought the approval of the Cabinet. (A copy of this Cabinet Memorandum is shown here.)
Namal has misled the people with his cabinet paper saying that the Sugathadasa National Sports Complex Authority will be empowered to take action for this. That is, by using Sugathadasa to show that this is not a stadium sale. Sugathadasa National Sports Complex Authority is the 30 year leaseholder of Khettarama Stadium, one of the major national stadiums in the country at present. Also, funds have been allocated for the Diyagama Stadium in the name of the Sports Complex Authority. Accordingly, all the three major national stadiums will be directly linked to Namal's PPP work.
The traitor who sells his motherland..
None of the local investors would come to do PPP business for stadiums with the government, which does not have a dollar at hand at the moment. Namal is trying to sell all the stadiums in the country to China. A case is also pending in court alleging that Namal took a bribe of US $ 5 million from the Shangri-La hotel deal. That was the commission money that sold one piece of land and one hotel. How much does Namal would exploit when he sells playgrounds all over the country including Sugathadasa, Diyagama and Khettarama?
Namal says stadiums cannot be maintained. If so, there should be an Auditor General's report on it. There is no such thing. If all the stadiums in the country come under PPP, there should be a feasibility record for that as well. There is no such thing. Namal's devious and cruel intention is very clear.
Grounds do not ask food from the local authorities of the country. Growing grass is also cut two or three times a year. If he can't do that, one should tell Namal, "not to sell them but bend down and eat the grass and fill your greedy stomach"
Cursed the traitor who sells his motherland..!
Chandrapradeep
Translated by Robinhood
---------------------------
by (2021-08-11 22:52:12)
We are unable to continue LeN without your kind donation.
Leave a Reply