Police to hunt down Lanka e news security and political analyst Keerthi Ratnayake
By Sandaruwan Senadheera - Editor in chief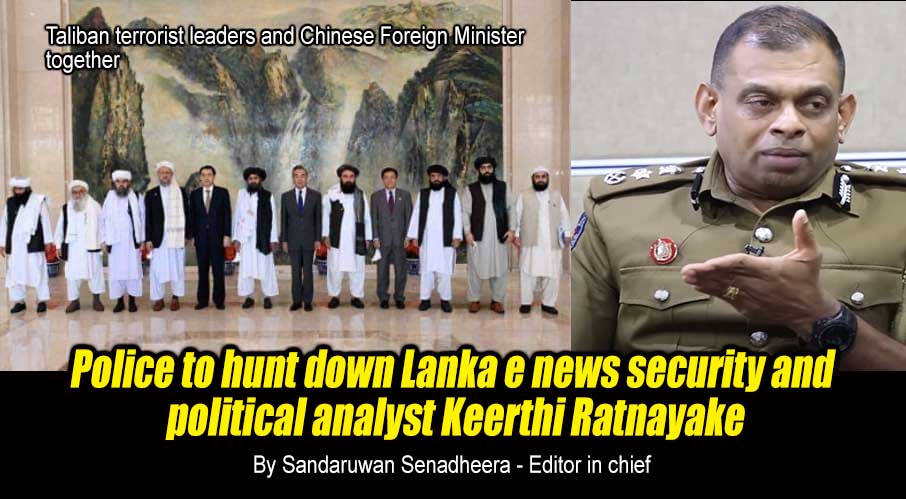 (Lanka-e-News -14.Aug.2021, 4.40AM) Keerthi Ratnayake, security and political analyst of Lanka e News, has been summoned by IGP Deshabandu Tennakoon to the Kollupitiya Police Station at 10 am today (14) for questioning. Despite Keerthi agreeing to this, a group of police officers had gone to the house where his wife and children live in Kandy and the house where his parents live in Mawanella and harassed Keerthi yesterday (13) evening and this morning.
The facts underlying the incident are as follows.
Tomorrow (15) is Indian National Independence Day. Keerthi Ratnayake concerned about China's conspiracy in Sri Lanka and the Rise of the Rising Taliban Terrorists in the Region and the Chinese Government behind It. The Indian Embassy in Colombo has been warned to be vigilant, predicting an attack on the Indian Embassy in Colombo on the Independence Day tomorrow. He also presented a photograph to show the connection between the Chinese and the Taliban terrorists. This is a photo taken by the Taliban terrorists and the Chinese Foreign Minister. (The photo is shown here) Accordingly, the Indian Embassy immediately informed Delhi of this and after informing Delhi, the Delhi Government has contacted President Gotabaya and requested him to increase the security of their Embassy.
Following the information instead of tightening security what is happening now is that the police are chasing the messenger and trying to hunt him down. Otherwise, despite informing the police he is coming the police will not break into the houses where Keerthi's children and parents live in the early hours of the morning and harass them.
In addition, the police had checked his telephone number and had called the wife of one of the Army Major Generals whom he had received telephone calls from and questioned her.
"What have you been talking about with Keerthi all this time?" She had given a wonderful answer to the police who asked. "I'm over 18. What's wrong with you when I'm talking to someone I've liked?" She replied.
Keerthi Ratnayake is a former intelligence officer of the Sri Lanka Air Force. He has retired from the military and analyzing regional security and political affairs. He has written and published a number of related articles for Lanka e News. (https://www.lankaenews.com/category/48)
He said bombs could explore in Sri Lanka three months before the Easter bombings, and if so it would be none except Gotabaya not LTTE or ISIS. It just happened as he said.
When he said that there were 300,000 Chinese in Sri Lanka, the then Chief of Defense denied this and said that there were only 28,000 Chinese in Sri Lanka. But recently, 600,000 Cynopharm vaccines were sent from China at the outset to vaccinate Chinese nationals in Sri Lanka. Accordingly, it became clear that there were 300,000 Chinese in Sri Lanka.
He wrote that there were about 500 Chinese security forces trained in Sri Lanka. This was also proved during the excavation of Tissa Lake. He wrote that Kosgoda Tharaka who was in custody of the Police would be killed that night by the hit squad of DIG Deshabandu, It happened as he predicted.
Many such predictions written before by Keerthi Ratnayake have come true. International observers have said ss a regional defense political analyst his predictions are likely to be 84% true. Keerthi recently wrote 16 allegations against Sri Lankan Army Commander Shavendra Silva. He also wrote that DIG Deshabandhu is associated with drug traffickers. Sri Lankan security authorities and the government remained silent on the allegations. Now we doubt whether this is an attempt to hunt down Keerthi Ratnayake using the Indian Embassy as a scapegoat. However, we are keenly observing the developments.
Sandaruwan Sennadheera
Editor in chief
Translated by Robinhood
---------------------------
by (2021-08-15 12:05:57)
We are unable to continue LeN without your kind donation.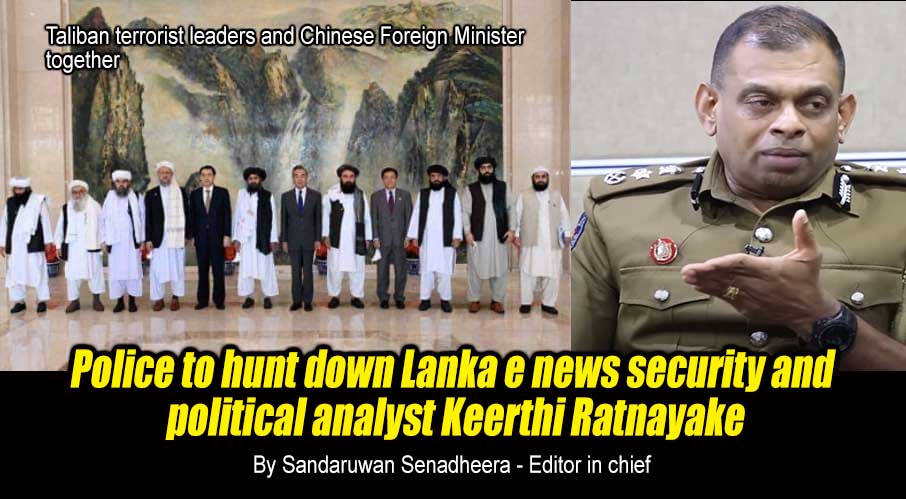 Leave a Reply