LeN Keerthi, who was detained in the CID for 3 months, has filed a case against 20 persons, including Minister Sarath, demanding Rs. 100 M compensation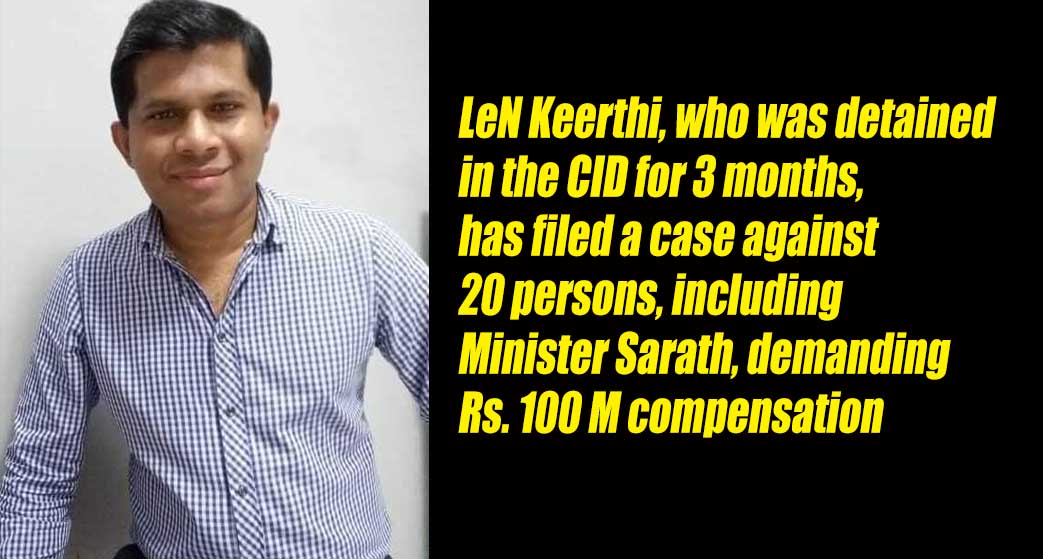 (Lanka-e-News -11.Nov.2021, 4.10PM) Lanka e News journalist Keerthi Rathnayake, who has been detained within the Criminal Investigation Department (CID) under the Draconian Prevention of Terrorism Act of Sri Lanka, through his lawyers submitted a Fundamental Rights Petition at the Supreme Court of Sri Lanka yesterday (10).
In his petition, he states that while he was in the custody of Kollupitiya police station he was threatened saying "you should know that now you are in our house and in our house we solve cases in our way" ( උඹ දැනගනින් උඹ ඉන්නේ දැන් අපේ ගෙදර, අපේ ගෙදර නඩු විසඳන්නේ අපිට ඕනෑ විදිහට"). He further states that Minister in charge of police Sarath Weerasekara and Deputy Inspector General of Police Deshabandu Tennakoon are warning him on articles he has written on them.
20 respondents have been named in the FR petition (number SCFR 363/2021), including the Attorney General, Minister of Public Security Sarath Weerasekara, Secretary to the Public Security Ministry Jagath P. Wijeweera, Secretary to the Ministry of Defence Kamal Gunarathana, the IGP, DIG Deshabandu Tennakoon, DIG in charge of the CID W. Thilakarathna, Director CID Assistant Superintendent of Police Rohan Premarathna, Director CID Superintendent of Police Randeniya DIG in charge of Colombo Crime Division (CCD) and Director CCD Senior Superintendent of Police Nanadana Kumara.
The reason given for the arrest of Keerthi Rathnayake was a warning by him to the Head of the Political Division of the Indian High Commission in Sri Lanka, Miss. Banu Prakash on a possible attack on the Indian High Commission in Colombo on the Indian Independence Day. This information was given through a WhatsApp message.
Although the CID initially questioned him about the WhatsApp message he has sent to Miss. Banu Prakash, the petition states that at present the line of questioning has deviated to articles he has written and published as a journalist and the sources of such articles. Further, the petition states that he is currently being questioned in an intimidating manner on his articles those have been written criticizing and exposing the conduct of the 15th respondent DIG Deshabandu Tennakoon and 19th Respondent Minister Sarath Weerasekara.
Up to date, Keerthi Rathnayake has not been produced before a competent Court of Law nor any detention order was shown to him. There is no credible material produced or otherwise which illustrates that there was any act committed in violation of the PTA, which merits a detention order being issued and/or for the Petitioner to being detained under PTA, the petition states. Any such material has not been produced though such evidence is necessary to detain a person under the PTA.
Thus, the petition states that extensively questioning him about his articles and sources of information after the arrest, in an intimidating manner threatening him to divulge and expose the sources of information of articles tantamount to a violation of the Petitioners Right to freedom of speech and expression including publication which has been guaranteed under Article 14(1)(a) of the Constitution.
Through his FR petition journalist Keerthi Rathnayake has requested to declare that the respondents have violated and/or imminent danger of violating the Petitioner's Fundamental Rights, quash the Detention Order(s) if any issued and/or declare that such Detention Order(s) cannot be issued under and in terms of Section 9(1) of the Prevention (temporary provisions) Act No. 48 of 1979, direct any one or more or all of the Respondents to release the Petitioner from incarceration and grant Rupees 100 million as compensation, among other things.
Group of lawyers including Attorney at Law Shellomy Gunaratna, Attorney at Law Oshini Ruberu, Attorney at Law Manjula Balasuriya, Attorney at Law Amila Egodamahawatta under the instructions of the Attorney at Law Upul Kumarapperuma are appearing for Keerthi Rathnayake's petition.
---------------------------
by (2021-11-11 10:47:49)
We are unable to continue LeN without your kind donation.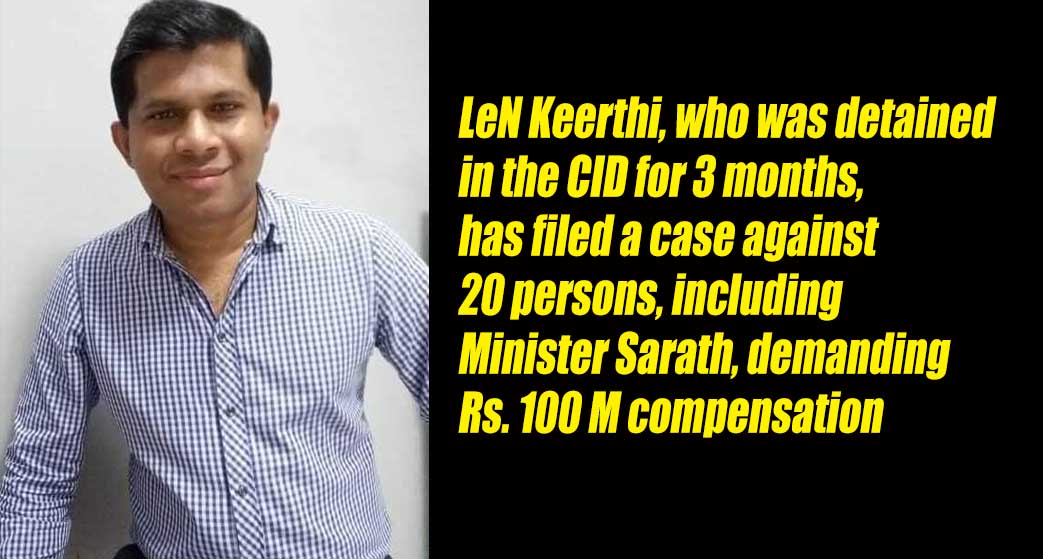 Leave a Reply