A suicide reflects the depth of the country's economic abyss and the insensitive cruelty of the people...!
-A staff reporter writes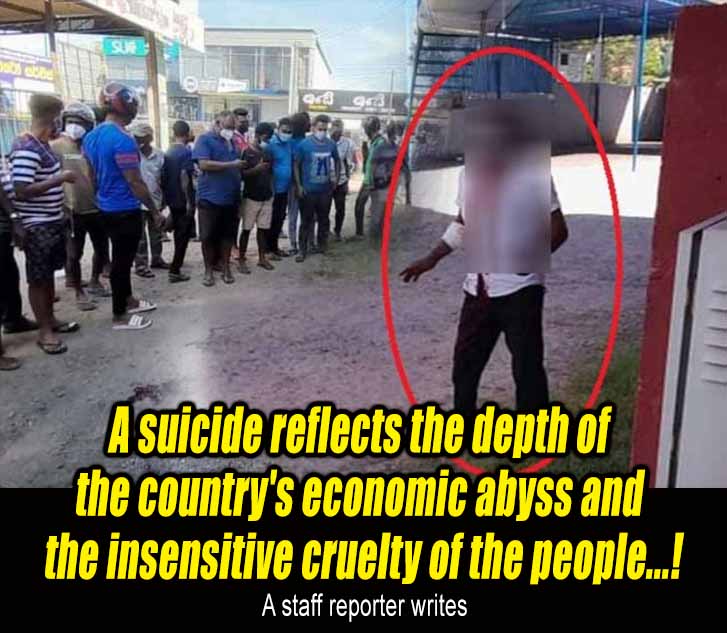 (Lanka-e-News -10.Jan.2022, 11.20PM) A tragic suicide reported yesterday (9) reflects the economic abyss where the people of the country have been plunged by the stupid Rajapaksas of Medamulana and the cruel mentality of the people of the country who brought them back to power while knowing they are traitorous, and ignorant thugs.
If you come close, I cut my neck…
A man had entered the Keels supermarket at No. 968, Ragama Mahabage Road, in Ragama Police Division at around 10.30 am yesterday. He grabbed three items for baby use – a piece of soap, a bottle of Audi Cologne, and a can of powder from the shelves and ran out without paying. A three-wheeler driver who was nearby at the time tried to catch him. The man, who warned, "don't touch me", then attacked the three-wheeler driver with a fruit-cutting knife he had hidden and fled away.
To catch him, several 'heroes' chased after him with rods, clubs, and stones. Eventually, the man was trapped on the road near the 'Casa Restaurant', about 50 meters away from the Keels Store. "Anyone don't come close to me... I'll cut my neck if you get close," he threatened. As the people, who did not heed those words, surrounded and approached, the man cut his own neck several times with his fruit-cutting knife. The police had arrived while the people were watching the incident as if they were watching a teledrama. "Don't come near, I'll cut my neck," he also told the police and stabbed several times in his neck. The bloodied man then fell to the ground without any support to stand up straight.
Although there were several hospitals within a kilometer from the scene, no one took him to the hospital for 45 minutes.
Later he was admitted to the Ragama General Hospital by the 1990 Suwasariya Ambulance Service and was pronounced dead at the scene. The body is being kept at the Ragama Hospital morgue.
It is reported that, about a month ago, this person had been admitted to the hospital as a heart patient and discharged after receiving treatment.
The deceased was identified as 44-year-old, 'Reggie Wanasundara'. residing at No. 281, Ukuwelawatta, Nagolla.
The injured tricycle driver is Dinuka Lakshan Peiris aged 36 years, residing at No. 431/C/1, Podiveekumbura, Ragama. His condition is not serious and is receiving treatment at the Accident Unit of the Ragama Hospital.
The social reality that Reggie told us sacrificing his life ...
This unfortunate suicide reflects a certain social reality. That is, a man does not have money to buy even a piece of baby soap, a little powder, or some Audi Cologne to provide for his baby's needs. He has to steal them. The tomfool rulers of Medamulana have already dragged the country to that point.
If 'Reggie' was a professional thief, he will never cut his own throat for a little theft. He did so, because he was aware that his family, relatives and friends will never be able to cope with his theft.
Even after a man was in such a situation, the society around him was not sensitive enough to care about it. Surrounded us is a society full of cruel people who have no heart to take an injured man to the hospital, though he was injured by attempting to commit suicide by cutting his own neck.
The society that thinks it is okay for a thief to commit suicide did not hesitate to bring a thieving royal family of Medamulana to power with sixty-nine lakhs of votes. At the time that rogue family first came to power, a criminal case had been filed in court alleging that Mahinda Rajapaksa had embezzled Rs 820 lakhs of donations offered by the people during the tsunami disaster. Even the JVP was not sensitive about that theft. JVP shouldered the dirty thief called Mara, went around the country, and made him president. Today everyone in the country is suffering as a result of that insensitivity of the people those days.
By a staff reporter
---------------------------
by (2022-01-10 17:50:24)
We are unable to continue LeN without your kind donation.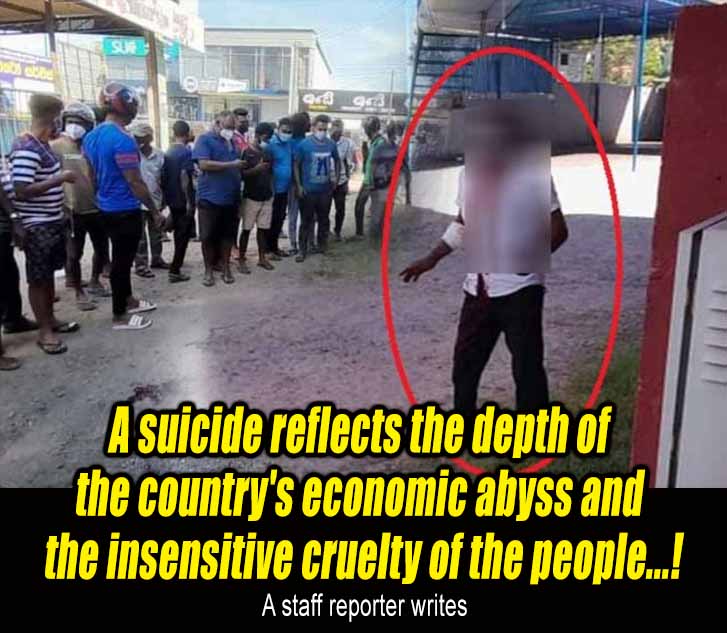 Leave a Reply