India was near bankruptcy thirty years ago, but how it became a world economic power?
-Anubhawananda explains..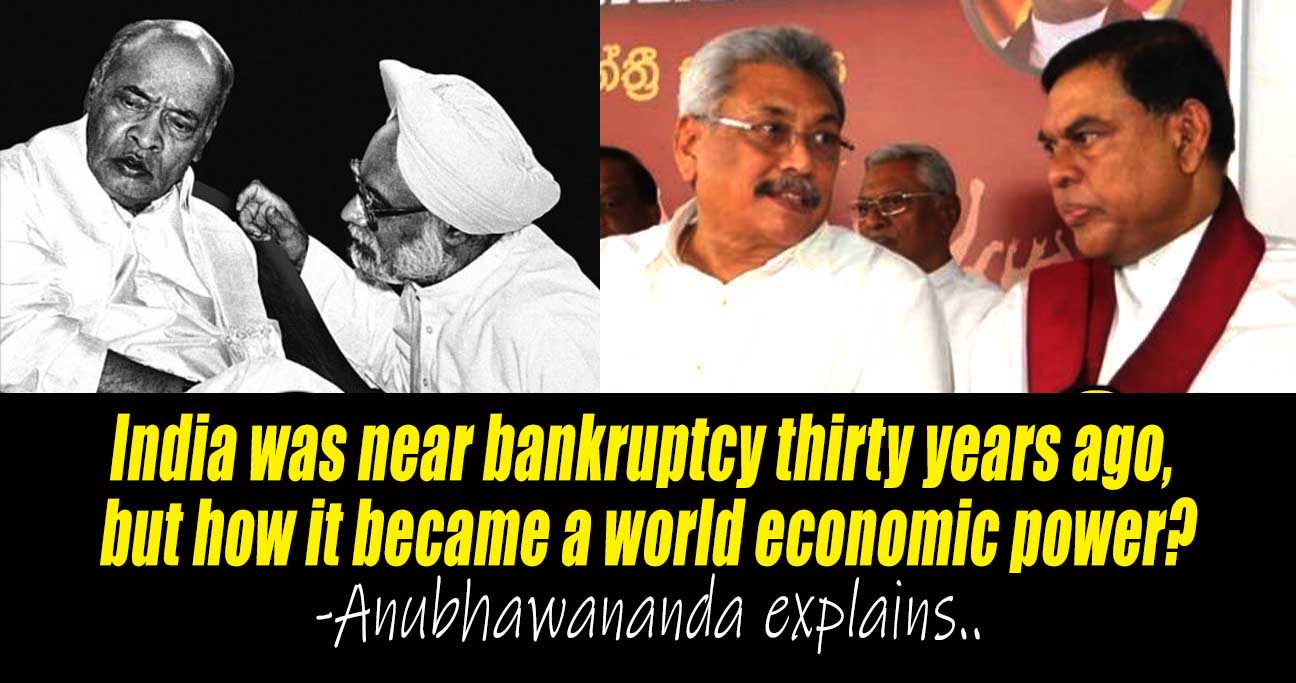 (Lanka-e-News -16.March.2022, 11.30PM) Wimal Weerawansa is one of the main figures who is directly responsible for the unfortunate situation of Sri Lanka today. During the last three decades of his involvement in politics, he contributed to the political, economic and social downwards of the country. The basis of his politics is rural Sinhala Buddhist nationalism. It is anti-Western, anti-minority, anti-World Bank, anti-IMF, anti-democratic inferior thinking. This was the policy he followed when he was in the JVP and later when serving as a coolie in the Rajapaksa "Walawwa". He continues to play the same old disk even after the recent removal from his despicable duty in the Rajapaksha "Walawwe". Wimal has now tied his old 'American imperialist conspiracy' bogeyman to Basil Rajapaksha.
Real economic hit man is Wimal Weerawansa…
Wimal has been opposed to the open economy ever since. His economic model is the import substitution economic system followed by the United Front government in 1970-77. For the past three decades, he has branded the World Bank and the International Monetary Fund, the two international financial institutions responsible for the United Nations, as institutions that conspire 24 hours a day to swallow Sri Lanka. It created an irrational fear among the people about those two institutions. Those days, Wimal shouted that the World Bank and the International Monetary Fund would be unplugged. He is opposed to any trade deal, especially with America. He called on the public to boycott American companies, including Google, Coca-Cola, and Yahoo. Although P. B. Jayasundara has been accused of being an economic assassin, Wimal Weerawansa is the real economic hit man in this country. He was a political asshole who worked to establish an ideology against the market economy as well as free trade throughout the country, for the past three decades.
How a US$ 480 million grant was lost…
In the run-up to the 2019 presidential election, Wimal expressed his deadly opposition to the forthcoming US$ 480 million in non-refundable aid through the Millennium Challenge Agreement (MCC) to Sri Lanka. The United States was ready to provide US$ 447.5 million for project assistance and US$ 32.5 million for supplying facilities. At that time Wimal said that the country would be divided if the relevant aid money was obtained. He vowed that American visa would be needed to visit Sri Maha Bodhi. As a result of this false propaganda carried out by him, Sri Lanka lost a grant of US$ 480 million. That grant is now available to Nepal.
Basil climbs on the Vasudeva's corpse and goes to IMF…
Wimal, who is deadly opposed to borrowing at 1-2% from the World Bank and the International Monetary Fund, likes to borrow from China at 6-7%. He has no objection to borrowing at 9-10% from the open financial market. These are stupid nationalist policies. Vasudeva Nanayakkara, an opportunist similar to Wimal, once said that the government he holds a post of cabinet minister will be going to the International Monetary Fund on his own dead body. By now, Finance Minister Basil Rajapaksa has already gone to the International Monetary Fund. Vasudeva died politically at the time he succumbed to Mahinda Rajapaksa's Sinhala-Buddhist racism. Sri Lanka first went to the International Monetary Fund when Dr. N. M. Perera, Vasudeva's then leader, was the Finance Minister. He took loans from that institution and repaid them on time.
How India went bankrupt…
Three decades ago, India faced a financial crisis similar to the one Sri Lanka is now facing. That was in 1991. India was a close supporter of the Soviet Union at the time and mostly traded with that camp. At that time, India traded with the Soviet Union using the Indian Rupee. The collapse of the Soviet Union had a severe impact on the Indian economy. Due to the Gulf War, remittances to India plummeted. India has been facing a crisis of payment deficit since 1985 due to a number of factors, including rising imports. At a time when the government was facing a huge fiscal deficit, a trade deficit was also created. Investor confidence was shattered.
Indian foreign exchange reserves could barely invest in three weeks of imports. Meanwhile, the government was on the verge of defaulting on its own financial responsibilities. Moody downgraded India's bond rating. At the same time, the government of then Prime Minister Chandrasekar, faced a political crisis and his government was unable to get its budget passed. With that, India was further downgraded by financial rating agencies. The government had no choice but to mortgage its gold reserves to prevent the government from defaulting. India was on the verge of bankruptcy.
Manmohan Singh's arrival as an economist…
The government of Prime Minister Chandrasekar collapsed due to the inability to face the economic crisis. In the general election held in June 1991, P. V. Narasingha Rao became the Prime Minister with a significant mandate. He appointed Manmohan Singh, an economist, as finance minister and allowed him to function without political influence.
Even then, India was pursuing a closed economic policy. The Narasinha Rao government sought the help of the World Bank and the International Monetary Fund to prevent India from going bankrupt. The two international financial institutions said that India could no longer pursue closed economic policies. Accordingly, India began to relax (liberalize) its economy.
India became a world economic power three decades later…
The new government devalued the Indian rupee by 9% on 1 July 1991, and another 11% on 3 July. At the beginning, protests against the new economic policies were created but later they faded away. These new economic reforms made India an economic power. India's Gross Domestic Product was US$ 266 billion in 1991. It was increased by 1,100 percent up to US$ 3 trillion in 2019. Their Purchasing Power Parity (PPP) increased from US$ 1 trillion in 1991 to US$ 12 trillion in 2019. By November 2020, India's foreign reserves had reached US$ 530 billion. Today, India is the fifth largest economy in the world, surpassing Britain and France.
Our Economic Council consisting Ministers without GCE (O L)...
Narasimha Rao revived the Indian economy, which was about to go bankrupt three decades ago, by appointing an economist as finance minister and allowing him to pursue a free national policy. India is still moving in the new economic direction then introduced by Manmohan Singh. Despite the change of government, they did not deviate from that basic national economic policy.
The economy of our country is also on the verge of collapse. To get out of it, the President nominated a nine-member economic council. Three ministers representing it have failed the GCE (Ordinary Level) examination.
Chief Minister of Tamil Nadu K. Stalin named a five-member Economic Council for Economic Development in his province, which included eminent economists, including Esther Duflo, winner of the 2019 Nobel Prize in Economic.
Requirement for a common alternative economic proposal…
But unfortunately, there is not a single economist in the Economic Council appointed by our President. The majority of the economic councils he appointed have little or no basic understanding of what this economic crisis is. The message to society through those appointments is that Gota's Government has no practical long-term plan to resolve this economic crisis. Therefore, the forces outside the government should work together to come up with a long-term common alternative to this economic crisis.
The official Leader of the Opposition should be the key to that. Otherwise, if the country falls into the trap of Maithripala Sirisena's "all-party conference proposal" to give oxygen to the Gota's government, which is on the verge of collapse, we all will lose our last chance to save the country from this massive economic crisis. While President Gotabaya agreed to the all-party conference resolution called by Sirisena to find a solution to the economic crisis, the President has taken steps to convene a conference of scholars and religious leaders at the same time. This proves that these are just empty talking that squanders people's money.
Anubhawananda
---------------------------
by (2022-03-16 21:51:30)
We are unable to continue LeN without your kind donation.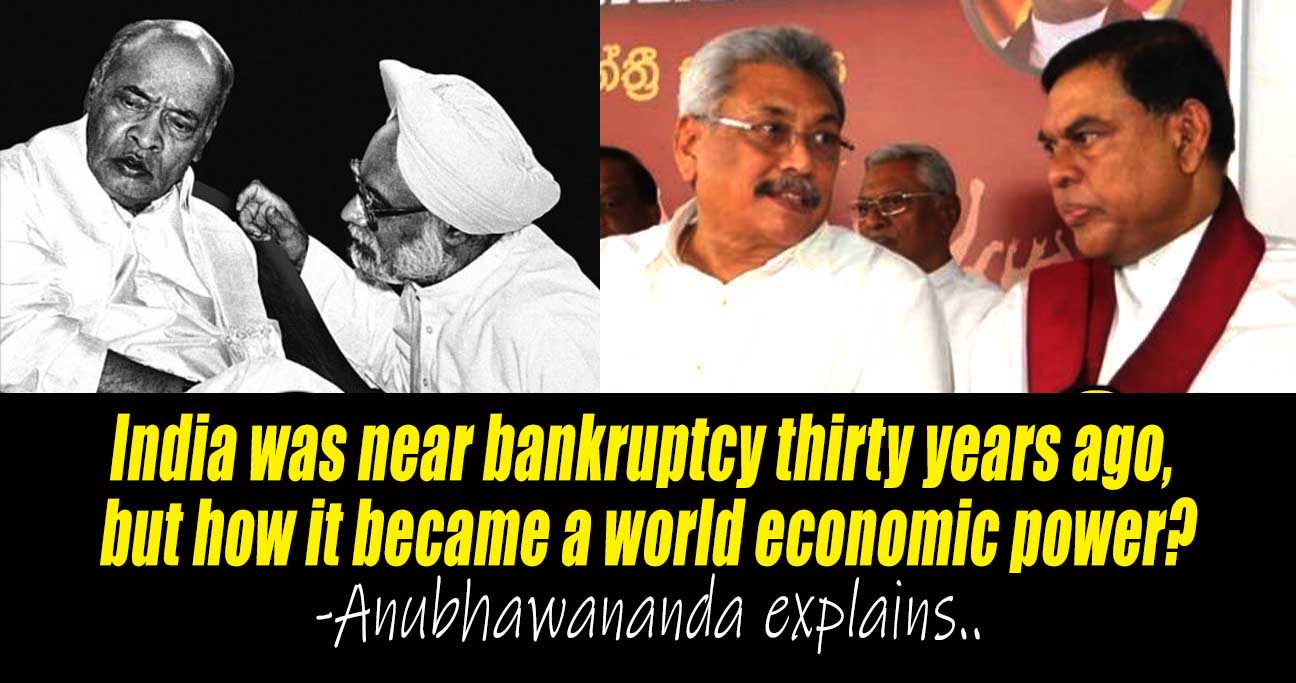 Leave a Reply