Rajapaksas start firing on peaceful protests..! The first victim was in Rambukkana..! One dies, 2 seriously injured, 24 hospitalized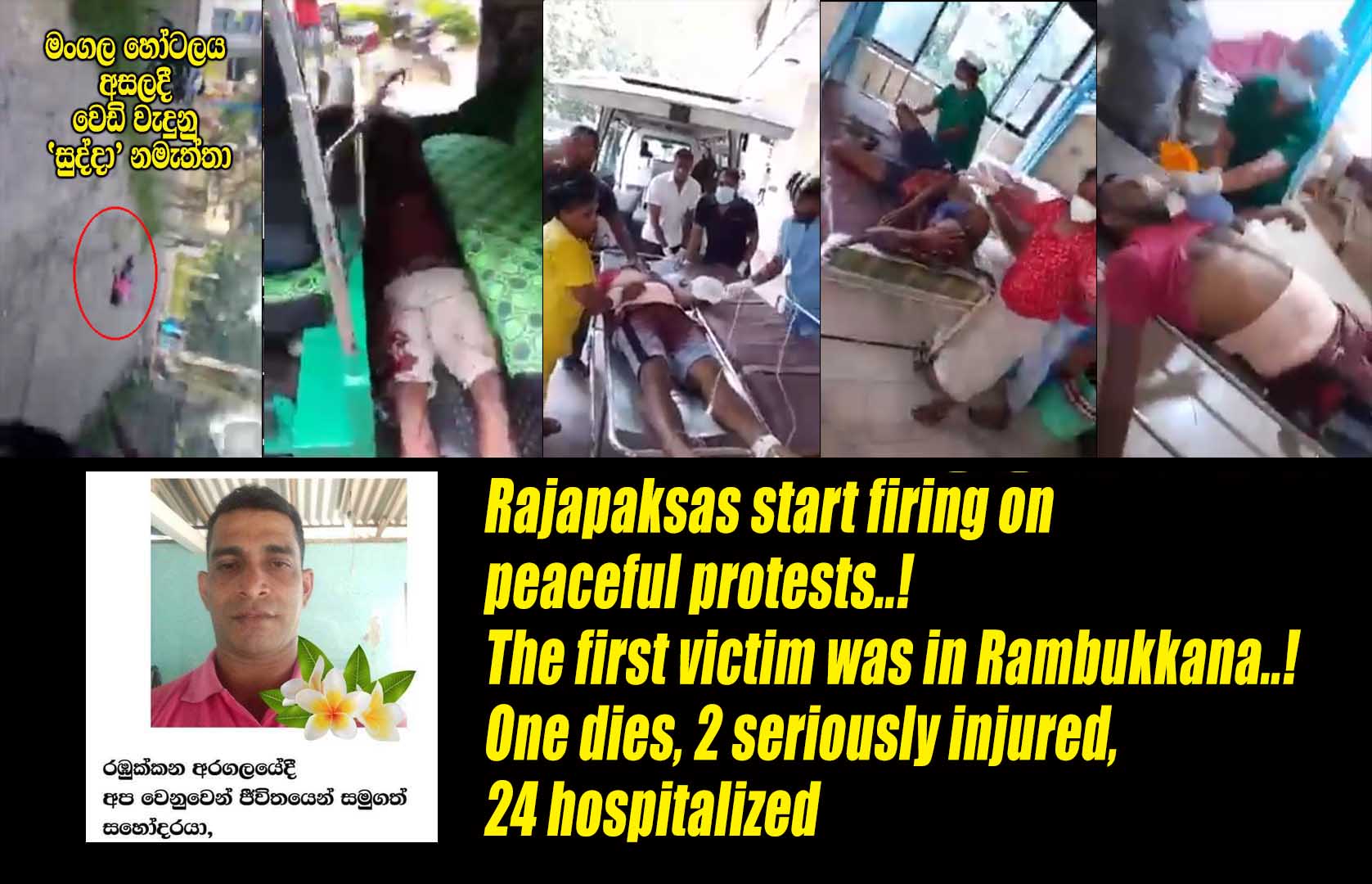 (Lanka-e-News -19.April.2022, 9.00PM) The Rajapaksa government yesterday appointed a new cabinet and appointed Kanchana Wijesekera, the son of a notorious assassin, as energy minister. His first task was to raise fuel prices to an unaffordable level. The increase comes as crude oil prices fall in the world market. As a result, angry people have been blocking roads across the country since last night. It started with the protest of the people of Rambukkana blocking the Rambukkana railway line at 1.30 am yesterday. It erupted across the country and the Rambukkana protest continued until this evening, but there was no violence.
Rambukkana police arrived in the evening, fired tear gas at the protesters and opened fire on them. It is said that this order was executed by the Rambukkana Police OIC on the orders of the newly appointed Minister in charge of Police, Prasanna Ranatunga.
The Rambukkana Police did not follow the measures to be followed by police officers in protest.
Rambukkana police opened fire on peaceful people.
The police media spokesman is telling a blatant lie about the incident. There is more than enough video evidence that such a thing did not happen. One video shows a police officer firing angrily at protesters.
One dies, 2 seriously injured, 24 hospitalized
Eleven people were shot, including an elderly man. One young man died on the spot. Among those admitted to the Rambukkana hospital, 10 were hit by a police bullet. Most of them are in the stomach. That is, the law that only shots should be fired below the knee has been violated.
A Rambukkana hospital spokesman said 24 injured had been admitted. One of them died. All 10 were shot. Two are in critical condition and are currently undergoing surgery. Eight of the injured were police officers.
A police curfew has been imposed in Rambukkana and the STF and Army have been called in.
---------------------------
by (2022-04-20 10:55:12)
We are unable to continue LeN without your kind donation.
Leave a Reply