A letter from Afar: 1971 April Rebel to the 2022 April rebellion.!
-Sunanda Deshapriya writes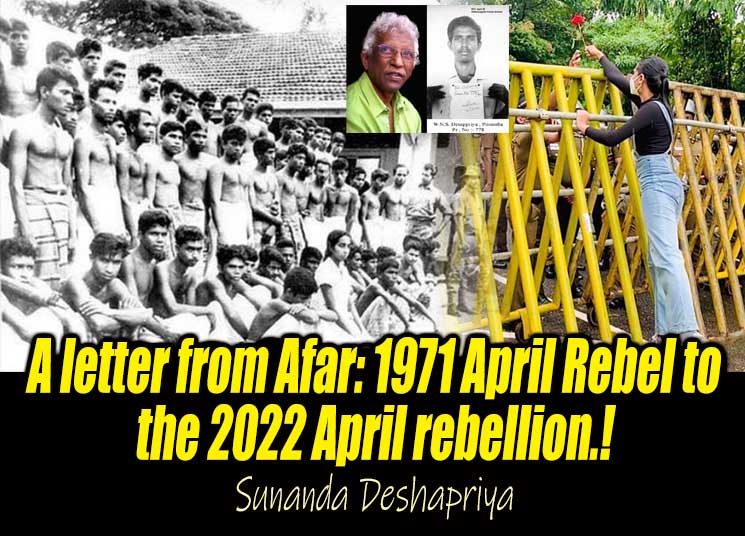 (Lanka-e-News -30.April.2022, 10.15PM) It was still raining heavily. We only had massive trees for shelter. That was 51 years ago in the month of April in the year 1971. We were in the mountainous jungle between Walapane and Kivulakele, adjoining the Badulla and Nuwaraeliya districts. In those days, we watched elephants freely roam the hills.
In these days, it was still raining heavily in the month of April. You were drenched, camping in a struggle village, #GotaGoGama of Galle Face. An unknown elderly couple drove in and gave you five hundred raincoats. I couldn't hold back my tears when I heard that story.
Fifty-one years ago, my eyes never got wet under that heavy rain, because they were burning with fire. But there was nobody to help us except ourselves.
On the 6th of that April, 50-60 of us had gathered in a mountain range in Ulapane, Welimada. We had collected, by force, the same number of shot guns. We wanted to retreat to the Knuckles Mountains and continue the struggle.
On the 9th of this April, you had tens of thousands of people gathered for Aragalaya (struggle). There were no guns, but slogans. You gathered into a place, a kind of lovers' paradise and you were not hiding. Everyone in the country could witness the your Aragalaya. My lover and I too had been there, murmuring our secret in to the wind.
When you lie down after a busy day you may be hearing, the hopes and whisperings of all those lovers, in your dreams! I was reminded of those days when I saw a wealthy young friend of mine comes to 'GotaGoGama' with his wife and holding a placard: 'Love'. Love of your Aragalaya embraces all. And the beauty of your Aragalaya is being beamed into every Sri Lankan household here and abroad.
In that April, we were only young males, retreating. We did not invite or accommodate any female comrades to join us. Society saw us as misguided, armed youths, if not, as terrorists.
Your Aragalaya in this April is multi-colour and full of youth vibrancy, male and female alike. it is is full of diversity and modernity.
Our journey in that April which started with fifty - sixty young men became increasingly difficult. One day we ate drumstick leaves for lunch. One day we killed small fish in a Mahaveli tributary using dynamite, roasted them and ate. Usually there were no breakfast no dinner. In those days we believed that the political power grows out of the barrel of the gun.
Today, citizens bring you verity of food, from Chai tea to Chinese rolls and Pongal rice. One day I saw a young mother carrying a toddler and offering you biscuits from a huge tray. Your struggle speaks with empathy and emotions. You generate wave after wave of sympathy and solidarity. What you maintain at #GotaGoGama is a beautiful model village.
When we woke up every morning in that April, our group was down in number. Some had been vanished with our best double-barrel guns. In the end we had more guns than the men. There were days when I had two guns on my shoulder. And on the top of that we were isolated.
During this April, your group is growing in quantity and quality every day. Quantity is becoming quality. Pictures of my cousins, sons and relatives who never participate in a socio-political protest, holding placards at the protest site #GotaGoGama in solidarity, makes my eyes misty again.
Emotional heart transformed in to hot tears in the eyes!
One day in that month of April we ate just raw pumpkin. The farmers who offered us such food in exchange of few cartridges, were afraid of both us and the military. We targeted the the military, and they targeted us.
In this April a female university student gives a rose to the police. A monk gives a pamphlet. A young man gives a bottle of water. Many police officers may feel the Aragalaya as their own. It is the sighs of 'GoHomeGota', emitting from the hearts of millions of people who are unable to come to protest site, that forms beautiful waves in nearby sea.
This is a revolution. By youth. A revolution that destined to become a catalyst for real change in our country.
During that April I was the political leader in Badulla and Moneragala districts. But not a single Tamil or Muslims in those areas were with us. We did not even try to win them over. We did not even know to converse in Tamil.
A group of Muslim girls were bringing New Year food to your protest site on this April new year day. When you see Muslim families carrying flags and joining the struggle, it is a dream that comes true. The drum beats of Eastern female Tamil artists coming from "GotaGoGama" becomes music in my ears.
When we finally reached Hunnasgiriya at the end of that April, only eight members of the leadership team were left. All others had left, disillusioned. Then a division emerged among us as to whether to move forward or not. Four comrades decided to cross the main road and to head towards Knuckles. The four of us returned, handing them all the pistols and ammunitions we had. Two of the four comrades who wanted to proceed were captured by the people. They were shot and killed on the spot by the Army. The other two, also had returned later.
Divisions within a struggle are natural. But when those divisions are not handled properly, the end is a tragedy.
In that April, we believed that there was a cultural invasion we must defeat. I stopped watching movies. Drinking a beer was a sin. I had to give the boot to my girlfriend. I erased my curled hair and combed to back side.
It was with this frame of mind that the female freshers were ordered to wear average looking cheap gowns, rubber sandals and use cardboard files for 6 months by the same political party, the JVP until recently. Killing female sex workers during the 88-90s civil war by the same party too was an extension of that puritanical thinking.
Today there is a cultural spring at the protest site and withing the Aragalaya. Modern in behaviour, in dress, in songs and look. You dance and sing to protest.! Love in the Aragalaya site may be blossoming. Even on the Ukrainian battlefield there were beautiful weddings of love. That is life!
In that April I was handed over to the police by people I knew, from my own town, who had sided with the government. But I had a luck to survive, though had to witness three comrades were being tortured to death in front of my own eyes. My survival was a miracle.
As soon as we detained in prison camp, I went looking for older activists, like Ramaiah, the leader of the Red Flag Union to learn from their experience. Any revolutionary struggle should have broad popular participation, they told me. I was not even twenty then. I learned from comrade Ramaiah and many such experienced activists.
The world is different today. Smart and determined younger generation is the pioneer of changes everywhere, from Greta Thunberg to Gabriel Boric. Here in Sri Lanka, you are representing the change youth demand all-over.
The worker-peasant leadership we thought of those days, now belongs to history, but their power is important. The value of experience never gets expired.
After the failure of the insurrection, court case and conviction, wearing a jumper suit, (prison dress) coconut sambal and bread were my breakfast for 6 long years, day after day. That is not all. I fixed a bookshelf in my cell by making two holes on the wall and using two wooden planks. The prison guards allowed it, probably knowing that books would calm us down. Some of the guards borrowed my books and returned after reading. I read Russian and French literature while sleeping on the floor of my cell. I read "How the Steel was Tempered" overnight!
You built a library on the protest site for Aragalaya in this April. When I saw the library, my eyes became warm with wet tears again. Are there young protestors reading books without going to sleep, till the sun rise? I have a dream to sit with them.
Dostoevsky's "Notes from a Dead House" is the favourite book I read while in prison. It describes perfectly that even small incidents cause unnecessary conflicts when we live together in the same place day and night. I experienced it. I learned how to be together.
We did not have a reading culture withing the movement and no revolutionary literature was created. But inside the prisons, we created political literature. I learned English in prison because I wanted to read and translate. The first novel I read in English was Emma Bovary. In the same cell lying on the sleeping canvas mat.
In that April we fought against a government which was still popular. That is why people opposed us. And people became scared when we took up arms. There became favourable condition for the government to obtain local and international support to crush our struggle.
In this April, you are fighting when the whole country is fed up with the most corrupt and evil government in the history of Sri Lanka. And your Aragalaya practices non-violence. That is the secret of this overflowing popular support for your Aragalaya. And your emphasis that the Aragalaya should not be violent under any condition raises you to the moral high ground.
In that April, we said that the revolution is not a bed of roses. That is true, even today.
In this April, although you offered roses to the police, the sound of gun cleaning must be coming from their side. Listen to it, carefully. There is nothing in the world that heartless rulers have not done to protect their wealth and power.
In that April, we had no idea what we would do if we captured the power. We had no idea about how to build broad alliances. We thought everyone else was wrong. We had build a sizable organization with dedicated carders, but we choose the wrong way, the wrong time, and without a broad support. That's why we were crushed.
I have no regrets because the struggle was the university I attended. But the hopes of the young generation were crushed and broken. In two decades, the next generation choose violence of the worst kind and made a hell out it. At the end 30,000-60,000 were killed or died in the battlefield, in the torture chambers or facing the firing squads.
Violence begets violence.
It has taken another three decades for you to rise up. Now you have become a beacon of hope: United. Non-violent. Loving. Determined. Diverse. Change begins with you and whole country will follow!
Just remember. Not only war, but politics is also an art as well as a science. The same goes also for diplomacy.
I don't think I know everything. I always learn. I learned from the defeat. But you do not need a defeat to learn. I have learned from victories too. Struggle is a process of learning.
Like, best actor award winning Hiran of "Life of Pi" said from the podium, I too would like to say, "Machan, I love you," but I belong to a different generation.
So, allow me to finish this retrospection saying "I love the struggle, and everyone in the struggle! Three cheers!"
Shall we have coffee or bear?
See you guys!
By Sunanda Deshapriya
Note: Sunanda Deshapriya played a leading role in the 1971 April youth uprising of the Peoples' Liberation Front (JVP) and was sentenced for 15 years of rigorous imprisonment. He was released in a general amnesty in October 1977
(Translation of an original Sinhala language article published on 15 April 2022.Translated by Ananda for Lanka e News.)
---------------------------
by (2022-04-30 17:29:33)
We are unable to continue LeN without your kind donation.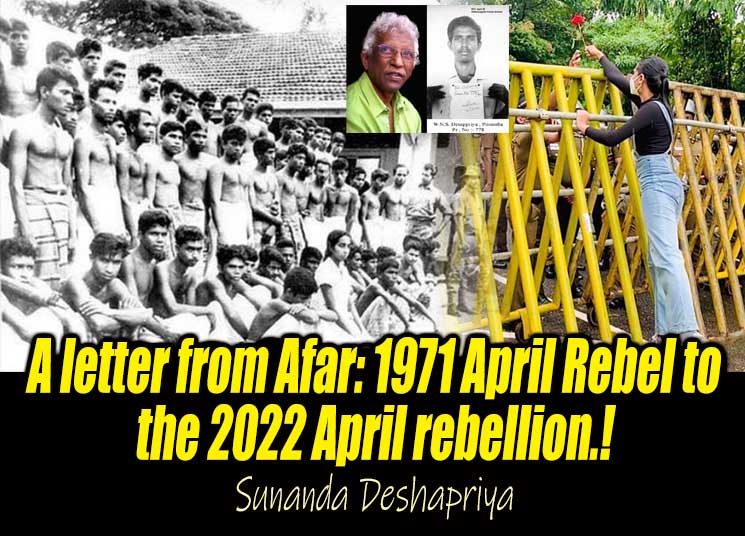 Leave a Reply