Mahinda's life now..! His sins will drag him to hell..!
-Medamulana LeN Reporter writes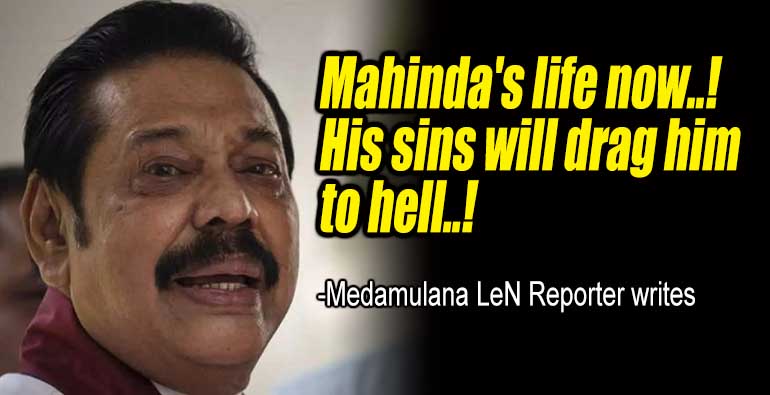 (Lanka-e-News -16.June.2022, 4.30PM) Although not shown on the outside, Mahinda Rajapaksa is now suffering from severe mental and physical distress. Many people who have known Mahinda for many years know that Mahinda Rajapaksa, as politician as well as an individual, desperately needs social interaction. But Mahinda is now living a lonely life.
I have seen Mahinda, who is temporarily staying in another house on Wijerama Mawatha, sometimes makes a futile attempt to hide his tears.
Walking cadaver...
No politicians who used to visit Mahinda before come there now. Ever since Yoshitha was appointed as Chief of Staff to the Prime Minister, the family itself has been trying to isolate Mahinda. He, who likes to talk to his friends, remember old memories and smile out loud, is living a very sad life today. It should be said that he is now a walking human corpse, but swallowing a handful of medicine and vitamins daily!
After Yoshitha-Namal stupid sons' terrible operation on the 9th May, only two or three people occasionally come to see Mahinda. They are Malindu Ranasinghe, the owner of Oxford College of Business, and a few others.
Confidants do not come even to the area where he is...
In the past, there were some people used to visit Mahinda every two or three days. Some of them were of great influence or prestige. They came not only for profit, because of their love for Mahinda.
Among them, 'Salahuddin' [Muslim Hajiyar] was a special person. One would not believe that he was the one who brought everything to Mahinda, even his underwear. A recent date he came to see Mahinda is not in the memory.
The owner of the "Good Heart Curd" business in Nugegoda was also a close friend of Mahinda. The manufacturer of "Rajapura Joint Oil" was the supplier of all of Mahinda's Ayurvedic medicines.
These days, it is rare to see none of these friends visiting Mahinda
"Marjan Hajiyar" of Beruwala is another. During the last election season, when Mahinda was doing his daily exercise in the morning, 'Nazeem' brought in Rs. 50 million. At once Mahinda decided that he should go to Parliament from the national list, called Basil and assured him. Naseem, who has been reviving Mahinda since then, is no longer nearby.
"Wasantha Perera" of Matale brought in Rs. 6-7 million a week as dividend for eight ethanol licenses offered by Mahinda. Now the former is dealing with Yoshitha. Wasantha, who used to bring Indian delicacies from 'Saravanabhavan' restaurant, now meets Yoshitha directly and pays weekly dividends at his Mount Lavinia home.
"Now even the bands are singing Maina-Kaputa" – wedding invitations being cancelled..!
An incident that makes Mahinda even more frustrated is happening more often now. Many who in the past considered it a privilege to have Mahinda attended their children's weddings are now canceling previous invitations. His private assistant receives two or three such phone calls a day, making tears in Mahinda's eyes when he hears the message.
One of Mahinda's cousins who came with 'Nipuna Ranawaka' recently said, "we invited you to my daughter's wedding five months ago. You have also dandled my daughter when she was a child. But these days, even the bands' people sing "Kaputa-Maina." It would be a shock for us if you had to be ashamed. Therefore, it is better if you do not come."
A Muslim gem merchant residing in Malwana, and a lawyer in Dehiwala have cancelled their previous invitations, straightforwardly expressing displeasure at what happened on the 9th May.
"Now we have no way even to go on a road."
Seeing Mahinda's concern, Namal recently tried to please Mahinda with the participation of his family of five, their wives, and children at the Shangri-La Hotel.
Mahinda was taken to the Chinese restaurant by a staff elevator at the back of the hotel. As a result, one side of the restaurant was closed saying "for repairs". When found out about it, Mahinda said sadly, "now we have no way even to go on a road."
Although one would think that the Rajapaksas still have the maximum power, but in reality, it is not. Mahinda is now like an inflated 'papadam'.
How can any man sleep soundly, especially when he remembers the mountain of sins he had committed?
Mahinda watched the tenth anniversary of Wasim Thajudeen's assassination on TV. He then addressed 'Captain Tissa' who killed Wasim on the instruction of Shiranthi and Yoshitha, and said, "Things are turning in a way we did not expect. Even you should have thought before doing this."
-Medamulana LeN Reporter-
---------------------------
by (2022-06-16 11:10:10)
We are unable to continue LeN without your kind donation.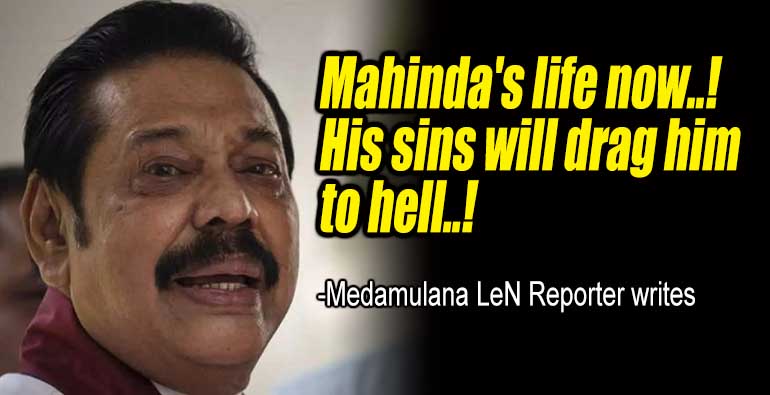 Leave a Reply