Ranil-Gotabaya semi-militarized government prepares para-military groups through SLPP-UNP politicians for mass murder - A secret letter leaked...!
-LeN Internal Information Service reveals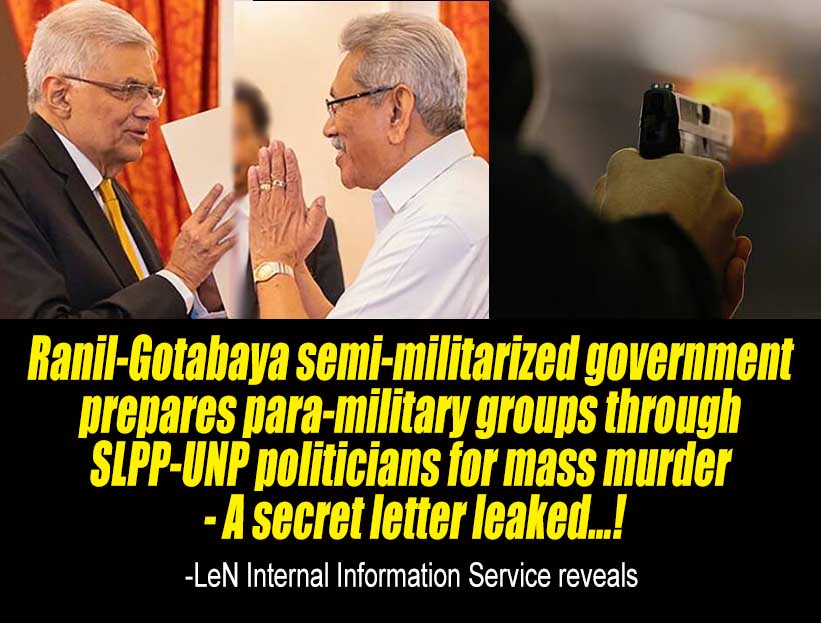 (Lanka-e-News -06.July.2022, 5.30PM) A recent secret letter sent by the Inspector General of Police C. D. Wickramarathna to the Defense Secretary Kamal Gunarathna has now been leaked to the media. It has been reported to the Lanka-e-News Internal Information Service that it is the initial plan of a conspiracy that the Ranil-Gotabaya junta government, which currently has only a meager popularity of less than 3%, to create paramilitary gangs for its own protection, leading the country to a terrible bloodshed in the near future.
Kamal Gunrathna has on 29 June confirmed receipt of the letter dated 27 June sent by the IGP. (The letter is shown below.)
According to the letter, during the Black Flag Week which starts on 5th and 6th July, a foreign intelligence agency will carry out an attack or sabotage targeting the North-Eastern or Southern Province and try to convince that it was carried out by the LTTE. The letter further states that the JVP, Frontline Socialist Party (FSP), and opposition groups have planned to attack the local government politicians and their houses. It is mentioned in the letter that another report has been sent by the IGP to Defense Secretary to confirm this story, but it is still unknown what that report is.
The important part of this letter is its second part.
A plan to kill opposition political activists...
This is a blatant lie and this is being prepared to create the necessary background for the governing party politicians, who are unable to face the general public these days, to form paramilitary groups that are friendly to them, and as in 88-89, to launch of a terrible and evil operation of killing opposition political activists. There is also a possibility that the government will carry out the attack themselves; for example, it was the government's own thugs who set the buses on fire during the public protest that took place near the President's private house in Mirihana.
LankaeNews is making this disclosure because we have evidence of it.
Government's argument is that, since there was no police or army to protect those politicians on 9 May, they do not have confidence in the security of the police force, so they want to form a "group of loyal people" to protect themselves and their property.
SLPP MPs are under training…
Usually and currently, a member of parliament can legally own a pistol and one bullet magazine. But now, a pistol and 4 bullet magazines have been issued only for the MPs who are loyal to the Rajapaksas. The Ministry of Defense does not disclose the list of MPs who received extra ammunitions. That list remains top secret. According to the report LankaeNews received, the MP Dallas Allahapperuma's group or the other members who are now independent from ruling SLPP party have not received this ammunition bonus.
Apart from that, shooting training is also being given to those SLPP MPs at the shooting range in the Gonahena Camp belonging to the Police Special Task Force. It is also very secretive. No one can know about it except the concerned MP and the trainer.
SLPP local government politicians are ready for next hunting game...
In addition, the next plan is to issue firearms to local thugs attached to SLPP party. Alleging that "JVP, FSP and opposition groups are preparing for an attack targeting the local councilors and politicians", this Gotabaya-Ranil government is planning to issue firearms and ammunition to village-level criminals who are friendly with the SLPP party and to form murderer gangs as their bodyguards.
Already, a group of local thugs including army deserters and army retirees loyal to governing SLPP party is under taking firearm training. They have been selected by the former Finance Minister Basil Rajapaksa.
Firearm training in Maduraoya and Gonahena...
This training is being carried out at Maduraoya Camp belonging to the Army, and Gonahena Camp belonging to the Special Task Force.
Prime Minister Ranil Wickramasingha has more experience in forming paramilitary groups than the Rajapaksas. It was during the 88-89 terror period. Information has been received about a plan to turn the country into a bloodbath in the near future, then form an unholy murderous alliance between SLPP and UNP, and go to the polls in 2024 and steal the votes easily.
The UNP has no place among the current opposition in a future election. They may have a little space only in the SLPP party. Currently, neither party has a popular base other than the state power. Hence, there is no other way for both sides to regain power except a murderous way.
It is certain that UNP regional leaders who do not have any popularity are adopting the said paramilitary groups. For example, Sagala Rathnayaka and Vajira Abeywardhana, who are not even MPs, have been given the number of armed guards in size that even ministers do not have.
The above said letter is like a whipper sent before the procession.
The people in this country must understand that the Rajapaksas, who gained power by detonating a series of Easter bombs, killing 300 people and paralyzing more than 500 people, will not hesitate to kill even 3 lakhs people in order to somehow maintain that power.
It has also been learned that a separate investigation is currently underway to find out whether the above letter was leaked from Kamal or Wickramarathna. (The relevant letter is shown in the image below.)
- by LeN Internal Information Service
---------------------------
by (2022-07-06 12:14:03)
We are unable to continue LeN without your kind donation.
Leave a Reply