This is the spot where Gotabaya, Mahinda, Basil and his family are hiding...! Why does Gotabaya take 4 days to resign...?
- A revelation by LeN Internal Intelligence Service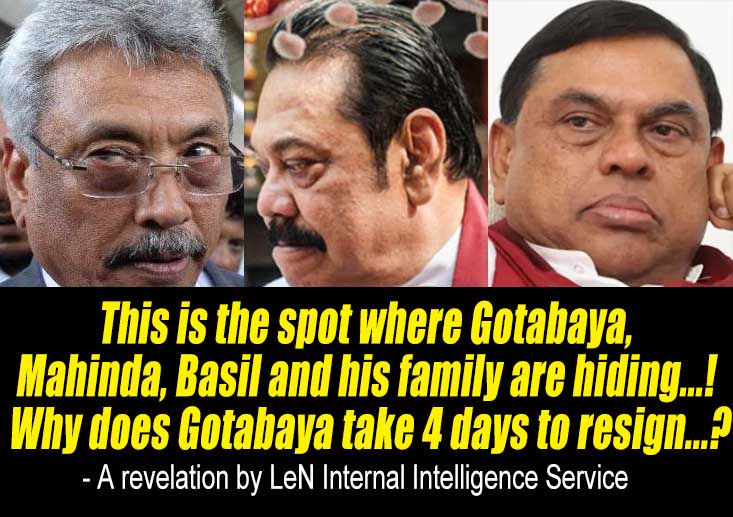 (Lanka-e-News 10.July.2022, 7.15PM) Nandasena Gotabaya Rajapaksa of the most crooked and murderous Medamulana Rajapaksa family regime was finally ousted by the new People's Sovereignty of the Sri Lankan People's Struggle on 9 July. But he has not yet resigned.
Lanka E News Internal Information Service confirms that Mahinda Rajapaksa, Basil Rajapaksa, and their family members, who devastated our motherland, were safe at the 'Navy House' of the Trincomalee Naval Base as of this morning (10). Namal had not been there.
Traitorous Admiral Nishantha Ulugethenna...
From 2005 until the last moment yesterday (9), this gang of traitorous thieves looted and shipped the national wealth of the people to foreign countries and turned our motherland into a bankrupt beggar country.
This treacherous group of thieves are now being illegally protected against the 'New People's Sovereignty' by a man called Admiral Nishantha Ulugethenna, who is working as the naval commander and is paid by the public. His mobile number is 076 833 0034.
The security guards who provide protection to these Rajapaksa embezzlers are there in civilian clothes carrying automatic mini Uzi firearms. Even the security personnel of the naval base have been prohibited from coming within the firing range of those firearms.
Ships loaded with goods of VVIPs...
Yesterday (09) a video was circulated on social media showing two Navy ships called 'Gajabahu' and 'Sindurala' docked at Colombo Port and being loaded with the VVIP cargo said to be belonged to Rajapaksas.
LankaeNews Internal Information Service investigated about this since yesterday, and the disclosed information is as follows:
It is true that the Gajabahu ship was loaded with valuable goods of Rajapaksas. After the loading, the two ships were anchored outside Sri Lankan waters for a long time. Later, by this morning, both the ships have gone to the naval base in Trincomalee.
'Sindurala' and 'Gajabahu' captains are...
The captain of the ship called 'Sindurala' is Captain H. I. A. Gunawardhana and the captain of the 'Gajabahu' is Captain M.A.T. Perera alias Mat Perera. Both of them are blue-collar thieves in the Navy.
Mat Perera is one of highly corrupt officers in the Navy. While working in the Navy's Salary and Pension Department, he defrauded salaries and pension monies of dead sailors; and was indicted by the Navy for his wrongdoings several occasions. The Rajapaksas have saved him in most of those cases. Therefore, he now protects Rajapaksa corruptors as an apple of his eye.
Why does Gotabaya need 4 days to resign...?
On 9th at 11 am, LankaeNews revealed that Gotabaya has planned to resign. There we said that he had on the night of 8th expressed that he would announce his resignation from Dubai on the 12th. Then the speaker officially announced yesterday (9) night that he was informed that Gotabaya would resign on the 13th. These two statements imply that Gotabaya needed 4 days to resign. What is that for?
Gotabaya will never live in Sri Lanka without the post of President. He knows that all the old cases against him will be brought up again. Moreover, when Gotabaya's presidential protection was lost in the face of strong Rajapaksa opposition in the country, even the other Rajapaksas will not stay in this country. Gotabaya is also afraid of going to America. He thinks he will be a victim of American law there. And Gotabaya knows that America has an easy trump card in hunting him down. Talking about it is not the purpose of this article, so let's talk about it later.
Dubai is a paradise for thieves…
One of the information received by LankaeNews Internal Information Service indicates that the political authorities of the United Arab Emirates (UAE), a country known to many as Dubai, have expressed their willingness to give refuge to Gotabaya and Rajapaksas.
As everyone knows corruptors and criminals from all over the world operate from or through Dubai. It is a well-known fact that Afghan warlords, Russian underworld leaders, notorious Nigerian rulers who used political power to steal their country's resources (Nigerian kleptocrats), European black money launderers, Iranian smugglers doing deals under sanctions, and East African gold smugglers are among them who use Dubai as a safe haven for their operations.
So, it is not surprising that Rajapaksa kleptocrats too are allowed to live in Dubai paradise, one of the main centers where Rajapaksas' black money has already been invested. The best example is the story of the infamous Marriott Hotel in Dubai.
Accordingly, Gotabaya will have to go to Dubai alone or with an entourage.
Psychological operations of military intelligence divisions...
A video was released yesterday (9) on social media showing a VVIP security convoy traveling to the Katunayake Airport, and how they were directly approaching the runway of the airport. It seems that one of Rajapaksas are escaping by air, but that video was a psychological operation socialized by military intelligence divisions. The convoy had gone there to bring the Chief of Defense Staff, former Army Commander Shavendra Silva, who had come from abroad.
Resignation after setting foot in Dubai...
If Gotabaya is going by sea, it can be suspected that he will be going by the Gajabahu ship of the Navy which is already loaded with goods.
The speed of the ship is 29 knots. That is, the number of nautical miles that can be traveled per hour is 29. But these days, according to the weather conditions in that sea, the sea waves and wind will not hinder the speed of a ship traveling from Sri Lanka to Dubai, instead it will be supportive, in nautical terms it will be a 'support current'. Accordingly, it will take a maximum of 3 days for the Gajabahu ship to travel from Sri Lanka to a UAE port. Gotabaya will need another day to settle there. That's why he takes 4 days to announce his resignation.
As he thinks that if he tries to escape from the country after resigning, he will suddenly become a person without privileges and will be in trouble. So, he must be thinking of announcing his resignation after setting foot in Dubai.
If the situation is like this, we think that there is still room for the struggle leaders and lawyers to use the law to detain Gajabahu and Sindurala ships. The Rajapaksas, who looted the national wealth on a large scale and bankrupted the motherland, should not be allowed to escape. They should be caught and brought before the law and punished for their crimes. It is a must.
- By a reporter of LeN Internal Intelligence Service.
---------------------------
by (2022-07-11 08:46:44)
We are unable to continue LeN without your kind donation.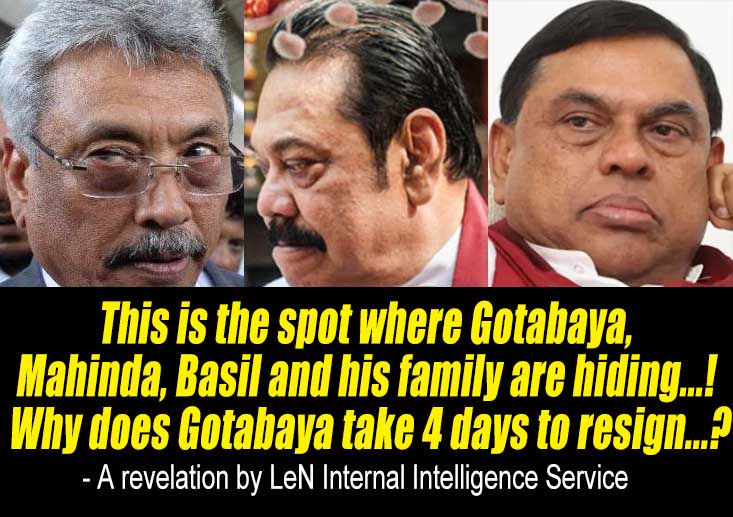 Leave a Reply