Ranil sharpens the hunt..! More kidnappings..! Ranil, Sagala, and AG's secret meeting leaked..!
-LeN Internal Intelligence Service reports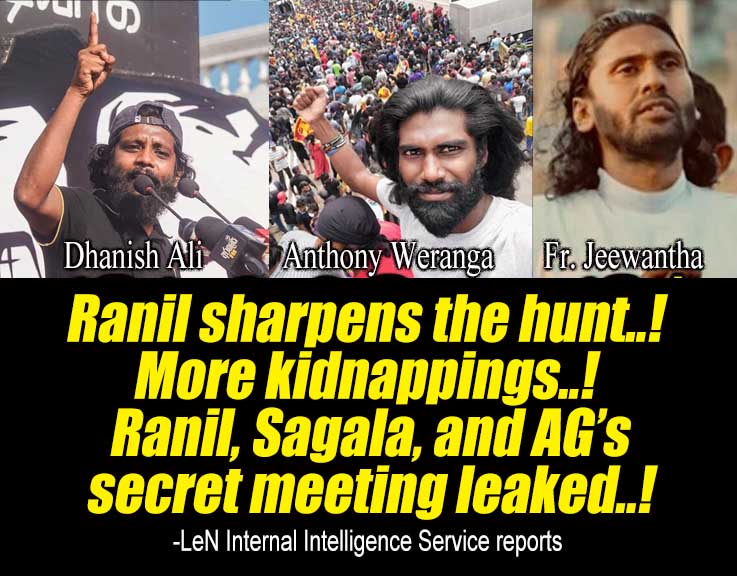 (Lanka-e-News -2022.July.27, 8.00 pm) Ranil Wickremesinghe, who has no any people's will, has become a president with the consent of 134 members of the ruling party in Parliament. A mental patient, he hides in a military camp and tries to rule the country. As a result of his frenzied crackdown on the people, independent journalist Anthony Veranga Pushpika was abducted by an unidentified group of six people in civilian clothes while he was traveling in a bus.
Kidnapping of Anthony Veranga Pushpika…
Independent journalist Anthony Veranga was a prominent activist in the Galle Face struggle held over hundred days. He was also a president of the Students' Union while he was studying at the University of Ruhuna. Later he also served as a member of the editorial board of 'Anidda' newspaper.
After taking part in the demonstration held at Colombo Fort against the suppression of Ranil Wickramasingha, he was on his way to the "Guru Madura" which was the office of the Ceylon Teachers' Association. As the eyewitnesses say that, at about 1.45 in the afternoon, the abductors have blocked the bus he was travelling and dragged him into a blue jeep bearing the number GC-0342. Among the eyewitnesses is Attorney-at-Law Nuwan Bopage.
There is a legal method in a country for the police to arrests a people. These are not such legal arrests but kidnappings by Ranil's thugs and henchmen.
Kidnapping of Dhanish Ali…
Meanwhile, Dhanish Ali, a social activist who boarded a Sri Lanka Air Lines flight to Dubai yesterday, is currently being detained by the Kurunduwatta police station, the Officer-In-Charge of the said police station confirmed to Lanka-E- News. He is being questioned about campaigning in front of the government's television station called 'Rupavahini'.
A president's counsel who commented to Lanka-e-News said that, if Dhanish Ali was arrested in the plane, he should be immediately produced before the Court of Negombo Magistrate, which is the jurisdiction of Katunayake Airport. He also said that it is illegal to be detained him in other police stations or detention centers.
However, when Dhanish Ali was abducted in the plane, the passengers protested strongly. If Dhanish Ali was allowed to board the plane without interference from immigration and customs officials, he would have had no legal bar to leave the country. A person who had entered an airplane has been arrested in this way in Sri Lanka only on 4 previous occasions. All those incidents were arrests made on the basis of last-minute tips when people involved in drug trafficking and terrorist activities are going to flee the country using fake names and fake passports. Dhanish Ali's case is unlike to all those things.
The warrant issued against him is related to his non-appearance in court during the last struggle, according to the B reports submitted by the police. It is also possible that he is unaware that there is a warrant against him.
Don't travel by Sri Lankan Airline - no responsibility or accountability..
In Lanka E-News's legal investigation of the incident, the main person who should object to the forcible arrest of Danish Ali inside a plane should be its pilots including the chief pilot of the plane. Because the safety and responsibility of a passenger who breaks boarding pass law and enters an aircraft depends entirely on the airline and the chief pilot of the plane. If policemen or soldiers of a country arrests a passenger who had already boarded on an airplane for any criminal matter, it should be done through the chief pilot and not by jumping on the passengers like thugs and terrorizing the passengers. It is completely illegal. Thus, Sri Lankan Air has completely abandoned the safety and responsibility of its passengers.
Therefore, henceforth passengers should avoid traveling on Sri Lankan Air flights. Because this incident has confirmed that the said airline is not responsible or accountable for the safety of the passengers.
Warrant to arrest Father Jeevantha Peiris on sight..
Meanwhile, a police team has gone to Father Jeevantha Peiris's church in Rathnapura yesterday early morning, searching for Father, who continued with the GotaGoHome struggle day and night. They have said that they have received orders to 'arrest the father on sight'.
Instructions given to Attorney General by Ranil alias president in a secret meeting..
Meanwhile, the unauthorized President alias Ranil yesterday(26) met the Attorney General and gave some wonderful instructions on how to suppress the leaders of the struggle. The meeting took place in the office of Police Minister Tiran Alas. Justice Minister Wijedasa Rajapaksa, and chief of staff Sagala Ratnayake are also participated in this secret meeting. President's Secretary Saman Ekanayaka has not even been made to participate. On behalf of the Attorney General's party, Attorney General Sanjay Rajaratnam and his henchman, Additional Solicitor General Nerin Pulle, were participated.
Ranil alias president has advised that charges should be brought against all the leaders as soon as possible and cases should be filed in the High Courts. Ranil's opinion has been that, if they are quickly tried and convicted and jailed, they will not be able to do politics for 7 years so that the country can be calmed down.
Tiran Alas handed over a 25-page list of struggle leaders to Sagala Ratnayake. Another similar list has also been handed over by Wijedasa Rajapaksa. Actors, actresses, artists and politicians are a large number of people who have supported the struggle in these lists. According to the news revealed by Lanka E-News yesterday, the number is not 400, but it has now exceeded 600.
No doubt, Ranil's government makes kidnap victims disappeared..
In addition to misusing the law and filing lawsuits, and some people who were not well known but supported the struggle are now being abducted by unknown groups like in the past. These kidnapped people are also likely to being disappeared.
An operation has been launched to hunt down the journalists who reported the struggle from the beginning by deploying agents who claim to be intelligence agents but really are thugs. All the bank transactions of not only journalists but also their relatives are now being checked. The Sirasa journalists who are particularly being hated by Ranil are special. Journalists are also a special group with many talents. So, they know that the state thugs disguised as intelligence agents are following them, therefore, the journalists are already following the so called 'agents' in a different way.
-A report from LeN Internal Intelligence Service
---------------------------
by (2022-07-28 11:29:58)
We are unable to continue LeN without your kind donation.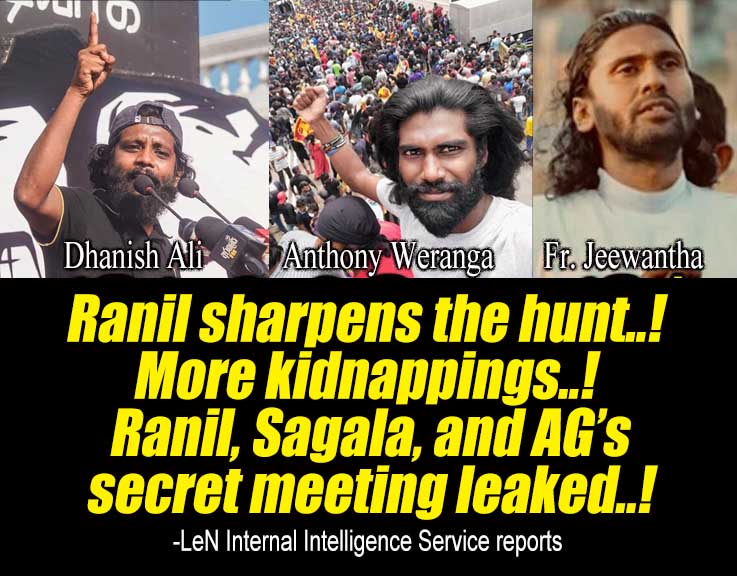 Leave a Reply