Chichi runs away from wedding house amid sound of hooting.!
-Medamulana reporter writes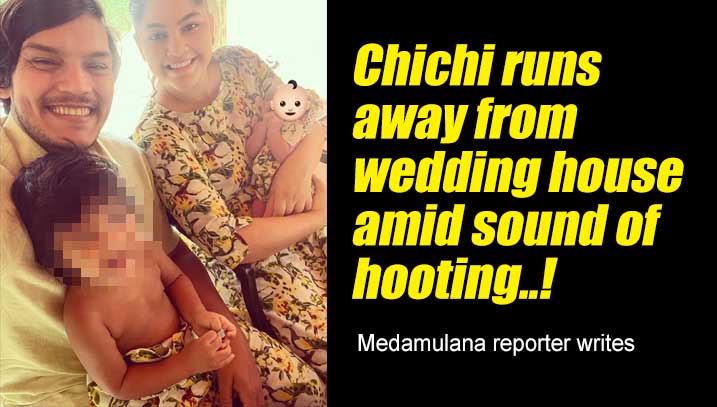 (Lanka-e-News - 06.Aug.2022, 7.30 pm) Another example of the Rajapaksas being completely rejected by the society could be seen at the Shangrila Hotel.
Dancer Channa Wijewardan's daughter Aseka and film actor Gamini Fonseka's grandson Janik's wedding ceremony was held in a very beautiful way at the Shangri-La in Colombo recently. It was special that people related to politics had not been invited to this event. But the groom, Janik, had invited Rohitha Rajapaksa (Chichi), who played rugby together for Mount Lavinia St. Thomas College during his school days, to the ceremony.
A son of the Rajapashas called Yoshitha killed the rugby player Wasim Tajudeen to win the love of Gamini Fonseka's granddaughter Yasara, but then abandoned Yasara, and married a divorced woman called Nithisha. It was all planned by "Siriliya Ammandi" alias Shiranthi Rajapaksa. There was a long discussion between the families of both the bride and groom about inviting such a murderous family to this wedding. Then it was decided to invite only Chichi, the groom's school friend.
The wedding was very beautiful and about an hour after the ceremony started, Chichi, his wife Tatyana, their two children, and two Navy women in civilian clothes entered the reception hall. (Army personnel are still being assigned to take care of the Rajapaksa's children.)
Chichi, who used to come with retinue and sit on the main seat the other days, went to a side table without being noticed by anyone and sat with his wife and two children. The happy thing is that as soon as they were seated, all the other 8 guests who were sitting there got up, rejecting even sitting together with Rohitha. Our respect to those real people whose names are unknown to us!
Then a woman came near Chichi. "Hello, I live in England. Once I bought an air ticket and came here to vote for your uncle. Even the shoes you are now wearing are our money. Man....shameful!" she scolded loudly.
Encouraged, another person went up to Chichi and put his finger on Chichi's chest, and scolded, "Shame on you guys. You are rotter who depend on our money. You got married and had children with our money." Chichi and Tatyana were flabbergasted.
After that, "Naki Maina's little son", did not stay in the ceremony hall even a moment, quickly left there without even stopping to congratulate the bride and groom. A group of young people who were waiting in the verandah outside the hall did not forget to treat the son of the Rajapaksa clan with a loud hoot.
- By Medamulana reporter
---------------------------
by (2022-08-06 14:13:40)
We are unable to continue LeN without your kind donation.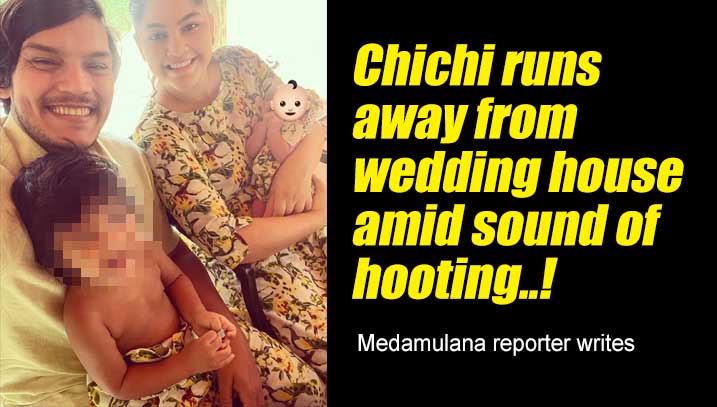 Leave a Reply