Ranil will have to face the music than Ali Sabry in Geneva..!
-Sunanda Deshapriya from Geneva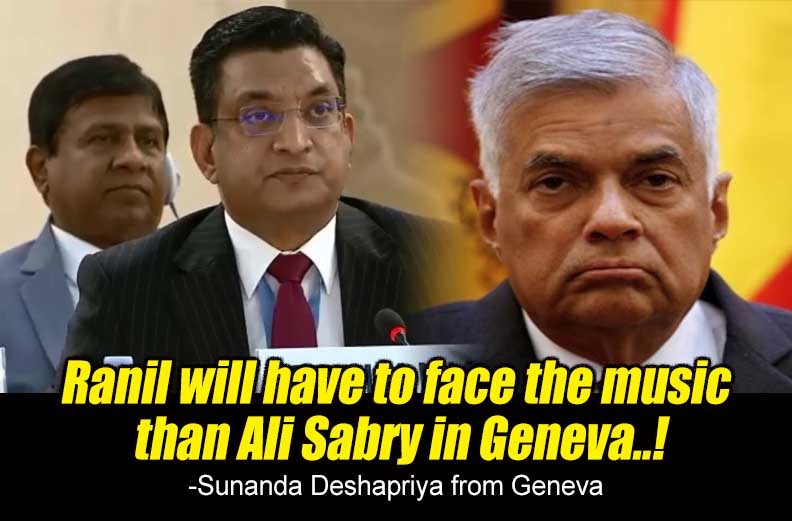 (Lanka-e-News -02.Oct.2022, 11.30 PM) On the last 12th, Ali Sabry, who is Gotabaya Rajapaksa's lawyer and Ranil Rajapaksa's foreign envoy, arrived in Geneva and addressed the Human Rights Council by sitting aside Ranil Rajapaksa's Minister of Justice, who is nicknamed as "Dealdasa" due to his stinking deals.
A lady leader of an NGO was also present to cheer his speech. She proudly said to a garrulous politician of the opposition who was sitting next to her seat, "Wait and see, Ranil the Great's difference will be seen in this speech."
But Ali Sabry sang the same old song that Gota had made him practice. "The old story was done," said the opposition politician. Come on! - no talking, no laughing! The punishment Ali Sabri had to face was not limited to that.
Ali Sabri has come to a bad end…
In this year's report of the High Commissioner for Human Rights, it was also stated that there is a need for accountability in Sri Lanka's economic crimes. Ali Sabry was angry about it. "The Human Rights Council has no right to talk about economic crimes," he said, probably because he knows that the biggest economic criminal in Sri Lanka today is his master, Gotabaya Rajapaksha alias Gota alias Gora.
Responding very carefully, Deputy High Commissioner Nada Ali Nasheef said that a special rapporteur of the Council had even submitted a thematic report about the interface between human rights, and fraud and corruption.
Human Rights Council resolution 41/9 has also acknowledged the negative effects of economic corruption on human rights. And this relationship was also confirmed by a report submitted to the 44th session of the Human Rights Council.
Ali Sabry hit a target that should not be targeted. Therefore, he did not even respond to the argument presented by the Deputy Human Rights Commissioner about his statement. In short, the Sri Lankan Foreign Minister did not even take the opportunity he could get as right to reply.
Economic crimes and impunity…
The category of economic crimes includes fraud and corruption as well as economic crimes committed knowingly. The United Nations has now acknowledged that the root cause of Sri Lanka's current tragedy is economic crimes and impunity, which adversely affect all forms of human rights.
It means that no one has been punished for the economic crimes committed during the Rajapaksa era as well as outside it. The most recent bond scam happened when the current president Ranil Rajapaksa was the prime minister as Ranil Wickramasingha of the previous good governance government.
Police arbitrariness, thuggery and killing and political tyranny, unlimited bounties, and large-scale corruption continue to happen because such crimes go unpunished in this country. This imunity has become an incentive to do wrong.
Let's leave war crimes and economic crimes aside for a moment. The Supreme Court recently said that Ranil Rajapaksa cannot be prosecuted in connection with the Easter attack. It is because of the immunity from the law of JR Jayawardhana who said that a president cannot be sued.
Sri Lanka is now not only in a vicious cycle of human rights violations but also in a similar cycle of economic crimes. Even at this time when the country is caught in an unprecedented socio-political-economic crisis, massive political repression has been launched; a large number of state ministers were appointed; commission frauds are being increased; embezzlement of public funds through commissions has become rampant; unlimited foreign trips are being continued; president travels around the world in search of royal funeral homes.
Alas! the old couple - Ranil Wickramasingha and Wijedasa Rajapaksa - is now singing a new tune.
In October 2016, Ranil Wickremesinghe was the powerful Prime Minister. Wijedasa Rajapaksa was his Minister of Justice. The Human Rights Council resolution 30/1 on Sri Lanka was initiated by then foreign minister Mangala Samaraweera, under the supervision of the above-said duo.
Sri Lanka co-sponsored the proposal. The Office of Missing Persons and the Office of reparation were thus born. The Rajapaksa family shouted against it. However, the Sirisena-Wickramasingha conflict braked the successful implementation of the proposal and finally broke it. If that proposal had been fully implemented, Sri Lanka would have withdrawn from the United Nations human rights monitoring, and have become an internationally recognized country.
Now that Ranil Wickramasingha has transformed into Ranil Rajapaksa and is excited because of the automatic presidentship. That same Wijedasa Rajapaksa is his Minister of Justice today.
Alas! Now, these two bulls have withdrawn from carrying forward Human Rights Council resolution 30/1, which they had drafted and co-sponsored in October 2016. Both are pulling a new cart, tying Ali Sabry to the back of the cart as an emergency bull.
Bulls that bear the burden of crimes…
Sabry, who participated in the United Nations General Assembly in New York, said that Sri Lanka considers freedom of expression as sacrosanct. Before he could even sit down after his speech, the Sri Lankan police beat and arrested 84 protesters. A few days after that, Ranil the "Royal Stupid" announced high-security zones using an obsolete law.
Violations of human rights are too heavy for even those two bulls to pull, so a third one may be needed. In addition, Gota's crime burden has also to be pulled today. Sabry, who has shown his cleverness in covering up Gota's crime at several courts, is now ready to shoulder the yoke.
Disgusting support…
When the same political leaders withdraw from a human rights agenda agreed with the world community seven years ago, it is unbelievable that human rights will be preserved in such a country. Only dictators and corrupt leaders could think that such a thing could happen. That is the reality that appeared in this session of the Human Rights Council.
"Tell me who your friends are. Then I can tell who you are" is an old saying. This year at the Human Rights Council, the countries with single-party governments, dozens of journalists imprisoned, no protest movement allowed, and lifetime rulers were lined up to say Ranil Rajapaksa's rule is "good, great, and wonderful". Among those countries that supported Ranil Rajapaksa was Kim Jung Ung's North Korea. He is one of the worst dictators in the world. It is impossible to write about that list as those rulers are stinking.
In 2019, those dictators raised their hands at the Human Rights Council in favor of the Rajapaksa family's corrupt and terror regime. What does it mean when they raise both arms and legs to the rule of Ranil Rajapaksa today? If you meet a pro-Ranil, NGO-liberalist, just ask that simple question. In those days, these NGOs treated those countries with contempt. Now such terror states bring happiness to these NGOs.
Karma is said to be a vicious boomerang. Because of Ranil Rajapaksa's repressive regime, these NGO people are now exposed. It is impossible to cover their stench.
There is also something to be said about the awareness of dogmatic leftists in this country. That is, countries like China, Vietnam, Cuba, Venezuela, North Korea, and Russia, which they consider fraternal and exemplary by them did not stand for the struggle and the rights of the protestors, but for the suppression of Ranil Rajapaksa.
Ranil Wickramasingha bowed down in front of Rajapaksa's feet and betrayed not only the precious opportunity to win the struggle but also the measures about human rights that the good governance government had taken to some extent, and the international recognition given for it.
The new proposal was born after betrayal…
This betrayal has now given birth to a new resolution on Sri Lanka in the Human Rights Council.
The United Nations' mechanism for collecting, systematically processing, and preserving information on human rights abuses in Sri Lanka, which was adopted by the previous resolution 46/1, will now include information on economic crimes and economic criminals responsible.
The 8th para mentioned in the draft resolution is given below:
8. Recognizes the importance of preserving and analysing evidence relating to violations and abuses of human rights and related crimes in Sri Lanka with a view to advancing accountability, and decides to extend and reinforce the capacity of the Office of 1 A/HRC/51/5. the High Commissioner to collect, consolidate, analyse and preserve information and evidence and to develop possible strategies for future accountability processes for gross violations of human rights or serious violations of international humanitarian law in Sri Lanka, to advocate for victims and survivors, and to support relevant judicial and other proceedings, including in Member States, with competent jurisdiction;
Posing as a liberal, Ranil Rajapaksha, who has gone to lick and clean the Rajapaksha's back side is now facing the judgment of human rights history. Ranil Rajapaksa is only days away from being mercilessly bludgeoned severely in Geneva than Gota's Attorney-at-Law, Ali Sabry .
-Sunanda Deshapriya
---------------------------
by (2022-10-03 10:54:39)
We are unable to continue LeN without your kind donation.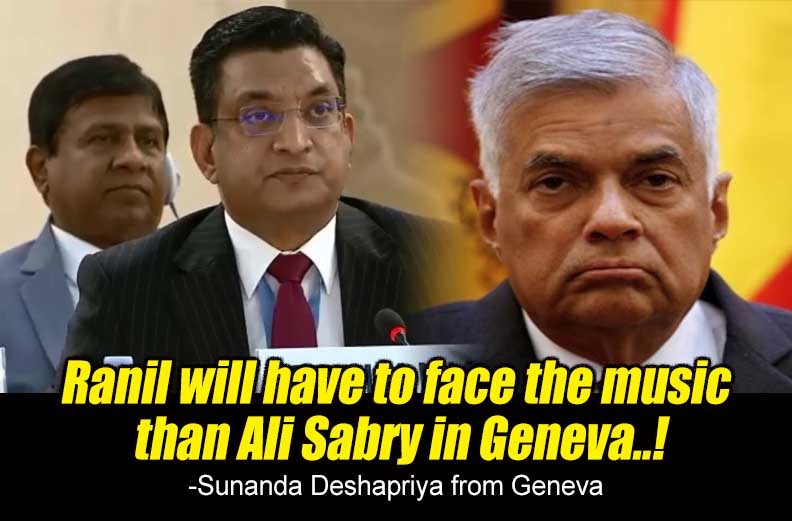 Leave a Reply