President, Police Minister, and Defense Secretary of Sri Lanka support drug crimes for money..?
-A reporter of LeN Internal Information Service writes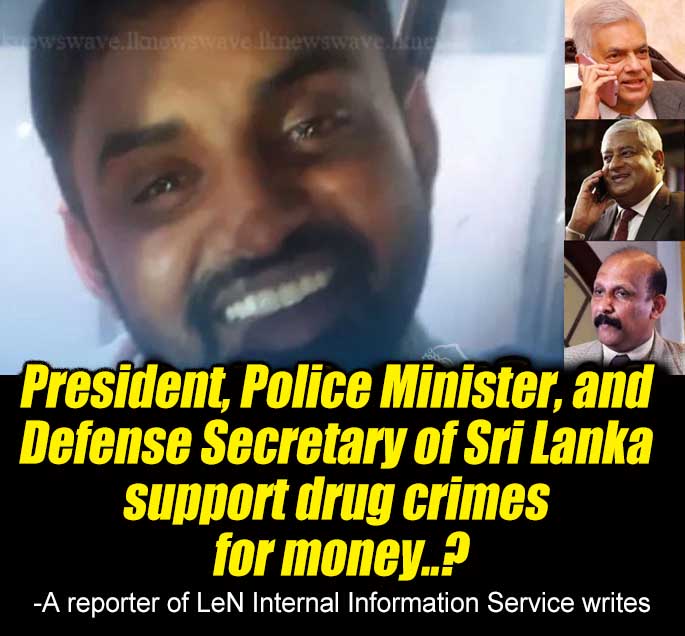 (Lanka-e-News - 10.Oct.2022, 2.55 pm) Currently, the main smuggler of heroin to Sri Lanka is the underworld leader "Nandun Chinthana Wickramaratna" who is also known as "Herath Disanayakage Roshan Isanka" and nicknamed 'Harak Kata' (cow's mouth). Although he was arrested in the state of Dubai, it is reported to Lanka-e-News Internal Information Service that he was later allowed to escape with the connivance of Sri Lanka's President and Defense Minister Ranil 'Rajapaksa', Public Security Minister Tiran Alles, and Defense Secretary Kamal Gunaratna.
People in the security forces themselves say that there is a great suspicion that the above trio has received billions of monies by doing this dirty work.
The incident is as follows..
Harak Kata is a highly skilled drug smuggler. This year alone, more than one ton of drugs believed to belong to him have been arrested by the security forces when stock was brought by sea. The security forces suspect that a similar stock has entered the country without being caught.
If we calculate it in that way, the value of the drugs belonging to "Harak Kata", which has entered the country alone, is about 20 billion rupees. Not small.
Although the price of all goods in Sri Lanka has increased three times these days, the price of a packet of drugs and the price of a prostitute have not increased in that way. Accordingly, there are more drugs and prostitutes in the country than the demand.
The Criminal Investigation Department or CID says that, apart from drug trafficking, Harak Kata is the mastermind of 22 murders in this country. The series of motorcycle shootings in the last few months is believed to be drug-related crimes carried out by his followers on his orders. Accordingly, the CID made serious efforts to catch him.

There, the CID learned that Harak Kata was using a fake foreign passport bearing the number 6692136 and the phony name Herath Mudiyanselage Roshan Isanka. That information had been given to International Police.

On the last August 11, "Harak Kata", who went to Dubai Airport to go to Malaysia, was arrested by the Dubai Police following the information given by Sri Lanka Police.
After that, the Dubai government sought advice from the Foreign Ministry of Sri Lanka to take further legal action. What Sri Lanka should have done was sending a report on his crimes to Dubai through the Ministry of Foreign Affairs to get Harak Kata extradited to Sri Lanka. Madhush and other underworld leaders who were arrested in Dubai were deported to Sri Lanka earlier.
But something else happened. Since no report was received from Sri Lanka about Harak Kata, he was released by both the Dubai Police and court on October 3rd.
DIG Prasad Ranasinghe, who is DIG of CID, prepares the report on the Harak Kata, mentions it as "Top Secret" and 'Urgent', and sends it by hand to the Secretary of the Ministry of Defense Kamal Gunaratna on September 12th. Since then, till Harak Kata is released, the report did not go to Dubai and remained in Kamal Gunaratna's drawer.
How did that happen?
Those responsible should answer the following questions..
Didn't the Security Council of Sri Lanka meet from August 11th the date on which a criminal essential to the country like Harak Kata was arrested until October 3rd the date he was released?
Gathered, but not at least a single word was spoken about this matter? Could it be?
The Dubai police arrested Harak Kata using the information provided by Interpol. Interpol is dealing with the CID of Sri Lanka. The CID belongs to the Ministry of Public Security under Minister Tiran Alles. The Ministry of Public Security has powers similar to the Ministry of Defense. So is the Ministry of Foreign Affairs. If so, why the report on Harak Kata was hidden in the drawer of Secretary of Defense Kamal Gunaratna? Why the Ministry of Public Security was failed in acting through the Ministry of Foreign Affairs?
Now Tiran Alles is trying to shift the responsibility of this heinous state crime to others. Meanwhile, the country's Defense Minister (President) Ranil Rajapakse has issued a special gazette announcement, transferring the Department of Registration of Persons, Department of Immigration, including the Dangerous Drugs Control Board under him, to Tiran Alles' Ministry of Public Security. Why is that? All the above three institutions are important in the Harak Kata's incident.
Defense Secretary Kamal Gunaratna cannot act outside the instructions of his boss President Ranil Rajapaksa. Ranil is a scoundrel who has given state support to criminals since his early political career. Once upon a time, Ranil had a henchman called Gonawala Sunil, a notorious criminal. The latter was sentenced to 12 years in prison for the crime of raping an underage girl. Because of Ranil's influence over the then president, who was Ranil's uncle, J. R. Jayawardhana granted a presidential pardon to the prisoner, and then the released prisoner was appointed as a Justice of Pease. Now Ranil, who has enough experience in how to get criminals to commit the crimes he wants, has become the president of the country.
Tiran Alles is not second to Ranil, as the former was very clever in misguiding LTTE and getting them involved in crimes.
Harak Kata has money not in billions but trillions. Ranil, Tiran, and Kamal didn't receive that money in connection with his release.? Are they pure as the driven snow?
Harak Kata's criminal gang is responsible for 22 murders. For whose benefit do they carry out the next killing?
Did not Harak Kata pay any compensation for his release?
- By a reporter from LeN Internal Information Service
---------------------------
by (2022-10-11 15:59:25)
We are unable to continue LeN without your kind donation.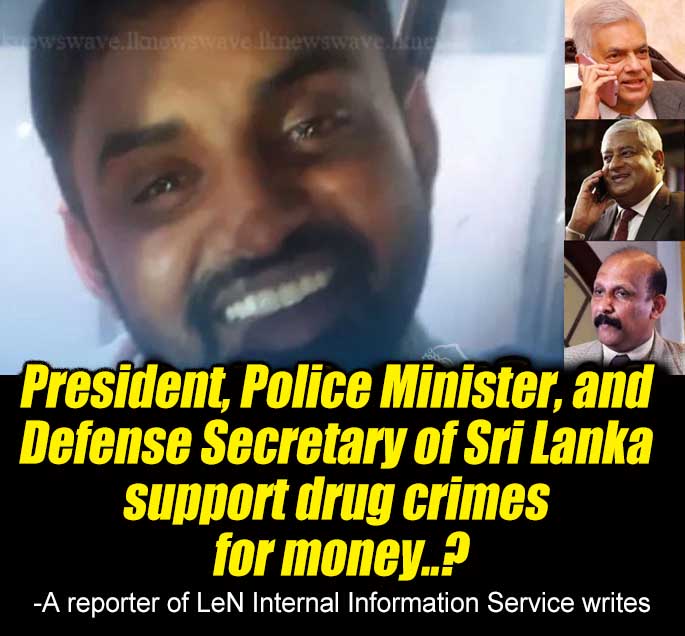 Leave a Reply