Against the theft of Sri Lanka's energy rights..!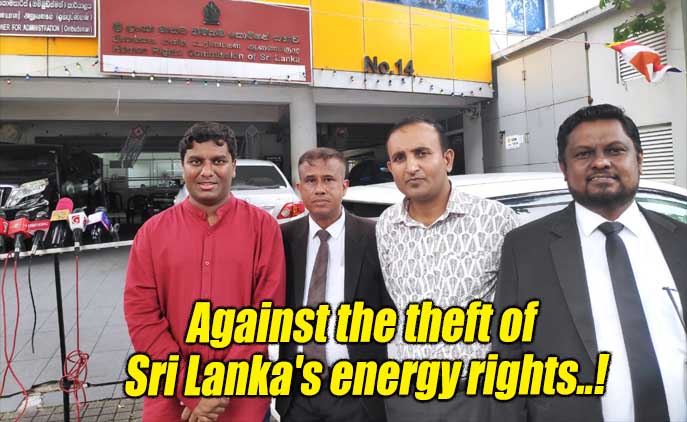 (Lanka-e-News -11.May.2023, 11.30PM) The following press release outlines the complaint lodged with the Public Utilities Commission and the Criminal Investigation Department regarding the future energy production in Sri Lanka, domestic energy security, the denial of affordable energy access, and the alleged fraudulent and corrupt allocation of power rights to foreign companies by the Ministry of Power and Energy and its affiliated agencies.
Recently, the Ministry of Electricity and Energy, including the Renewable Energy Authority and the Petroleum Resources Development Authority, have been embroiled in controversy regarding their handling of matters related to future energy production opportunities in Sri Lanka, local energy security, and providing affordable energy access to the public.
Accordingly,
Under the authorization of the Cabinet, Adani Green Energy Limited has been granted 1000 hectares of land in the Pooneryn - Mannar region for the implementation of a 500 MW renewable energy project. Additionally, we are receiving information that ongoing efforts are currently underway to allocate an additional 500 MW to the aforementioned company. Consequently, the involved entity will gain control over the northern province, known for being the region with the highest wind power production in Sri Lanka. The wind speed in this region reaches an exceptional 9.5 meters per second, ensuring an ample power generation capacity to meet Sri Lanka's total energy consumption. Previously, the Electricity Board successfully established a wind power plant with a capacity of 100 megawatts, utilizing a loan from the Asian Development Bank. This initiative enables the provision of electricity to the national grid at a competitive cost of 8.20 rupees. In this scenario, considering the presence of wind and solar power generation capabilities in the northern region, a partnership has been established with Adani Green Energy Limited for a sum of USD 6.5 cents (equivalent to approximately 20 rupees based on the current USD exchange rate).
As per recent news reports, the Sri Lanka Board of Investment is actively engaged in appointing committees and granting permissions to Adani for the execution of a 1000 MW renewable energy project in Mannar. Consequently, the Ministry of Energy is diligently undertaking the task of transferring Sri Lanka's renewable energy rights to the respective company on a daily basis.
By entering into such contracts, Sri Lanka stands to lose its energy rights, resulting in consumers having to purchase more expensive distributed electricity. Furthermore, this situation may lead to the missed opportunity and loss of rights for green hydrogen energy generation in Sri Lanka. Green hydrogen technology involves the process of extracting hydrogen molecules from water and utilizing them as a distinct fuel source, employing renewable energy. This groundbreaking technology is widely acknowledged as the most environmentally friendly energy solution worldwide and has witnessed remarkable advancements in its development. Hence, numerous countries have already directed their attention towards leveraging hydrogen as a primary energy source for power generators, vehicles, aircraft, and ships. In alignment with this global trend, India has implemented a comprehensive roadmap aimed at fully embracing hydrogen technology throughout the entire country.
Nevertheless, despite our nation's lack of a specific hydrogen roadmap and a less proactive stance in its development, we are now obliged to engage with an Indian company to assess the prospects of green hydrogen energy production.
Consequently, the Petroleum Development Authority has entered into a contract with Greenstat Hydrogen India (Pvt. Ltd) to undertake a comprehensive feasibility study on hydrogen production within Sri Lanka.
These initiatives were carried out in February-March of the previous year under the awareness of the then Minister, Udaya Gammanpila. However, the current Minister of Energy has not yet validated the agreement. Additionally, Cabinet approval for Adani Green Energy Limited was also granted during the same period.
Studies conducted by the World Bank have revealed that Sri Lanka's wind energy possesses the capacity to fulfill the nation's entire electricity demand. These studies further indicate that if Sri Lanka focuses on developing energy production in this region, there is a significant opportunity to generate substantial income, leading to remarkable economic achievements. Reports from world Bank affirm that Sri Lanka has the potential to exceed its energy requirements and explore the production of hydrogen and ammonia.
(https://www.energyvoice.com/oilandgas/asia/461197/world-bank-eyes-huge-offshore-wind-potential-in-sri-lanka/#)
In disregard of Sri Lanka's energy policy and the imperative for future energy security and rights, the Ministry of Energy has purportedly engaged in corrupt practices and violated the human rights of the Sri Lankan people. Notably, these actions have occurred without updating the energy policy and renewable energy development plan. As a result, complaints have been lodged, emphasizing the need for prompt attention and resolution.
The adverse impact of this act on the Sri Lankan economy has prompted the submission of complaints to the Criminal Investigation Department (CID) in order to address the situation effectively.
Today, additional complaints were lodged to draw attention to the Public Utilities Commission's apparent inaction and failure to voice objections regarding this matter.
Individual environmentalists, Bandhu Ranga Kariyawasam and Sanka Chandima Abeywardena, have lodged the complaint, while advocates Nishantha Saman Kumara and Lawyer Chawiru Sirisena have been advised to facilitate the forwarding of these complaints.
Chamira Dinath
---------------------------
by (2023-05-11 18:24:55)
We are unable to continue LeN without your kind donation.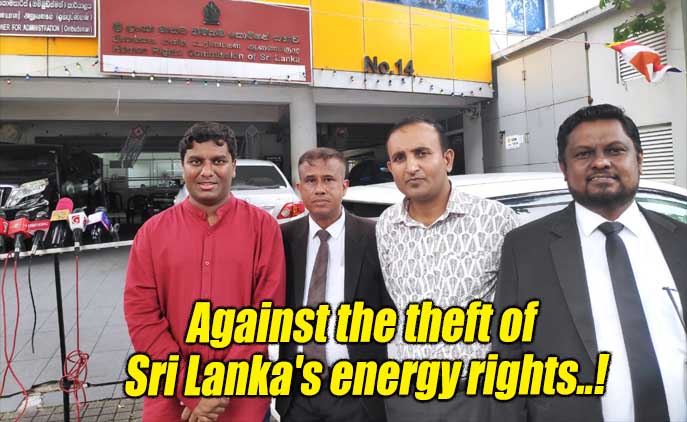 Leave a Reply