Fix Fox & Fake News to Preserve the Future of Democracy
-By Jayasri Priyalal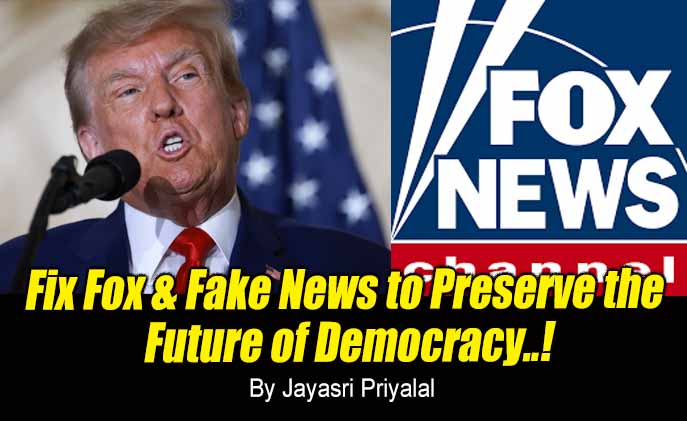 (Lanka-e-News -21.May.2023, 9.10 PM) A defamation case filed by Dominion Voting system against Fox News settled with an agreement to pay US$ 787.5 million without going to a trial was headline news a few weeks back. Getting into similar controversies by news agencies proves a point, how election campaigning becomes a money-making venture for media companies. This episode further proves that election campaigns in many Western democracies are not for debates and discussion on issues to strengthen effective policy formulation but instead a tremendous effort towards fundraising on a large scale.
Fake news in the current era of the Internet of Things (IoT) has played a role in shaping the emotions of voters when they form opinions based on relative truth instead of absolute truth. The concept of truth is being relativized and individualized, losing its universal character, writes Henry Kissinger in his book World Order. He argues information is presented as being free; the recipient pays for it by supplying data to be exploited by persons unknown to the supplying source. Thus, communication technology threatens to diminish the individual's capacity for an inward quest by increasing individuals' reliance on technology-electronic & social media as a facilitator and mediator of thought. Television, computers, and smartphones compose a trifecta offering nearly constant interaction with a screen throughout the day, with repeated push-up useless messages bombarding with information. Mere information does not contribute to knowledge accumulation of wisdom in society.
Fake news impact the future of democracy...
In the 19th century, the fourth estate came to refer exclusively to the press, as it often greatly influenced public affairs. News readers were visiting town to town on horseback, narrating news stories printed in papers to illiterate communities. Now the, electronic media overtakes the press and caters for private affairs, neglecting the role of public affairs to put profits before people and the planet. What an ideal setting for Plutocracy and Kleptocracy to work hand in hand to institutionalize state and regulatory capture in the name of democracy. The information available at the fingertips, flashed on a smartphone screen, the plight of the fourth estate in the 21st century.
This essay critically examines how information asymmetry and fake news impact the future of democracy. Professor Kishore Mahbubani writes how plutocracy gains prominence to the detriment of democracy. Before we proceed, we need to understand what plutocracy means clearly. Plutocracy is just the opposite of democracy. Kishore Mahbubani explains this lucidly, in a democracy, society is structured to take care of the vast majority. In a plutocracy, society operates to take care of the interests of a small affluent minority. The renowned Western philosopher Pluto writes in 'The Republic' quoting Socrates, warning of the dangers of selecting ships' captains by their wealth instead of the captain's competency in navigating the vessel. Hence those keen to preserve the representative democracy need to revisit the current trends, which only widen trust deficiencies challenging the relevance of democratic forms of governments serving most of the population in the future.
Democracy is the best mechanism humans have devised for navigating the trade-offs and weaknesses inherent in different socio-economic systems. Collective interest and opinions work best in a democratically functioning society as all citizens aspire for prosperity enabling resilience, inclusivity and sustainability.
As democratic societies create opportunities for individuals well being achieved through their efforts, Recognition of everyone's cultural identity, religious beliefs, and values system becomes a basic fundamental right. Furthermore, the power of the ballot, irrespective of its ethnic origin and spiritual religion, delivers results. Paramount conditioner for inclusivity for shared prosperity if policy formulations are backed with public opinion.
Democratic ideals are no longer a sacred imperative even for citizens of mature democracies, Shoshana Zuboff writes in her book, The Age of Surveillance Capitalism. Fake news spreads uncertainties amongst the population like wildfire, and freedom from tension is not the absolute freedom in spirit for democracies to thrive.
Shoshana forewarns the dangers in an emerging age of surveillance capital in the hands of a few digital giants dominating the current information civilization. Shoshana argues that in the past industrial civilization era, exploitation of nature for profits over people and the planet. She warns that in the current information civilization, it is human nature in danger of getting abused through digital colonization. It is increasingly evident that public opinion is manipulated through electronic media, particularly the social media.
Surveillance Capitalism armed with behavioural surpluses of individuals collated through social and electronic media platforms mainstreams economies of action, predicts Shoshana Zuboff. Behavioural tendencies collated as data enlarge the complexity of surplus operations. Economies of scale are joined with economies of scope and align perfectly towards economies of action, earning profits for digital media giants.
Turning Democracy to Despotism
Grabbing the electoral power of the sandwiched 99% to serve the interest of the 1% of the privilege has contributed through economies of action. Fake news helps those teaming up with those influential lobby groups to seek political power through regulatory and state capture. The process never ends at that point; phoney information continues to mainstream fake prosperities to the marginalized.
Mark Zuckerberg, the founder of Facebook, apologized to the US Congress for allowing to tap 87 million Facebook user data. Cambridge Analytica did the rest using its App My-Digital-Life shaping the opinions based on the Facebook user profiles to influence the electoral gain.
Many digital tools and social media algorithms equipped with Artificial Intelligence (AI) are effectively put into use deliberately to suppress the collective opinions expressed by a ballot in a free and fair election. Widening inequality triggering social unrest in representative democracies is not limited to the mere distribution of income and wealth.
Increasingly the Digital Dictator giant companies are now controlling the division of knowledge. Widening inequality in accessing universal services such as education and health care are causal factors for social unrest. Are we compromising the unique cognitive skills of humans founded on Multiple Intelligence by leaving everything in the data-driven AI algorithms?
Narrowing the widening mistrust in Democracies is a priority.
The need of the hour is to trust each other, respect one another and be positive in overcoming uncertainties and doubting our abilities to find the right solution. During election campaigns, various lobby groups can use electronic media to confuse people and create doubts among the electorate. Did Fox News favour certain groups' doubt about the postal votes cast in the presidential elections? This writer assumes what led the Dominion Voting System to file the suit against Fox News. Another US election technology company, Smartmatic, is suing news outlets, including Fox, over false claims of election fraud, and Dominion has other cases pending.
To conclude the essay, a quote from Thomas Piketty, the French economist, from his bestseller Capital in the Twenty-First Century is worthy –"If we are to regain control of the capital, we must bet everything on democracy". In the emerging Gilded Age of extreme inequality, there are many hidden trigger points for the freedom-loving liberal electorate and citizenry to compare the quality of life in autocratic political systems as a viable option to ailing representative democracies.
Jayasri Priyalal
---------------------------
by (2023-05-21 15:50:40)
We are unable to continue LeN without your kind donation.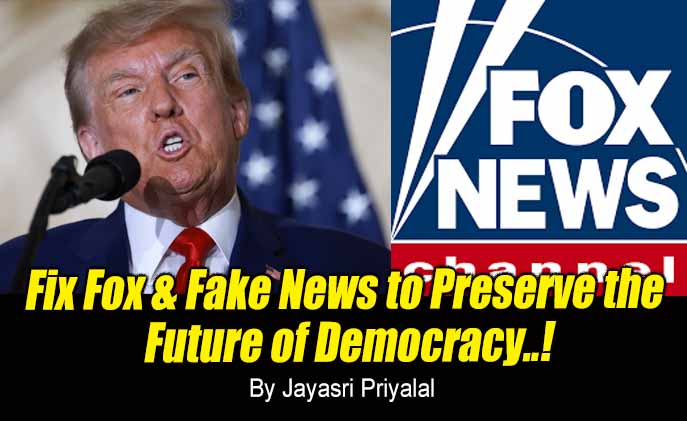 Leave a Reply