To Air force commander to be who brought down two Kafir jets through collision , pushing out Maithri from helicopter is no big deal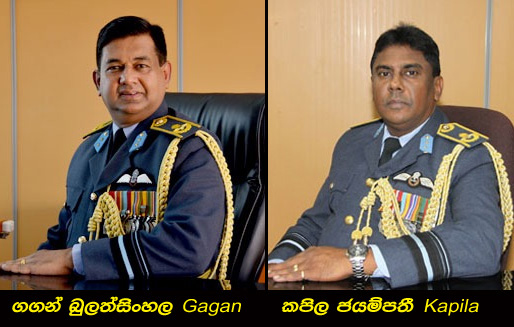 (Lanka-e-News -22.May.2015, 11.30PM) If there is a country in the whole wide world where during an air display, two supersonic Kafir jets even when not being involved in attack collided with one another and were destroyed , it is only in Sri Lanka (SL) that disaster struck - on March 1 st 2011.
If the Air force Director of that air operation who should have been held absolutely responsible for that catastrophe and immediately dismissed from his post , but instead at some future day is to be made the commander of that same Air force , that appointment courting disaster is also going to be made only in SL .
That individual who was responsible for the air disaster that time and who is now going to be made the Air force commander portending grave danger to the entire Air force and the country is the Air force operations Director Air vice Marshal Gagan Bulathsinghala. It was an unwritten policy of the ex Rajapakse regime not to punish a wrongdoer but protect him and use him later for its nefarious and unscrupulous purposes. Accordingly , Gagan escaped punishment and became a bootlicking stooge of the Rajapakse regime.
From that point of time what Gagan did was not discharging his official duties , but rather discharging unashamedly from every orifice of his body publicly for and on behalf of Rajapakses. One such instance was : the private helicopter of Sajin Vaas Gunawardena, a Rajapakse lapdog being secretly maintained by the Air force at government expense. Even fuel supply to it was by the Air force , and the pilot for it was also supplied by the Air force . All these illicit activities were carried on under the very nose of Gagan Bulathsinghala and monitored by him. Sadly and strangely until now nobody has probed into these state frauds.
It is on behalf of such an inefficient unscrupulous lickspittle of Rajapakses, the defense secretary has written to the president to get his approval to appoint him tomorrow as the Air force commander. Though there is a most efficient Vice Marshal Kapila Jayampathy who is about the same seniority as Gagan , as is usual in SL , an inefficient stooge sans merits is going to be appointed sweeping aside the capable and the efficient , based on reports.
Jayampathy is also an efficient pilot for during the period of the war , he was shot at and hit by a bullet in his head when he was piloting the helicopter, he however safely navigated the helicopter to its destination . He saved himself partly because of the protective helmet when the bullet struck him.
In SL now, to become a commander of the forces , efficiency, honesty, impartiality and conscientiousness are immaterial. What is material is , a child of a chief of the forces must be in readiness to marry a child of a businessman who associates with the country's bigwigs. When that is the case , the businessman 'massina' (in law) is able to appoint his massina in the forces as the commander. It does not matter even if that 'massina' had created a record (ignominious) of wreaking havoc and destruction while on duty , or has created a record by committing rapes , or he had been sniffing the stinking loin clothes of the enemy.
The real danger is not over. Even now, president Maithripala is facing murder threats from the fascist , power greedy , brutal Rajapakse groups who had to give up power in favor of the government of good governance . That is why in Angunakola Pelessa assassination bid on president , the pistol carried by the would be assassin became a water bottle later. When the security situation is that perilous , to an air force commander to be , who is a faithful stooge of the Rajapakses and was responsible for the collision of two Kafir jets in mid air , pushing out the president when in flight in a helicopter is no big task . This is the real and imminent danger..!
As a true unbiased media that had been reporting fearlessly, frankly and forthrightly we deem it our responsibility to report this danger well ahead.
---------------------------
by (2015-05-22 19:17:21)
We are unable to continue LeN without your kind donation.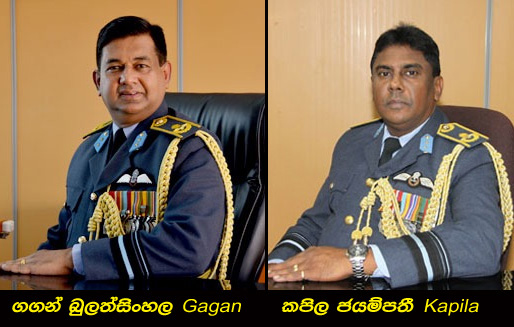 Leave a Reply