More information on putrid antecedence of Gagan the new air force commander to be comes to light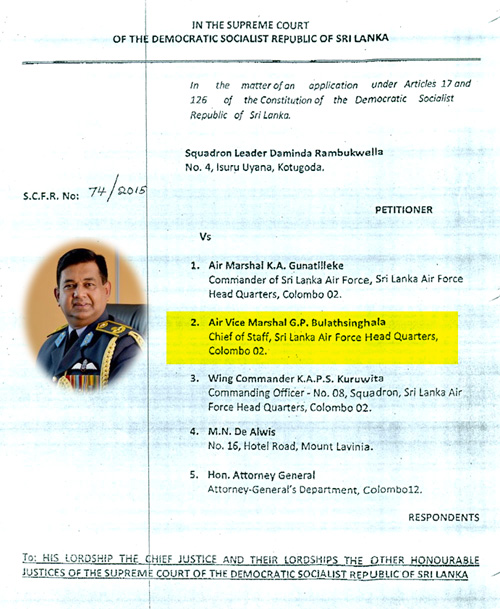 (Lanka-e-News- 25.May.2015, 10.30PM) Lanka e news recently under the heading ''To Air force commander to be who brought down two Kafir jets through collision, pushing out Maithri from helicopter is no big deal'' revealed the unsuitability of Air Vice marshal Gagan Bulathsinghala for that post, while also warning that pushing out president Maithripala from the helicopter in flight is no big deal for such an individual. After the exposure of Lanka e news , more copious information about Gagan's inefficiency and unsuitability have come to light.
The most important piece of information is: against Gagan there is a fundamental rights(FR ) case currently being heard in the supreme court (SC). According to the country's laws , if a court has decided that a government officer is found guilty in an FR case, he is not eligible to any promotion for a period specified, and if there is an FR case on going against him in court , he/she is not eligible for promotion until the court verdict is given.
In the SC , an FR case No. 74/2015 has been filed on the ground that sending Daminda Rambukwella , a Squadron Leader residing at Isuru Uyana, Kotugoda on compulsory pension, his fundamental rights have been infringed. In that case , it is none other than Air Vice marshal Gagan Bulathsinghala is the second accused . This case was filed on 13 th March 2015.
In the circumstances , it is the considered opinion of legal luminaries that appointment of Gagan as the Air force commander is illegal , and if he is appointed in spite of it , that will be a grave violation of the laws of the country , and it will also be tantamount to contempt of court.
Informed sources from within say , as the son of a high profile businessman who is a close friend of the president, and daughter of Gagan Bulathsinghala are about to be married , the businessman is secretly whispering to the president and inducing him to appoint his new 'massina' (in law) as the new air force commander, Gagan's utter inefficiency , deficiencies and putrid antecedence notwithstanding.
---------------------------
by (2015-05-25 18:09:11)
We are unable to continue LeN without your kind donation.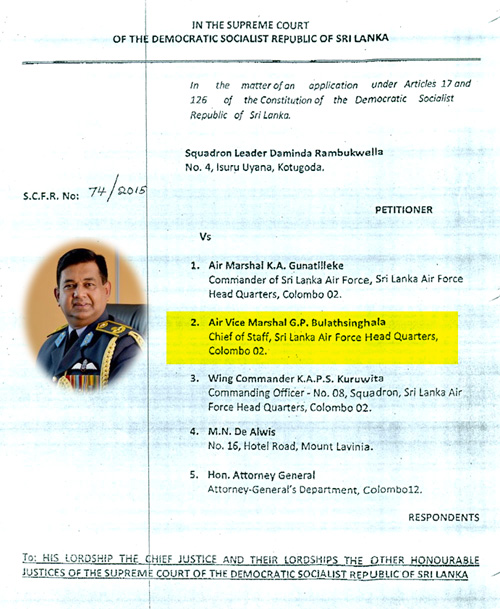 Leave a Reply