Nobody there to receive air force commander insignia :One who could not shoot down LTTE mini aircrafts cannot be appointed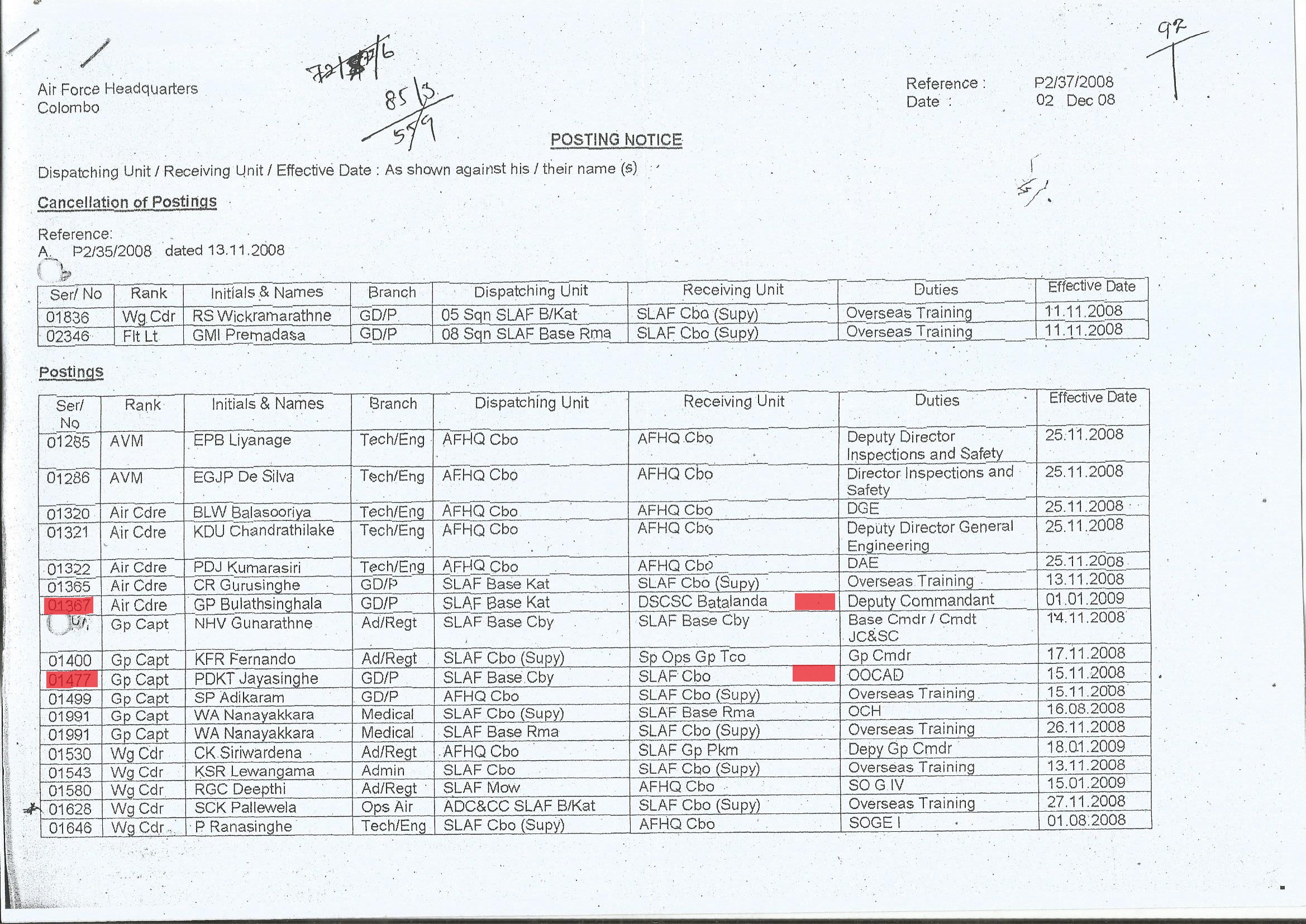 (Lanka-e-News -15.June.2015, 7.30 AM) The vacancy that arose following the appointment of the Air force commander as the chief of staff of the forces , has yet not been filled nor any name proposed , whereby the whole Air force is in a deep muddle.
Air force commander Air Marshal Kolitha Gunatileke was appointed as the chief of staff of the forces from the 16 th, meaning that he will be assuming those duties tomorrow. Though prior to that officially today , the sword and baton must be handed over to the new Air force chief , the name of the successor , has not been proposed yet to that post.
May we recall when plans were afoot to appoint Air vice marshal Gagan Bulathsinghala the notorious conspiratorial wheeler dealer to the post that has fallen vacant , Lanka e news fearlessly and forthrightly exposed his corrupt and perfidious nature unrelentingly with evidence , pointing out he merits interdiction and be put behind bars following an investigation, and not the post of Air force commander . This was because of his involvement with the other notorious crook Sajin Vaas Gunawardena owner of Cosmo private aviation Co. Bulathsinghala while he was the air force commander provided official air force service support to the private Co. of Sajin Vaas in violation of the laws , and collected huge sums of monies in many millions , which monies are now gone missing and whose fate is not known to anyone.
Bulathsinghala was also found guilty in an investigation conducted into the bombing of the capital city, Colombo by the LTTE who moved into the heart of the city three times in their mini air crafts (two) and escaped scot free after the aerial bombing . During that period , Bulathsinghala was in charge of the aerial operations . Consequently Bulathsinghala was demoted and transferred to the Sapugaskanda staff College where he had to work under an individual who was below his rank . Moreover he was deprived of his tasks of commander ,as a punishment.
It is to be noted that , group captain , P.D.K.T. Jayasinghe who was second in command to Gagan after taking over duties from Gagan , at the first opportunity succeeded in getting the two 'kurumbetti' aircrafts of the LTTE shot down . That was in 2009. Hence , if this same officer Gagan is to be appointed as the air force chief in 2015 , the country's chief of the commanding forces is either a nitwit or has gone nuts.
In any event names of four Field marshals have been proposed to the post of Air force commander based on their seniority :
1.Air Vice Marshal Gagan Bulathsinghala –date of birth 1961-09-12 . Commissioned as Air force officer on 1983-04-08
2.Air vice Marshal C.R. Gurusinghe – date of birth 1962-03-15 .Commissioned as air force officer on 1983-04-08
3.Air Vice marshal K.V.B. Jayampathy – date of birth 1963-05-29 . Commissioned as air force officer on 1985 -04-01
4.Air Vice Marshal D.L.S. Dias – date of birth 1965- 11 -02 . Commissioned as air force officer on 1986 -04-15
It is to be noted that all the four officers named above are not pilots of fighter jets . They are only helicopter pilots.
No matter what , if an air force commander is not appointed , the new chief of staff Kolitha will have to act as the air force commander . However such an arrangement is not in accord with traditions.

(A copy of the order demoting Gagan Bulathsinghala due to his failure to shoot down the simple 'kurumbetti' aircrafts of the LTTE is in the photograph )
---------------------------
by (2015-06-16 14:54:02)
We are unable to continue LeN without your kind donation.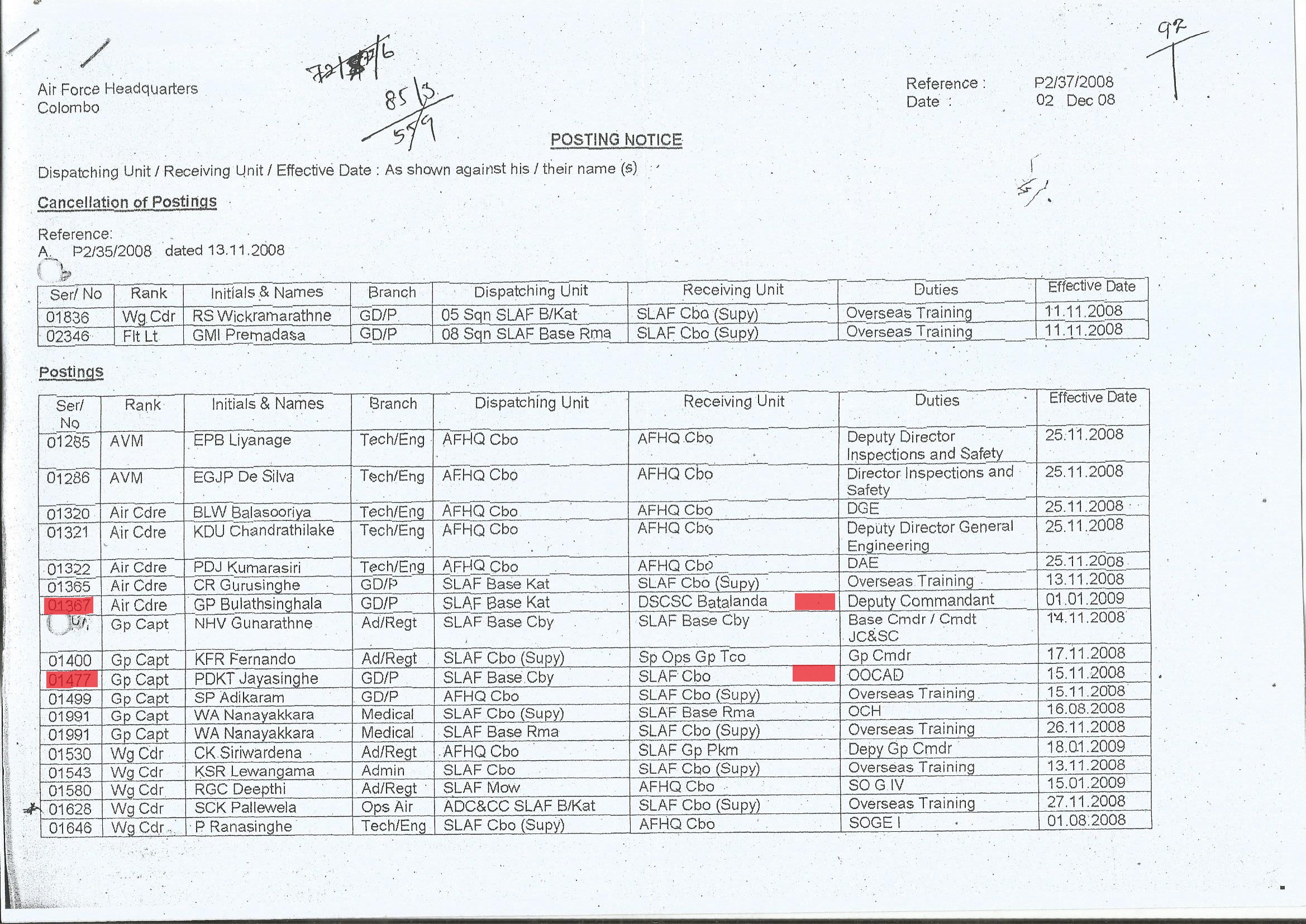 Leave a Reply