Judges write to CJ that they cannot hear cases and sit with Abrew facing heinous crime charges and imminent arrest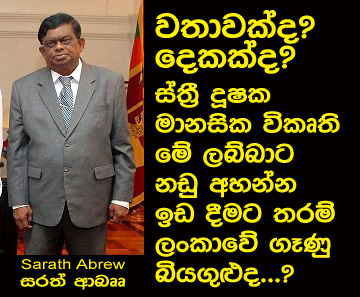 (Lanka-e-News- 30.June.2015, 9.35PM) While legal action is being contemplated against the Supreme court (SC) judge Sarath Abrew , the notorious debauched and demented individual based on charges of brutally attacking a woman working in his house with a pistol thereby inflicting grave injuries ; threatening her with death and also suspected of committing rape on her , some of the judges of the SC have refused to hear cases where Abrew is also one of the judges in the panel, based on reports.
These charges against Abrew fall into the category of heinous crimes. A 'B' report has been filed in the Mt. Lavinia magistrate court , and permission has been sought to further conduct investigations. Moreover the police has recorded a statement of the judge yesterday.
Judges have informed the chief justice in writing that they cannot hear cases where the panel of judges includes Abrew who is a suspect in grave criminal involvements , based on reports reaching Lanka e news inside information courts division.
The arrest of this debauched judge is imminent , and after recording statements of some more individuals , the judge is to be taken into custody , and Attorney general's advice has been sought with this end in view, a high rung police officer revealed.
Under the laws of the country , the judicial service commission (JSC) is not empowered to dismiss a SC judge, and that is possible only by an impeachment motion brought against him and passed in parliament. Currently , as the parliament is dissolved, it is the opinion of senior lawyers that in a heinous crime irrespective of the status or rank of a suspect , an officially authorized peace officer has the powers to take that suspect into custody.

In any event , the unscrupulous media of Kili Maharaja, the perfidious pipeline businessman, that plays to his stinking gallery has completely expunged this most vital news , in keeping with its traitorous policies of protecting criminals and promoting crimes in the country.
---------------------------
by (2015-06-30 16:10:30)
We are unable to continue LeN without your kind donation.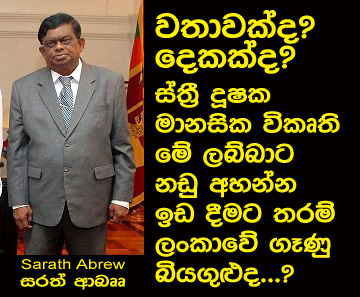 Leave a Reply