Desperate discarded Rajapakses plot and plan to re capture power via LTTE -The whole truth with evidence..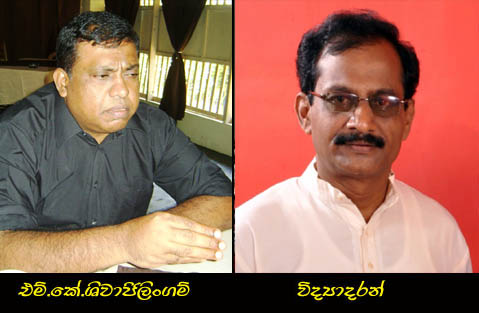 (Lanka-e-News -19.July.2015, 11.30PM) The defeated people rejected Rajapakses who know deep within their bones that if they are to cover up all their corrupt , perfidious and criminal activities ,they must somehow re capture power, in their desperation and frustration are even stooping at the expense of national interests to utilise the LTTE to accomplish their traitorous goals , based on reports reaching Lanka e news.
According to Tamil news reporters , Mahinda Rajapkse with this in view has forwarded a list for Kurunegala district under the leadership of M.K.Sivajilingam , a relative of Late Prabhakaran , and monies to meet all expenses involved in this regard have been provided by Rajapakse himself.
It is the diabolic plan of Mahinda Rajapakse to create the impression that Prabhakaran's relative is coming forward to defeat him , and thereby draw a parallel with the UNP which is also seeking to defeat him . This is also to mislead the foolish racists who are eagerly waiting to swallow whole such deceitful machinations without realizing that such deceptions practised by politicians earlier on only brought the country to the brink of total annihilation via a 30 years old ethnic war.
Moreover , it is Mahinda Rajapakse who has expended for this list of group of LTTE members , and is hell bent on regaining power even at the expense of country's unity and genuine interests of the masses , based on what the reporters of the North revealed. It is the sordid aim and objective of Mahinda Rajapakse to defeat through these maneuvers the TNA which has abandoned its demand for a separate administration , and now clamoring for a political solution via devolution of powers within a unitary State.
Towards achieving this end , Rajapakses have used Vidyatharan , the editor of Udayan newspaper as the pawn. Vidyatharan is the brother in law of ex M.P. Saravanabavan, the owner of Udayan . It is specially worthy of note that Udayan news paper was set on fire during the Rajapakse era. It is also worthy of special mention that all the media Institutions that were subjected to attacks , intimidation and threats by Rajapakses transformed into bootlickers and lickspittles of the Rajapakses later on . Subsequently these media Institutions (except Lanka e news) shamelessly descended to the lowliest levels to do the sordid biddings of the Rajapakses. Some of them even served as their spittoons only worthy of being spat into.
After bombing Sirasa of Kili Maharaja , the latter was made Rajapakses' pet henchman ; Tiran Alles too followed suit ; After killing Lasantha Wickremetunge , his brother Lal Wickremetunge was made their plaything , and finally a majority of the shares of the newspaper was bought by a pro Rajapakse businessman.(By now that situation has changed) . Siyatha too suffered a similar fate.These are some of the many examples.
In the end the Udayan newspaper too was subjected to this same treatment , a Tamil version though. Already Saravanabavan owner of Udayan , and its editor , Vidyadaran who have overriding venal traits have become pawns of the Rajapakses. At the last presidential elections too the Udayan news paper played a dirty double game . The Rajapakses who have got down ex LTTE members through Vidyadaran have spent colossal sums in this connection , Tamil news reporters disclosed. If any of these LTTE members enter parliament they have agreed to work with the Rajapakses .
Meanwhile those opposing the special security detail provided to Mahinda Rajapakse have gone to courts to make a request that he should like the other candidates contest elections sans the special security . The Rajapakses on the other hand have hatched a conspiracy to counter this and exploit it to their advantage.That is ,use the ex LTTE members who are now with them to launch a fake attack on Mahinda , and paint a picture that this was a traitorous attack of the LTTE at the behest of the opposition , with a view to winning over the racism oriented votes.
Wimal Weerawansa the grade nine qualified moron who is most infamously famous for his unguarded forked tongue , at the recent Anuradhapura rally inadvertently blabbered about this plan and plot. This blabbermouth said, may be those who are clamoring to withdraw the special security of Mahinda are conspiring to send a bullet through Mahinda. This statement of Weerawansa is being construed by political analysts as a signal of the hidden plots of the Rajapakses in store.
The UPFA Rajapakse faction say , the colossal amount of monies robbed by the corrupt crooked traitors and the one trillion (one thousand billion!) rupees given by a powerful country that helped in these criminal activities may be spent for this forthcoming elections ( sources from within the Rajapkse regime reveal the proceeds collected by the Rajapkses on the sale of even a small amount of gold of LTTE exceeds Rs. Two trillion !)
---------------------------
by (2015-07-19 20:25:29)
We are unable to continue LeN without your kind donation.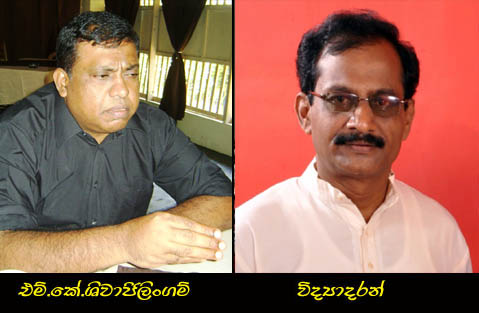 Leave a Reply