Where and why did Gotabaya's bootlicking lackey Major general send Prabhakaran's white van with bogus number plate and his armed men?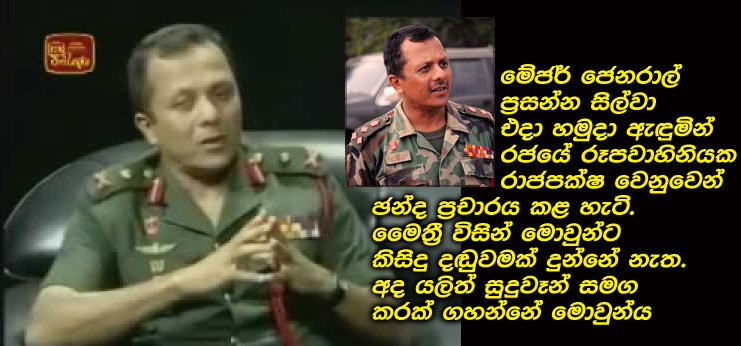 (Lanka-e-News- 21.July.2015, 11.30PM) Major general Prasanna De Silva who carried out the murder contracts of brutal corrupt coward Gotabaya Rajapakse during the Rajapkse regime , and who was a criminal stooge of theirs , has got trapped with Prabhakaran's white Van to the Mirihana police when trying to repeat the same conspiracies and criminal activities during the run up to the upcoming elections ,in much the same way as he did during the Rajapakse era.
This white van that sped away yesterday night unheeding police orders, turning in all directions to avoid the police was finally stopped by the police that gave chase. When the police inspected the vehicle they were shocked to see three armed men inside it. Upon questioning , they had revealed that they are the body guards of Major general Prasanna De Silva. It was also subsequently discovered that the number plate used on the vehicle was fake.
That number truly belongs to a cab of a cab hiring service and is not what had been hired for the purposes of the forces. When it was probed deeper , it had been discovered that this Van was used by the LTTE sea tiger leader Soosai and LTTE slain leader Prabhakaran. What's more ? this Van has not been registered with the forces or with any other Institution , and it is now used by major general Prasanna De Silva.
The police after taking these three suspects into custody had questioned them while informing the forces, when the military police had stated a separate investigation will be conducted by them.
A high rung officer of the forces answering queries raised by Lanka e news said , carrying arms while in civil attire in a Van that has a fake registration number is a gross violation of military laws.
When these three suspects were produced before court this evening , they were released on Rs. 100,000.00 cash bail each.This too is something rudely shocking vis a vis the seriousness and gravity of the crime committed.
Prasanna Silva is a most notorious degenerate officer with scant regard for the sacrosanct laws , who with impunity campaigned for Rajapakse's election victory openly and even appeared on the National television wearing the official army uniform to directly canvass for Rajapakse.This criminal officer is one who ought to be questioned in connection with the unit that committed many murders unlawfully and secretly on behalf of Gotabaya Rajapakse.
Sometime ago when he was the military attache at the SL High commission in Britain , he most cruelly moved heaven and earth to hound out the website operators who were hostile to the regime.

President Maithripala Sirisena who took over the defense ministry after the 8th of January 2015, instead of searching for and taking punitive action against the pro MaRa murderers in the forces , knowingly or unknowingly gave them promotions as foreign envoys . Consequently these scoundrels are now secretly conspiring with the defeated desperate Rajapakses to damage and destroy the government of good governance.
Though the defense ministry that was under Rajapakses was taken over by president Maithripala Sirisena , the latter had not even conducted an internal inquiry into the crimes and corruption that raged during the Rajapakse era so far.
Unbelievably , Major general Prasanna De Silva is at the moment serving under Maithripala Sirisena being attached to the latter's defense ministry
---------------------------
by (2015-07-21 19:56:10)
We are unable to continue LeN without your kind donation.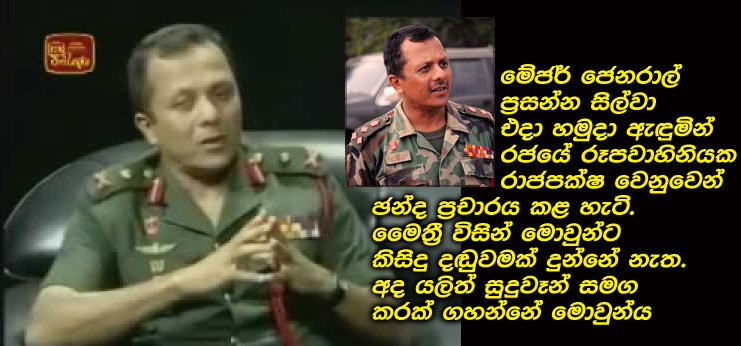 Leave a Reply