Are Maithri laws only for the UNP members ?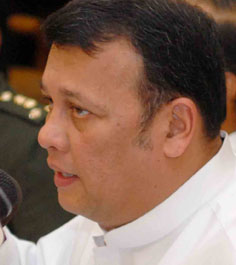 (Lanka-e-News - 20.Nov.2015, 4.35 AM) Retired major general Gamini Hettiarachchi who was in charge of secret operations room on 8 th January - the day of the presidential elections, that was run by Gotabaya Rajapakse on the instructions of ex president Mahinda Rajapakse with a view to preclude good governance from coming into being in Sri Lanka, was appointed as the chairman of the vocational training Authority by the same government of good governance . In addition ,Sugath Handunge who wrote the lyrics of 'Aayu Rakbatthhu Aavada' on behalf of ex president Mahinda Rajapakse as the Institute's Vice chairman , and former Puttalam deputy minister 71 years old Yusas Peiris as chairman of 'NAITA,' were appointed ,minister Mahinda Samarasinghe revealed.
Mahinda Samarasinghe the minister of Skills development and vocational training when making these appointments had totally disregarded and disdained the special 'president -prime minister' recommendation committee , as well as the president's order that when making such appointments , the recommendation of this committee is imperative.
It is worthy of note that Hettiarachchi has no qualification whatsoever to match this appointment , as his knowledge pertains to military affairs. If he has any qualification at all , it is simply that he was the Director General of the headquarters of Human rights and disaster management when Samarasinghe was its minister.
The clandestine operations room that was controlled by Gotabaya was geared to sabotage the presidential election 2015 , and to subsequently meet any challenges that may develop thereby. 200 exclusive senior ex officers of the security division like retired Navy commander Daya Sandagiri and major General Soysa were manning this service for over two months.
The expenditure involved in this special operation comprising members of the forces was fully met by Avant Garde Co. The monthly salaries paid were very high to all these ex officers of the forces
Daya Sandagiri was paid Rs. 500,000.00; and Major General Hettiarachchi was paid Rs. 250,000.00.
Consequent upon the appointment of these officers to posts of chairman and deputy chairman of the Vocational training authority by minister Samarasinghe without selections being duly made based on the recommendations of the 'president –P.M. ' special Committee has caused deep disappointment and disillusionment among the groups that made supreme sacrifices and even risked their lives to install a government of good governance.
The government of good governance came to power by making all the promises and solemn assurances that the corrupt will be punished and severely dealt with.However ,following the victory , appointment of the corrupt and the crooked individuals who acted unlawfully to install Mahinda Rajapakse in power, to key positions now in the government Institutions has naturally rudely shocked and provoked the anger of UNP rank and file who are now thoroughly disappointed.The UNP activists of the good governance government are fiercely and justifiably questioning whether the president's directive is applicable only to the UNP when appointing individuals to high positions in the State Institutions?

On top of this unwelcome chairman post appointment , Sugath Handunge who wrote the lyics of 'Ayu Rakkaththu Aavada' for Mahinda Rajapakse has also been appointed as the new Vice chairman of Vocational training Authority .
Mahinda Ileperuma who wrote the biography of Mahinda Rajapakse - the book titled 'Kuragan Satakaya,' the media Director of his , and is a close friend of Sugath Handunge had recommended the latter to minister Samarasinghe.
Believe it or not , Handunge was earlier working in the Coconut development board , and was demoted by minister Jagath Pushpakumara .
What's more ! while there exists a law that those appointed to posts of chairman of government Institutions should be below the age of 70 years, minister Samarasinghe has ignored the law , to appoint Puttalam district ex deputy minister Yusas Peiris as the chairman of National apprentice Industrial training authority .Yusas who was born on 8 th March 1944 is now over 71 years of age.
---------------------------
by (2015-11-19 23:07:13)
We are unable to continue LeN without your kind donation.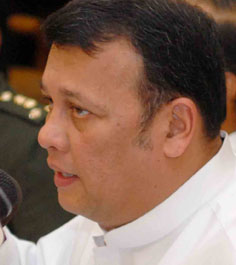 Leave a Reply