Maithri engages in religious observances invoking blessings on indisposed Ranil -But what happened to us ?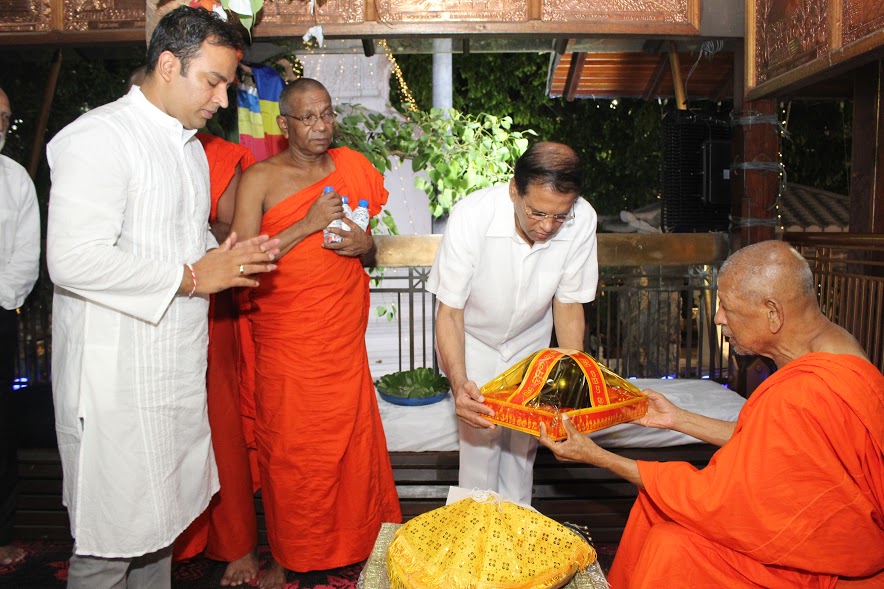 (Lanka-e-News - 07.June.2017, 1.45PM) Prime Minister Ranil Wickremesinghe who was admitted to Maryland John Hopkins hospital , America was discharged after the medical treatment . Meanwhile a pinkama ( religious observances) was conducted for the recovery of the P.M., yesterday (04) at the Gangaramaya temple , Hunupitiya , Colombo with the participation of president Maithripala Sirisena. This Pinkama to evoke blessings was organized by the UNP youth trade unionists' organization . Sagala Ratnayake chief of staff of the P.M.'s office , foreign minister Ravi Karunanayake ,minister Fowzie and several others also took part in this Pinkama .
Herein are photos depicting president engaging in several religious observances to evoke blessings on the P.M. during the Pinkama .
Post scriptum ….
During the nefarious corrupt decade of Medamulana Rajapakse , when the despotic ruler was for sometime ailing from a cancerous growth in an organ of his below, was admitted to Houston M.D. Anderson hospital, U.S.A. Lanka e news reported this at that time . Surprisingly Mahinda Rajapakse the tyrant who was provoked by this revelation , set fire to Lanka e news . At about the same time while publishing reports through the State media that Mahinda was not ailing made a huge publicity din that Rajapakse ( nomerene miniha- deathless man) was not suffering from any disease . Those media reports also carried photos depicting Mahinda taking a walk along the sea shore.
Interestingly , it was Lanka e news again which first reported that Ranil Wickremesinghe P.M. has been admitted to Maryland hospital U.S .A. for medical treatment . In contradistinction to the barbaric and despotic conduct of barbaric brutal Rajapakses then , in this instance , neither a brother of the P.M. nor anybody else set fire to or threatened Lanka e news even via phone for reporting the illness.

Sadly however , this report of Lanka e news could not be endured by the deposed people discarded brutal Rajapakses because their evil aim and agenda was to malign and criticize the P.M that he left for the US disregarding the flood disaster . Through the social media , e mails , sms messages and phone calls to us they wreaked havoc and insulted us saying ' you are giving your ar….. ole to Ranil.'

The weirdest and most incomprehensible part of the conduct of these uncouth , uncultured , uncivilized 'Rajapakses' is their getting enraged and maddened whenever we report about the sickness of a leader – Mahinda (man who thinks he is deathless) or even Ranil.
The old adage ' dog's tail cannot be uncurled even if it is put on a hot stove ' is certainly not without meaning.
(photos – Vimukthi De Soysa)
---------------------------
by (2017-06-07 08:22:16)
We are unable to continue LeN without your kind donation.
Leave a Reply