What is the ulterior motive behind appointing a sex maniac cum dipsomaniac who got assaulted in public as ambassador ?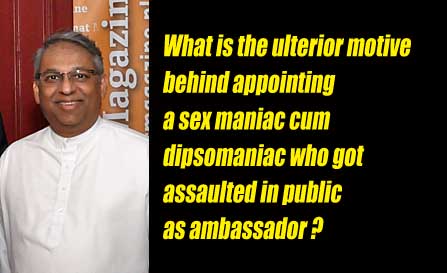 (Lanka-e-News - 10.June.2017, 4.45PM) It is a well and widely known incontrovertible fact that under the last government a number of individuals without eligibility , experience and qualifications were sent irresponsibly as foreign diplomats , and one among them was Buddhi Athauda. His unsuitability and ineligibility apart , owing to his gross misconduct the entire foreign diplomatic service lost its prestige and dignity .
It is with deep regret we reveal that this same debauched and debased individual is going to be appointed as the Sri Lankan (SL) Ambassador to France. We understand this is to accede to the request made by a certain minister .
Lately , the hot topic of discussion was the issue of ineligibility of a dual citizen to become a SL parliamentarian. Simultaneously , on the instructions of the present minister of foreign affairs , a search has been commenced to determine whether there are dual citizens among the foreign diplomats and officers in the foreign diplomatic missions of SL.
While this is the prevailing situation , the president himself appointing Buddhi Athauda who has American citizenship as an ambassador would be most inconsistent and conflicting . When the relevant minister taking a right decision is seeking to rectify the past wrongs , it seems the president is taking a dubious route.
Moreover , when it is a glaring fact that Buddhi Athauda is already tainted with a number of criminal charges , the president paying no heed to these just because to please a minister of his is to clearly demonstrate the retrogressive politics and political backwardness .
Based on the information available at the ministry of foreign affairs, there are a number of accusations and charges against Athauda of sexual harassment testifying to his sex starved and dangerously maniacal nature.
One grave charge is , when he was a Consul in Germany , he molested a clerk (lady) within the office premises itself. This unmarried lady at that time informed this incident in writing to the foreign minister and the secretary , but no action was taken. All what happened was , only she was given a transfer.
Based on the revelations in her affidavit and what Athauda did to her , it is very evident Athauda is suffering from a serious sexual mania and is a sex pervert .On one occasion he had suddenly squeezed the 'private area' of a pregnant woman within the office . The lady was so embarrassed that she fell unconscious . In addition , complaints have been received by the foreign ministry of the molestation he inflicted on a 65 years old woman (domestic ) who came to work at his residence.
Even his official duties he had been openly neglecting so much so that during Athauda's period in the consul office in Germany , that office turned into a liquor bar in the night. His favorite hobby was dancing with women while in a drunken state.
Since the office driver noticed Athauda's sexual misbehavior and was aware of his weaknesses , the driver capitalized on it and was keepimg Athauda under his thumb . The driver performed his duties in a state of somnolence while using the office vehicles, and he was even given lodging in the office itself.
Taking advantage of the weaknesses of his superior , the driver also followed in Athauda's footsteps throwing parties within the precincts of the Consul office which is absolutely illegal . Moreover during the period Athauda was holding office, it was the same driver who had issued passports . He harassed the Tamil nationals viciously and collected illicit payments from them . Sadly , it was beyond Athauda to stop those wrongful and unlawful activities for obvious reasons.
Even though there were opportunities to buy a vehicle in Germany out of government funds , Athauda took a Benz vehicle on leasing terms at exorbitant rate. Yet his traveling derived no benefit for the country . Mind you it were state funds Athauda was sending down the drain. Strangely , so far no probe has been launched into this.

In Netherlands too , when Athauda under the influence of liquor tried to molest a woman he was well and thoroughly assaulted. The foreign ministry took no action despite the fact he tarnished the country's image.
Disgraceful Athauda who is as cunning as he is sex starved , after his term of service was over , while pretending he is an officer still active in the SL foreign diplomatic service , started an association in the name of ' Diplomatic Association' in Germany , and acted on behalf of the SL government unlawfully. This association is being run with the aid of a Right wing extremist political association in Germany.
The president must therefore carefully ponder how improper and perilous it is to appoint a member of such an association as an ambassador representing the motherland , because this country belongs not to Maithripala alone but to the people. Foreign diplomats are not personal representatives of Sirisena ,rather they are representatives of the State . Whoever appointing them has an inescapable responsibility towards the people , and must realize its gravity .
No matter what , when taking decisions in country's best interests and its security, one should not give primary and paramount consideration to one's own personal agendas, whims and fancies. That is totally wrong and is to put the country at risk . One must realize stakes are greater and goals are loftier because it is a country and not self that is at stake.

Hence , if the president is to appoint this notorious character as an ambassador despite so many objections and opposition from every quarter , separate attention must be paid to ascertain whether there is any ulterior motive behind this based on clandestine grounds.
By a Diplomutt
---------------------------
by (2017-06-10 11:25:05)
We are unable to continue LeN without your kind donation.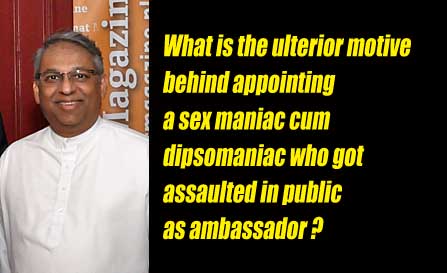 Leave a Reply