The true story behind SL cricket manager mafia..!
-by LeN special reporter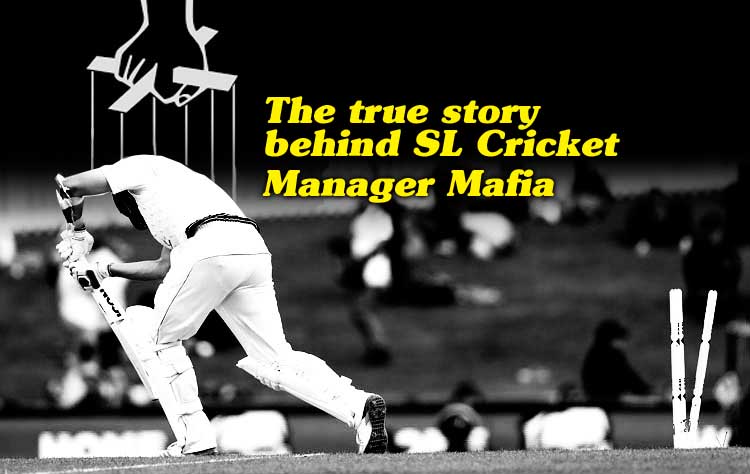 (Lanka-e-News - 09.July.2017, 12.20PM) The pressures brought to bear by the managers of Sri Lankan (SL) cricketers when players for the SL cricket team are being selected has become a hot theme of discussion these days in the social media, Gossip websites , the face book pages and other media .Though some of these revelations are true , others are aimed at slinging mud by one faction at another , as well as targeting players , and are untrue. It is most unfortunate many are giving credence to the exaggerated reports created out of the news tit bits by the bloggers and on face book pages .
In the circumstances it is the aim and objective of Lanka e news by this report to bring home to the people the true picture pertaining to Sri Lankan cricket management.
Charlie Austin and his arrival
During the eighties when SL cricket secured test status and until the middle of the nineties after SL team won the world cup , no cricketer had his own private manager. Based on the advice and instructions of the senior players , the junior players managed their affairs.
The first appointment of a manager to manage the financial and other affairs of players officially began with Charlie Austin a British national. Before him there were many who performed those tasks unofficially , but those were not carried out in a professional manner. It is Austin who was the first to pave the way for agreements between the player and the manager subject to a limited period. Austin came to SL during the first half of the year 2000.

This Austin a youth then who joined the media profession in England as an assistant to David Hops , a journalist at Guardian newspaper , England first arrived in SL not as a journalist , but in search of a job. At that time , a senior cricket umpire taking pity on him gave him a room as a lodger in his house. Austin who found a small job to manage his livelihood , after a while with the support of David Hops became a Lankan reporter for Cricinfo a most popular Sri Lankan website , and thereby he found his way into the media circles which led to his close association with many cricketers .
Austin launched the Austin management Co. thereafter. Austin was able to lure popular and senior cricketers like Mahela and Sangakkara into the management of his Co. Mahela's wife Christina joined to serve in the Co. " Red Dot Tours' which was a sister Co. of Austin Management. Austin who undertook to manage all the affairs of Sangakkara and Mahela is still their manager. Through the management of the finances of these two cricketers , Charlie Austin has earned many millions of rupees..
A great mastermind…
Charlie earned most of the money through the IPL tournaments. Based on the 10 % commission he receives by including the SL cricketers and via the agreements signed , he earns a further many millions of rupees. By now the management of 70 % of SL cricketers is under Charlie Austin. As of late , the latter is the mastermind and manager for all our cricket captains except Dilshan . Angelo Mathews , Rangana Herath and even Lasith Malinga have chosen Charlie as their manager .
Since Charlie collects a commission of 10 % on the contracts signed by the cricketers through him , he has powers ,if necessary to influence the cricket administration board and , the selection committee through the cricket captains and senior players who are under his management. Austin who is by now a multi millionaire owning a number of properties , companies and hotels is permanently resident in SL . After having married a young Muslim lady , he has no necessity to return to England.
Based on these factors Charlie is able to successfully operate the cricket management mafia in SL . Arjuna Ranatunge who opposed this mafia during his tenure of office as the president of the cricket association got the SL cricketers to sign their agreements in respect of the IPL tournament that year via the cricket association after withdrawing those from the managers .
Since that time until today the SL cricket IPL agreements are controlled by the association. Consequently , the 10 % commission is now channeled to the cricket association. Yet Charlie by claiming , the cricketers under his management are propelled by him collects a separate 'santhosam' ( kickback) from them .
Roshan Abeysinghe's frauds
The cricket manager mafia initiated by Charlie has now ramified . It was commentator Roshan Abeysinghe who came next to Charlie as manager for most number of players . He was a challenge to Charlie . Roshan was able to lure popular cricketers like Thilkaratne Dilshan , Ajantha Mendis, Malinga Bandara,Lahiru Nirmanna, as well as many up and coming cricketers under his wings. Roshan was able to successfully get around the under 19 players of potential and promise.
Roshan Abeysinghe in fear some time ago announced he is resigning from the post of sports manager because he was unable to continue as international cricket commentator any longer owing to the disputes that erupted when commentating in between on his players . He also said cited other reasons: He was serving in the cricket association for a short time , and as a member of Ragama sports club, as well as the pressures exerted on members of the selection committee.
Abeysinghe who is purchasing properties across the country along with the players under his management, though he had withdrawn his name , is still continuing with those activities under the name of Rob Ashwell residing in England who is Abeysinghe's sidekick. It is his own secretary who has been appointed as the middle party in SL pertaining to these activities.
Accordingly, Roshan Abeysinghe is the unofficial manager for all the players who are under the name of Ashwell. Based on this fraudulent manipulation , he is continuing with his cricket commentaries without interruption in relation to international tournaments for which he has an affinity and is earning him a huge revenue. Thilakaratne Dilshan is building barriers against Austin Charlie because of latter's ties with Roshan Abeysinghe. All the affairs of Dilshan are attended to by Roshan even today .
Ravi De Silva offers baits ..
When Roshan is building barriers against Charlie , another individual has emerged challenging Roshan. He is Ravi De Silva a relative of Ashley De Silva , the CEO of the Association. Ravi is the manager for several young cricketers including Kusal Janith Perera and Chamara Kapugedera . For a long time he had a talent to lure the under 19 players representing SL cricket . He has signed a five year contract with these players through intimidation , and has included a clause in the contract that they should pay a commission of 10 % to him on all their earnings.
The cricket association spent Rs. 15 million to secure legal advice to get Kusal Perera released from the cricket ban imposed on him and for the examination of his urine sample. It was the Cricket Association that challenged the urine examination report of Kusal Perera and rescued him. That credit goes to Thilanga Sumathipala.
Kusal received a sum of Rs. 30 million from the ICC on account of its wrong verdict . Though the cricket association requested to refund the legal fees spent by it , Kusal along with his manager declined the request . But the manager collected his 10 % commission from that amount.
An officer of the highest echelons of the Association associated with the financial affairs having realized the wonderfully splendid taste of the 'management pie' into which everybody is poking their fingers , began to exert pressure on the selection committee to push his club players into the SL team . He is now the unofficial manager of several such players.
Nasoom Azar- Asanka Wijewardena's mafia offshoot
A Muslim by the name of Nasoom Azar who manages a hotel in England , appointed as a manager for several players including Lakshan Sandaken is a bosom pal of the CEO . Whenever the CEO travels to England , it is in the hotel of this Muslim he stays. Azar is the manager for Sadeera Samarawickrema and Dananjaya De Silva.
Meanwhile Asanka Wijewardena living in England and a close friend of Angelo Mathews has also become a manager. Asanka who does not have a permanent job in England , spends all his time with the SL team when it visits England. Sometimes he travels in the official bus of the cricket team. He watches matches seated together with selection committee chairman Sanath Jayasuriya. He also joins in with the players at dinners and parties in the nights. This bloke is also trying to become a sports manager joining with Angelo Mathews and his cousin brother . Among those who have signed agreements with Asanka are , Kusal Mendis and Danushka Gunatileke . The new players are being pressurized by Angelo Mathews to sign agreements with Asanka.
The manager for Malinda Siriwardena and Kaushal Silva is Luke Keitch an Australian.
When scrutinizing all these goings on (murky) , it is evident the cricket management mafia has already swallowed SL cricket in full, and according to the players, Sanath Jayasuriya the chairman of the selection committee has fallen prey to these mafia operators .
Tipp ex
A powerful unofficial manager of SL Cricket Association recently released a name list revealing Charlie Austin's name through the Association's media manager to a number of journalists . He has not however forgotten to use Tipp ex and delete the name of Lakshan Sandaken 's manager . That was because the true manager came to light ( vide image below) .
It is imperative that a commission is appointed in a day or two to probe into the transactions , and the mafia plaguing the cricket association. Yet because cronies and lackeys of his are making merry and money , Dayasiri Jayasekera is only providing ladders to these gaily swinging monkeys to have more fun and frolic at the expense of the players.
Though misleading news reports are published that are extending support to various groups through blogs and websites to deceive the public , Lanka e news on the contrary , which publishes the unalloyed truth ,and reveals the true picture and situation come what may , vows to continue to bring forth the true scenario and details pertaining to SL cricket .
By a Lanka e news special reporter
(Translaed by Jeff)
---------------------------
by (2017-07-09 07:02:34)
We are unable to continue LeN without your kind donation.
Leave a Reply