Good governance of government turns turtle ; anti corruption bureau shut down..! Every house must hoist black flags..!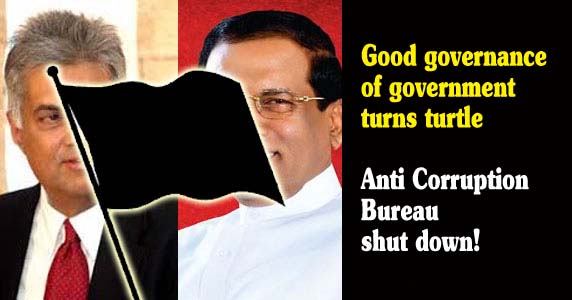 (Lanka-e-News - 13.July.2017, 2.45PM) As Lanka e news reported on 27 th April under the caption 'Ranil's own wolf devours his anti corruption bombasts ! Secretary turns saboteur.! FCID is finished and so is good governance !!' , so it is happening. The special unit comprising learned experts which investigated most of the corruption cases is to be closed down and measures are being taken to immobilize the FCID with a view to eventually close it down thereby confirming the veracity of our report .

It is with deep regret therefore we announce that the cabinet which met on the 11 th has decided to shut down the anti corruption bureau . We made this exposure well ahead when measures were being taken by the secretary to the prime minister to halt payment of travelling allowances to the learned experts unit of the anti corruption bureau after getting wind of these obnoxious moves.
Following the exposure of ours , instead of rectifying the situation , on 7 th of May , through Dinith Karunaratne a media coolie and lackey of the prime minister, adding fuel to the fire published a report ( sans source) in the weekend Sunday newspaper criticizing the anti corruption Bureau and the learned expert investigation unit . On the 8 th of May we gave a reply under the caption 'Conspiracy to close down Anti Corruption Bureau..! Herein is true story behind concocted story published by P.M.'s lackey'
Thereafter the P.M.'s office issuing an official communique disclosed , a three member committee is to be appointed with representatives of the Bribery commission , FCID and the anti corruption bureau to ascertain and report whether the anti corruption bureau is to be continued, its tasks shall be amended or the anti corruption bureau be vested with responsibilities on par with those of the bribery and corruption investigation commission, and the FCID of the police
Though faith was reposed in the official communique issued by the P.M. 's office because it is the general consensus P.M. Ranil Wickremesinghe is one who does not make false promises , no such committee promised by the P.M. was appointed after all , and that was an absolute lie.
Meanwhile at the cabinet meeting on the 11 th a paper was submitted to close down the anti corruption bureau constituted of learned experts which was established as soon as the government of good governance was elected . It was Champika Ranawake with ulterior motives who was most vociferous in favor of this closure , the same zero who poses as a great hero outside against corruption. When Dayasiri Jayasekera strongly protested against its closure ,president Maithripala saying 'do not talk on matters you do not know,' asked him to shut his mouth .
In March 2015 , the anti corruption bureau was established with the consent of all the 12 political parties that contributed to the victory of the good governance government. Special honest independent learned experts were appointed to it. It comprised Forensic auditing specialists , State administration specialists and local and international law specialists.
Frauds including Money laundering , financial frauds via the use of computers, Treasury bond frauds and tax frauds which are not tracked down by ordinary audit are caught up within the subject of investigation of this bureau.
There are no officers in the police with such specialized knowledge and therefore it is not possible to track down these special frauds by the ordinary police, owing to which , what happened every day was such specialized elusive fraudsters remained safe from the arms of the law. Such a unit was created as soon as the good governance government was formed, primarily to impart that special knowledge to the police to apprehend such extraordinary elusive culprits.
The tasks of this bureau were : firstly to receive the complaints and conduct a preliminary investigation into those .Thereafter hand over those to the IGP after deciding which division of investigation should handle them. The IGP accordingly entrusts them to the FCID , CID or Bribery and corruption commission . While these investigations are on going too , the advice and guidance of the investigation unit of the learned experts are sought by the three Institutions.

This closure is seen therefore as a preliminary move to shut down specially the FCID which is investigating a number of frauds perpetrated by high profile politicos and others.
It is a pity the president and P. M. have forgotten ,this good governance government after it was formed won the acclaim of the international community as a government which is opposed to corruption mainly because of the establishment of the afore mentioned anti corruption bureau constituted of honest learned experts.
No government of good governance in the world shuts down its anti corruption bureau which punishes the corrupt. Such a bureau of investigation is not created to mete out punishment only to the notorious Rajapakses or any other particular group. The treatment has to be the same with regard to every culprit. There are no small and big frauds as some ministers are trying to portray . A fraud is a fraud . Hence investigations shall be conducted. It is the task of the courts to determine the gravity of the fraud and punish accordingly . That is not a duty of the investigators. Hence there cannot be a good governance government following the closure of such a unit.
This dastardly action is tantamount to tarnishing the image of the government of good governance before the world , and making a display wittingly or unwittingly it is corrupt. Let it be clearly understood such a government obviously cannot lure foreign investors , neither will any foreign investor invest here. It is only the 'international racketeers' not investors who will come with glee to make a fast buck joining hands with our own crooks and the corrupt who are in plenty here. The country will not gain from them they will eventually only become a pain in the neck to all and sundry.
It is only on occasions like this every house must hoist a black flag to signify their protest against such traitorous activities. The mahanayakes should make a hue and cry only against such moves instead of enviously watching the corrupt all round making merry drinking kasippu when such villainous moves are successful. From today this government is not entitled to call itself by the name of 'good governance. ' It is most significant to note this government took this most abominable action without meting out punishment even to one of the corrupt infamous Rajapakses or any other corrupt rascal so far !
Connected reports ..
'Ranil's own wolf devours his anti corruption bombasts ! Secretary turns saboteur! FCID is finished and so is good governance !!
Conspiracy to close down Anti Corruption Bureau..! Herein is true story behind concocted story published by P.M.'s lackey
-P.M.'s secretary paving the way for national disaster
P.M. responds to LeN exposure of conspiracy to close down Anti Corruption Committee ..
---------------------------
by (2017-07-13 09:40:42)
We are unable to continue LeN without your kind donation.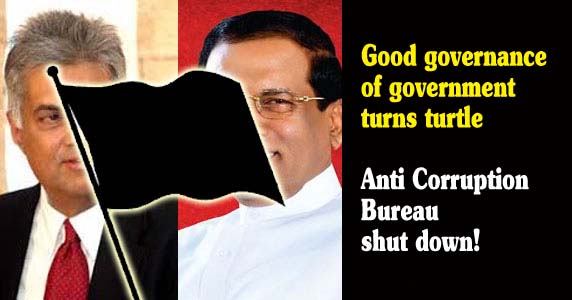 Leave a Reply