German Tech sex pervert's second video that strips him of all his clothes..! He has even 'sold' his wife to students (video)
-A center to receive complaints of his victims over the past 30 years !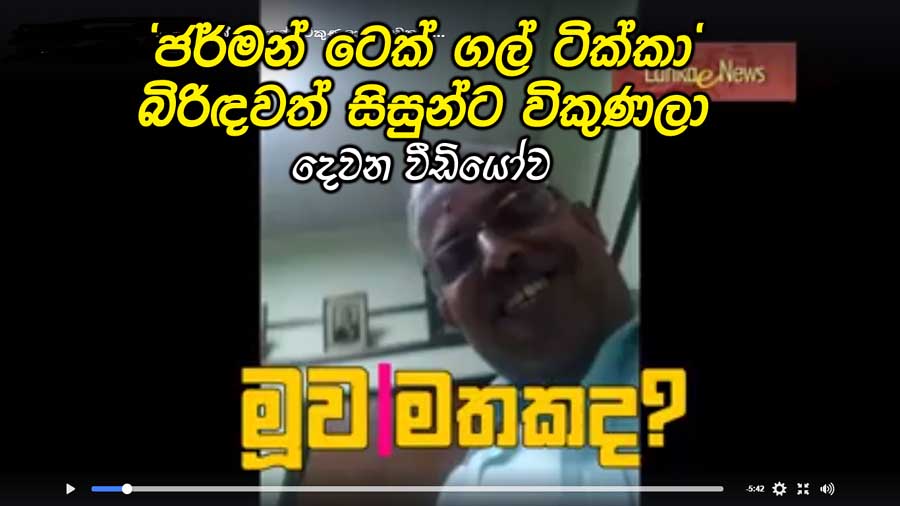 (Lanka-e-News -07.Aug.2017, 11.50PM) Believe it or not ! the present principal of German Tech College, Moratuwa, Shantha Karunaratne the sex pervert pariah about whose sex abuse we reported recently has been engaged in his sexual molestation activities (sodomy) over the past 30 years , and from the time he was a teacher in that Institution , according to Sherard Perera who was also a teacher 30 years ago in the same Institution .
In our earlier report we revealed that this sex starved scoundrel Karunaratne had been soliciting sexual favors from the innocent immature students who fail in exams, if they are to be passed .
The disclosure of Sherard Perera is most paramount and pertinent because he is the nephew of the then German Tech principal, and also a cousin brother of Niroshan Perera who is a deputy minister in the present prime minister's ministry .More perturbing than all these lurid details is the information passed to LeN by Sherard Perera who is currently abroad that Shantha the two legged beast has 'sold' even his wife to the students of German Tech. A part of the lengthy revelation made by Sherard Perera is in the video footage herein. Because of the unbearable sufferings faced by students for the last over three decades under the sex starved scoundrel Shantha , a group had emerged under the name 'Anti Corruption Organization –CGTTI Moratuwa to counter the pervert's sexual exploits with a view to demand justice for the students who fell victims to him , and against this two legged beast. How to communicate with this group is detailed at the end of the video footage.
As corrupt and squalid politics had always been the bane of this country , so this sex maniac with the patronage of politicos had been carrying on regardless over a long period of time with his evil perverted sexual activities while making the innocent students his victims , despite the fact such crimes are considered as most heinous . (Some who enjoyed his sodomy ,being picked by him and pricked in their hindquarter gave phone calls to us to oppose the exposure of his activities. Their contention was , he shall be ousted without bringing the Institution into disrepute. These are the shameless gays who drooled over Shantha's decaying drooping anterior and enjoyed it being pushed through their posterior while stooping. These are the rascals who remained silent and did not complain against Shantha or his disgraceful sex lust for the last 30 years, who are now showing concern for the reputation of the Institution. Their voice tape recording is hereunder.
Sadly these disgraceful activities are not confined only to German Tech , such activities are widely prevalent among Universities too. The situation has deteriorated so much so that if she is a female student she has to sleep with the dean of the faculty if she is to succeed in the exam , based on reports. If she doesn't , she must at least allow these rascals suffering from senile decay to sexually molest her by squeezing her bums or boobs or both. These old scoundrels who wear spotless white attire and parade as paragons of virtue in society have made this a right of theirs for decades while duping the society and deceiving their family at home.

It is a pity , among the sordid media, those who hold chief positions are such products who were nursed and nurtured in a shameless animal environment, and who have indulged in those perverted or illicit sexual activities getting their thrills from spills even in the open like shameless animals . They being wolves in perfect human clothing the mass media in general do not expose them.
It may be difficult for the old generation to tear this hypocritical curtain into shreds in order to rescue their own self respect , yet if they are still thinking a respectable society shall be created at least for their children's sake they must take measures right now to tear apart this cruel hypocritical veil at any cost. Lanka e news has commenced a new generation campaign to reveal the truth seated on the ground!
Let us start with the German Tech sex pervert scoundrel . Surely there cannot be darkness the whole day .
Anti corruption Organization - CGTTI Moratuwa
Inquiries: Convener -Sunil
Phone : 076 3587562
E mail: [email protected]
Sherard Perera's exposure and "German Tech scoundrel's second part' can be viewed by clicking on the link below.
https://www.facebook.com/lankaenews/videos/1577175752347584/
---------------------------
by (2017-08-08 00:17:08)
We are unable to continue LeN without your kind donation.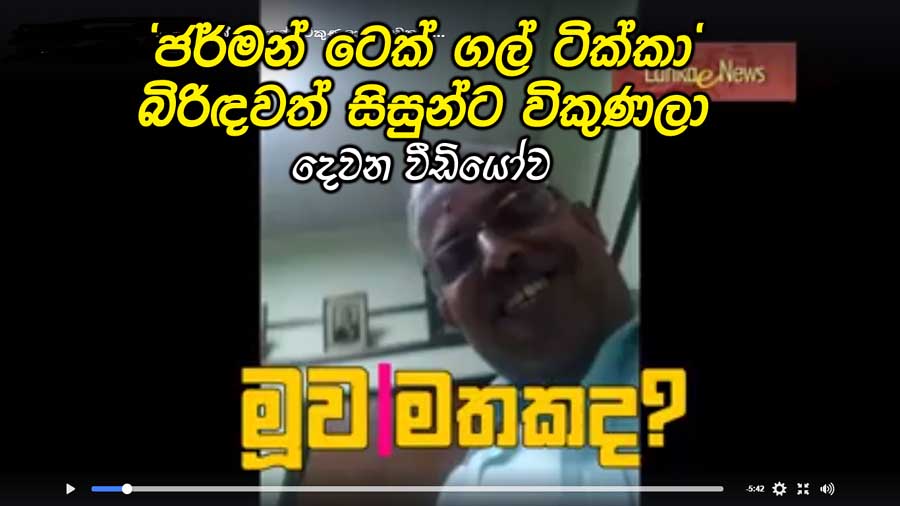 Leave a Reply