Ranatunges cause Rs. 2420 million loss in 2 months duping cabinet..! President dumb or numb or both ?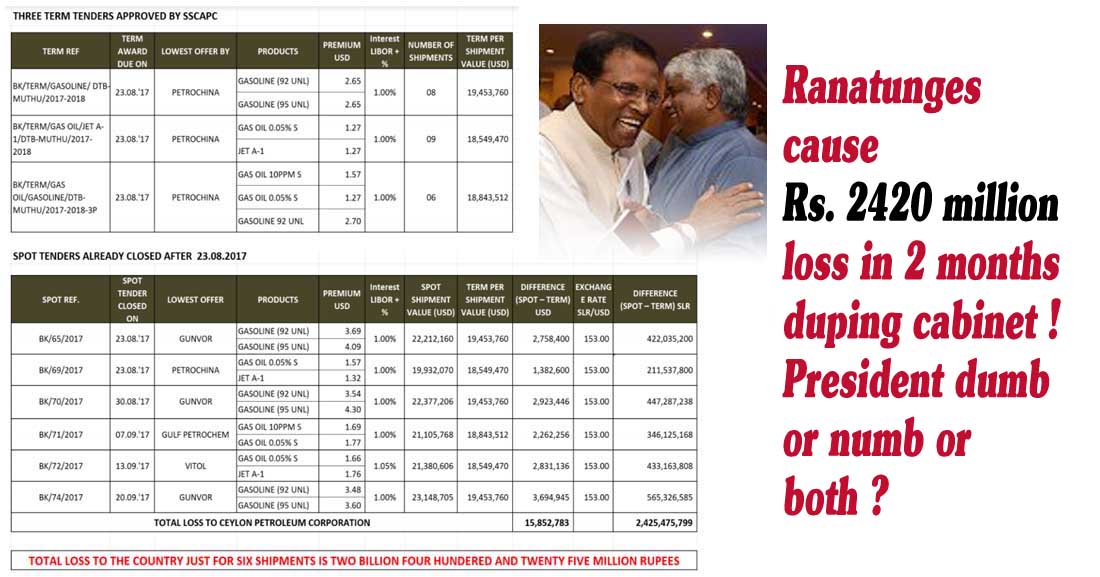 (Lanka-e-News - 22.Sep.2017, 7.00AM) Even after Lanka e news exposed on the 15 th that the Ranatunges caused a colossal loss of Rs. 1080 million to the country within a month duping the cabinet , the Ranatunges the scourge of the country had again been responsible to swell that loss to Rs. 2420 million to the country through three more tenders.
In our earlier report we revealed that the Ranatunges through hasty spot tenders had engendered this staggering loss by procuring supplies at much higher rates without resorting to the preferable term tenders which have been passed by the Special Standing procurement committee appointed by the Cabinet (SSCAPC).
The three new spot tender bids subsequent to our news report were : BK /71/ 2017 of 7 th September; BK /72/2017 of 13 th September ; and BK /74/ 2017 of 20 th September (day before yesterday) . The total value of these tender bids is US dollars 65,635,079 . If these were term tender bids , and were granted , the total value will be US dollars 56, 846, 742, meaning that the loss incurred by the country owing to the jiggery pokery of the infamous Ranatunge Bros. is 8,788,337 US dollars. The rupee equivalent of this loss is a whopping Rs.1,344, 615,561.00 ! ( converted at Rs. 153.00 per dollar)
The loss caused to the country on the earlier tender bid was Rs. 1080 million , and with the latest tender bid the total loss engendered is as massive as Rs. 2425.50 million !
The Ranatunge Bros. duo are indulging in these rackets even duping the cabinet not for nothing going by their putrid antecedence – it is the lure of large commissions from these transactions which go to line their pockets. However it is now becoming increasingly clear part of these illicit earnings are channeled to a bigger bigwig above them . But for such secret understanding and clandestine deals , Ranatunge Bros who were a byword for corruption and frauds when they were at the Ports ministry would not have been allocated another ministry where much bigger frauds can be committed by them with consummate ease. Isn't this like giving a Maldive fish sambol meal to a cat that robbed a piece of rotten fish ?

It is a well and widely known fact that these Ranatunges are most notorious rogues. in addition , Lanka e News had been exposing their rackets with copious and cogent evidence unrelentingly in the best interests of the country , yet if no action is being taken against them , obviously it is because their illicit earnings are being shared with somebody at the top. While talking about the bond scam , and diverting the whole attention towards it , the ruthless devastation the Ranatunges are wreaking is being obscured.
Hereunder are the details of the colossal losses the Ranatunge Bros. have engendered to the country unconscionably and traitorously within just two months via spot tenders while there were term tender bids they could have resorted to and saved all these losses, if they had genuine love for the country.
Connected report …
Staggering Rs. 1,080,860,238 loss to country after duping Cabinet ! -Who else can cause that except the notorious Ranatunge Bros. ?
---------------------------
by (2017-09-22 01:51:44)
We are unable to continue LeN without your kind donation.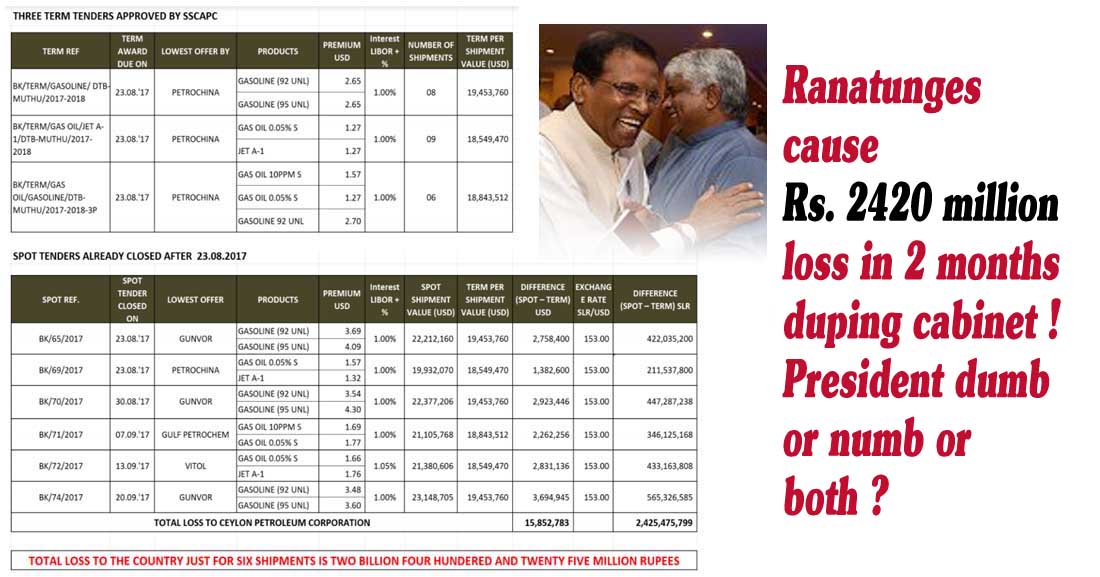 Leave a Reply