'If you cannot abide by laws of prisons, please get out' Minister Swaminathan tells prison doctor racketeers..!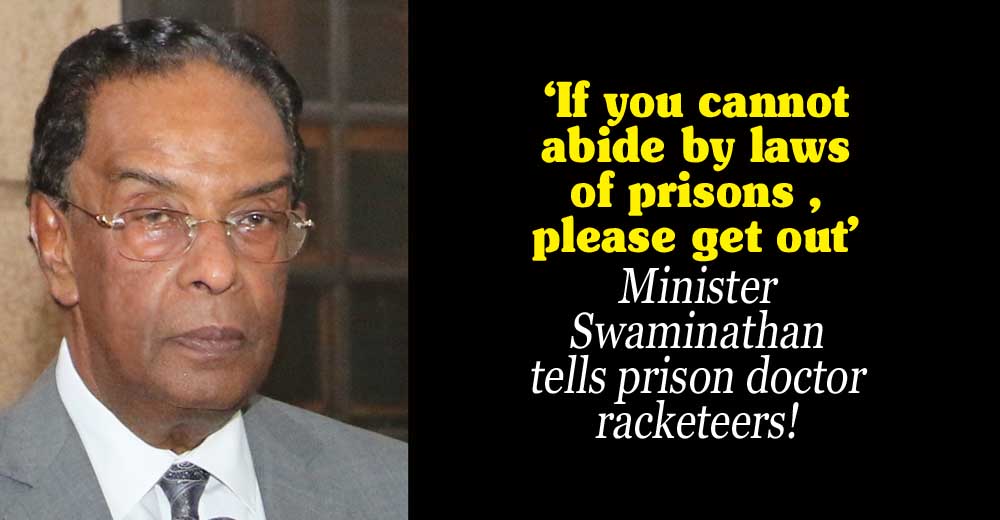 (Lanka-e-News - 15.Oct.2017, 12.30PM) 'If there are doctors who cannot carry out my orders ,they can leave and go .' Prisons reforms minister D.M. Swaminathan issued this stern categorical warning to the secretary of prisons , Prisons chiefs and doctors in the prisons. In other words the minister told them plainly if these racketeer doctors leave it will be like good riddance of bad rubbish (GROBR ) !
'Lanka e news' news website is hurling grave criticisms against the ministry of health and myself. I am a clean politician and I have promised to resolve this issue. I have instructed , the recommendations of three doctors are necessary to admit a patient to a prison hospital , but that instruction has not been followed until today, ' Swaminathan bemoaned.

Swaminathan a popular minister , at the meeting held on the 10 th at 4.00 p.m. at the prison headquarters with the participation of all the officers involved in this issue including the ministry secretary and prison chiefs, made the above announcement in no uncertain terms.

Three doctors, Sujeewa Jayawardena , Tirani Atapattu and Shanika Kottachi of the corrupt group of prison doctors in reply said , they are answerable only to the ministry of health .
'I am the ministry of prisons. I know the bloke in the ministry of health who is supporting criminals. I cannot walk on the road when this prison is being made a rogues' den. If you are incapable , you can get out today itself. I know with whose support the one who was transferred with effect from 2017-01-01 is remaining back,' the minister said to his secretary while pointing the finger at Dr. Sujeewa Jayawardena .
Until the minister furiously questioned ' were Dr. Lakshman and Dr.Shanika sent here powered by money?' even the secretary of prisons was not aware that Dr. Nirmali Thenuwara and Dr. Sujeewa Jayawardena who were sent out from prison have been serving in the prison exceeding their stipulated period with the support of the secretary to health, and the GMOA alias GOMA association alias 'Government Medical Oppressors Association'.
When Doctor racketeer Shanika Kottachi tried to explain , because Tissa Wimalasena alias Major Tissa (suspect in Thajudeen murder) Sarana Gunawardena (extortionist) and Vaas Gunawardena (murderer) had to be hospitalized because insulin must be administered to them , the minister who flew into a rage again , asked ' for administration of insulin , should every patient be warded?' from the doctor racketeers .
Thereafter the prison doctors agreed to enlist the 9 nurses in the prison hospital and administer insulin injections to the diabetic patients at the out patients ward.
It is significant to note despite these arrangements , criminals Duminda Silva and Major Tissa continued to be in the prison hospital even on the 12 th .
It is clear evidence from the above scenario , 'Kudu money' (heroin filthy lucre) and corrupt criminal Rajapakse power are holding sway , and are overriding even two powerful and popular ministers namely , Swaminathan and Rajitha Senaratne.
---------------------------
by (2017-10-15 07:01:24)
We are unable to continue LeN without your kind donation.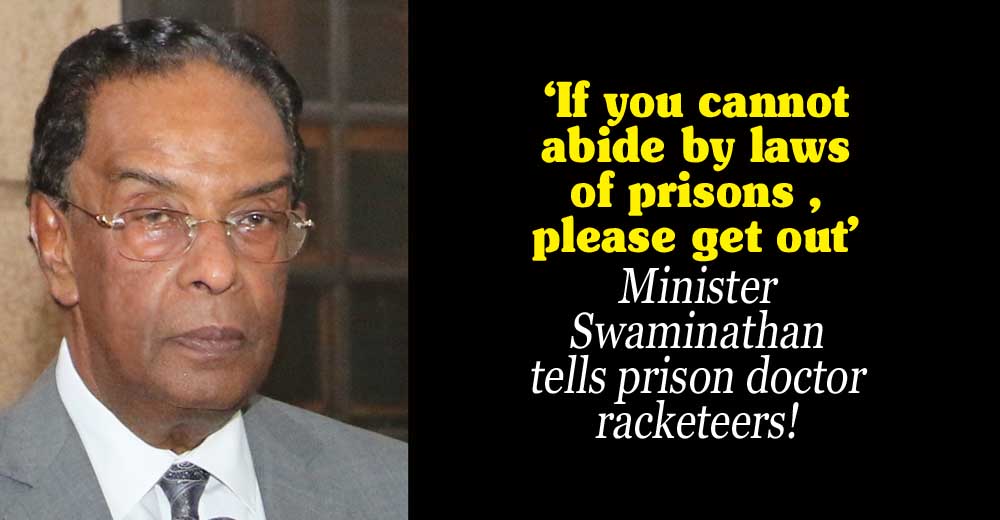 Leave a Reply