Bribery DG 'Nikama' Jayamanne the idler cum Duffer seeks extension of service ; Weerawansa and Aluthgamage frauds suppressed by whom ?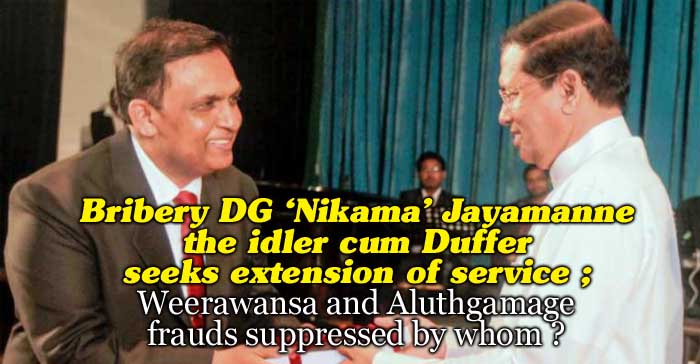 (Lanka-e-News - 16.Oct.2017, 9.20PM) It is well to recall it was after president Maithripala's obnoxious 'cyanide speech' Dilrukshi had to tender her resignation .The president in that speech blamed the former Bribery Commission Director General Ms. Dilrukshi Dias Wickremesinghe who was discharging her duties duly , for hauling up former commanders of the forces before courts without informing him.
Thereafter , Sarath Jayamanne the 'nikama'( idler cum duffer) replaced her . Jayamanne who succeeded Dilrukshi became notorious for just warming his seat and idling for a year doing nothing worthwhile . Now it is this same Jayamanne the idler cum duffer who is expecting an extension of service for a further year, based on reports reaching Lanka e news.
Jayamanne 's tenure of service terminates on 2017-11-11 . During his entire period of service he was globe trotting . While touring foreign countries and participating in lectures conducted by private sectors which charged for those, he filled his own pockets . Though Jayamanne the 'nikama' was wasting all the official time holding conferences which had nothing to do with the Institution, it is worthy of mention , his predecessor Dilrukshi on the contrary during her period in office diligently attended to her duties and concluded 90 % of the tasks of the files entrusted to her when she was quitting .
Jayamanne the nikama who is made of worthless and useless stuff could not even complete that little balance left by her . His neglect of duties was so monumental he did not conclude a single case of grave corruption and bribery , and only wasted the official time idly to the detriment of the country for a whole year during his period in office. Consequently all the notorious crooks and the corrupt were let off the hook.
The best examples are the cases of corruption and amassment of wealth via illicit means of the two notorious crooks Wimal Weerawansa and Mahindananda Aluthgamage.

Unbelievably 90 % of both these cases were concluded and the files were ready, yet this Nikama Jayamanne the idler during the day, and sleep walker during the night wasted a whole year since his appointment doing nothing about those without filing cases.
Perhaps this was why minister Rajitha Senaratne recently remarked , 'in other countries crooks go into hiding whereas only in Sri Lanka they are dancing on center stage.' Ironically , this situation was created by none other than nikama Jayamanne the so called Bribery Commission Director General himself . Instead of indicting the crooks and the corrupt he turned into an accomplice of theirs.
Jayamanne who was wasting his time conducting trivial raids allowed hundreds of files to go into cold storage. He even did not proffer advice to resolve the issues faced by the officers who were attending to them .It is a pity he is paid a salary by the government though his favorite occupation is procrastination . Even when he gives advice it is inane.
Even the president of the Bribery and corruption Commission T.B. Weerasuriya , a former judge was recently compelled to summon this idler cum duffer and sternly warn him against his idling habits and dilatory propensities.
Instead of discharging his legitimate and onerous duties ,Jayamanne went after conferences where he was not wanted , and travelled abroad citing that as an excuse. This year alone he had travelled to Vienna thrice ; Malaysia twice ; USA once ; and he is scheduled to visit Vienna again in November. He collected Rs. 1 million from the Commission for each of these junkets. It is noteworthy while this nikama Jayamanne the procrastinating idler has been wastefully globe trotting, the president of the Bribery Commission has travelled overseas only once , and that is in response to an invitation received by him in his own name.
Jayamanne who was appointed to investigate bribery and corruption has disappointed everyone by transforming into the worst culprit in the sphere of bribery and corruption. He is now best noted for worst abuse of state vehicles. After his advent the official electricity bills have shot up to over Rs. 600,000.00 per month. He is so profligate and wasteful of public funds , and because he is frequently requesting funds from the Treasury , the latter had warned , 'if he is going to waste funds this way , the Bribery and corruption Commission will have to be closed down.'
It is while having become a burden and a bugbear to the whole country , this idler who is playing ducks and drakes with precious public funds, is making dubious moves to amend the constitution which could dent the independence of the Bribery and Corruption Commission. In the enactment pertaining to the Bribery Commission it is stipulated , when necessary the Commission can enlist lawyers from outside. Whereas his attempt is to only enlist lawyers from the Attorney General's department. It is significant to note all these years the Bribery and Corruption Commission was under the AG's department and it was segregated from it to make it independent. Therefore what Jayamanne is seeking via the amendment is to erode that independence , and bring it under the AG's department as before.
Might we recall when Sarath Jayamanne was being appointed we reported he is a clever criminal lawyer. However when looking at his record for the past one year it is clear as crystal he is just a nikama – an idler cum duffer who only warmed the seat throughout his tenure of office. Believe it or not he has only filed two cases relating to grave corruption – against Rupavahini chairman based on charges of fraud and 'Ratharan' who committed fraud in relation to assets.

Even with regard to these two crimes thanks to his predecessor, before leaving she had completed 90 % of the case files. On the contrary Jayamanne only allowed the case files to languish in dusty corners . He had not even touched those files . This was why the two grave frauds of Weerawansa and Aluthgamage hereinbefore mentioned were just neglected despite the fact those were ready to file legal action.
It is the view of sources within the Bribery and Corruption Commission ,and those close to the president that these two cases have been suppressed due to pressures brought to bear by the president himself. Aluthgamage had been meeting the president in the nights while Weerawansa met with the president openly.
No matter what , if the president is to extend the term of such an idler cum duffer who wasted public funds with gay abandon for a further year it will be clear as crystal that the president is seeking to suppress these cases further. No wonder the good governance masses are bitterly disillusioned and castigating the government while furiously questioning ' aren't you apprehending the crooks ?'
Lanka e news special correspondent
---------------------------
by (2017-10-16 16:03:00)
We are unable to continue LeN without your kind donation.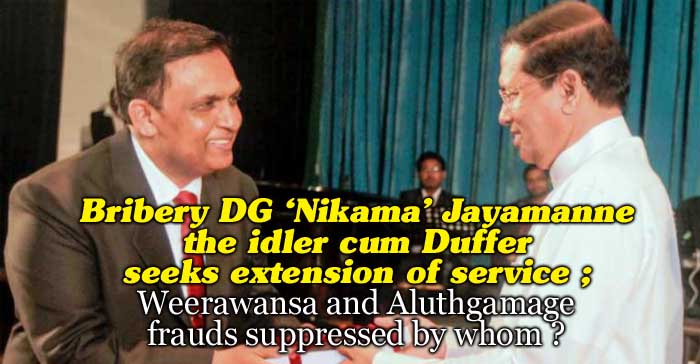 Leave a Reply