New constitution : President and P.M. make scathing denunciations against newspaper campaign stoking racial hatred ! (Audio)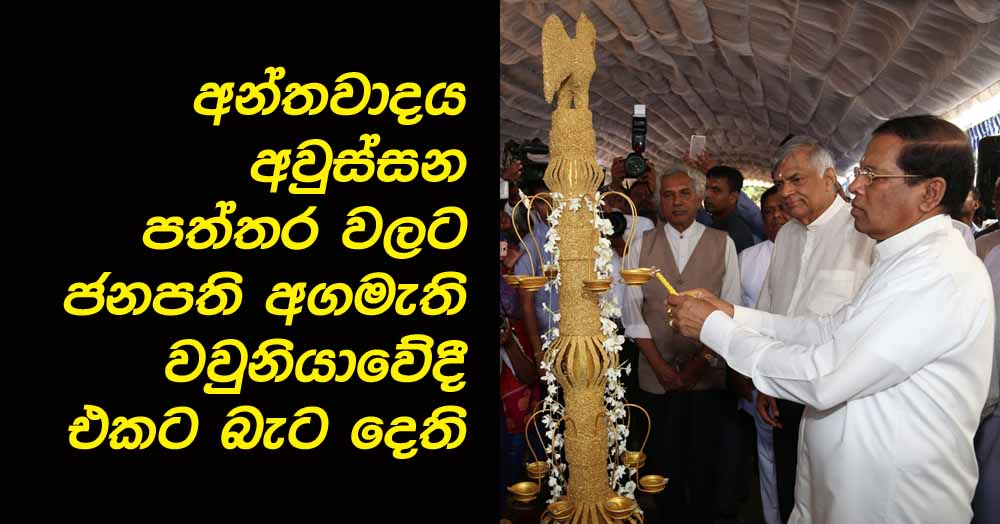 (Lanka-e-News - 23.Oct.2017,10.35PM) The president, prime minister and several distinguished guests attended the closing ceremony of the official function of the people's service national program of the president targeting the residents of the north held at Vavuniya Saivaprakasha Maha Vidyalaya on 21st morning. On this occasion both the president and the P.M. bitterly castigated the conspiratorial activities of the Sinhala newspapers which are carrying on a vicious campaign of falsehoods and misreporting against the proposed constitution.
If another war is to be averted the powers shall be devolved , and those who are obstructing this while kindling racial tensions should hold themselves responsible if a war erupts in the future. If there are 20 pages in newspaper , 10 pages are being wasted on stoking racism, lamented the president . Publish anything utilizing ten pages , but at least devote the remaining ten pages to express the views of the government , the president exhorted. The president while speaking about the official duties asked from the government officers , need they wait to perform these activities ( concerning issue of land licenses) , until the official mission arrives ?
The P.M. speaking on the occasion severely denounced the activities of the newspapers which are stoking extremism. In society there are extremists on both sides, and that is not an issue, but what the government is seeking and searching are circumstances which shall be in between ,and not extremism.

This function was organized by Vajira Abeywardena the minister of internal affairs . Ministers including Lands and parliamentary affairs Gayantha Karunatileke ; Prisons reforms , rehabilitation , re settlement and Hindu affairs D.M. Swaminathan ; Industries and commerce minister Rishad Badiudeen ; M.P.s; TNA M.P. M.A. Sumenthiran ; Northern province governor Reginald Cooray and provincial politicos ; others including Dr. Wickremebahu as well as leaders of other political parties attended the event .
TNA M.P. M.A. Sumenthiran , TNA Wanni district parliamentarians and provincial council members welcomed the president and the P.M.
The president planted a 'Na' sapling while the Prime Minister planted a sandalwood sapling on the premises of Vavuniya Saiva maha vidyalaya ,Vavuniya to mark their visit.
Pending the president's visit to Vavuniya and the North , during the last six months , various ministers and secretaries arrived in Vavuniya from time to time to resolve issues . The president after his arrival issued land permits symbolizing the 5000 land permits to the distributed to Northern residents.
Extracts of the speech of the president with translation in Tamil can be heard by clicking here.
Extracts of the speech of P.M. can be heard by clicking here

Report and audio tape – Dinasena Rathugamage from Vavuniya.
Photos courtesy -P.M.'s media division and Rathugamage's
Translated by Jeff.
---------------------------
by (2017-10-23 17:53:27)
We are unable to continue LeN without your kind donation.
Leave a Reply