Death threat to Anika : Job at stake for Kodagoda (ASG) who prostituted official position, and duped all – glaring evidence !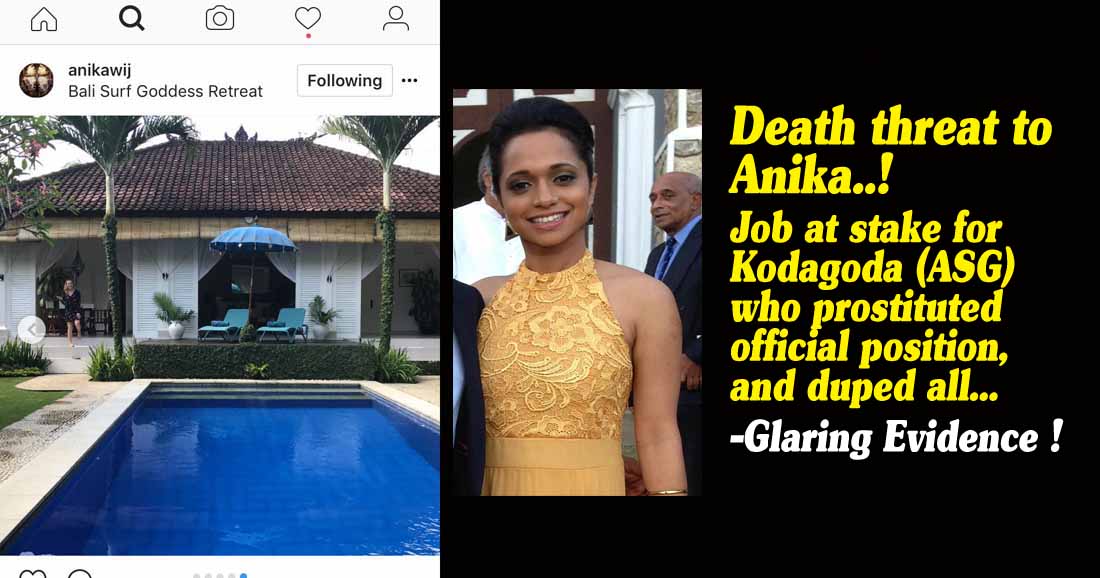 (Lanka-e-News - 26.Oct.2016, 11.30PM) After Ms. Anika Wijesuriya the owner of 'Monaach' housing complex gave evidence against ex finance minister Ravi Karunanayake before the Presidential commission inquiring into treasury bond scam , her brother Vijitha Wijesuriya allegedly received death threats via phone calls from Shanil Nethakumara supposed to be a close relative of Ravi Karunanayake, said additional Solicitor General Yasantha Kodagoda P.C. before the Commission on the 17 th. He also went on to reveal Anika fearing for her life fled the country .
However according to reports reaching Lanka e news supported with cogent evidence , this revelation of Kodagoda is an absolute lie , meaning that he has therefore committed perjury and prostituted his official position.
By this mendacious utterances of Kodagoda he has made it known to the whole world , to what extent the lawyers of the Attorney General 's department including Kodagoda are moving heaven and earth to convert the Presidential Commission into a Presidential Comic -mission with the sole and whole design to sling mud at and malign the political opponents , instead of probing into the true picture regarding the treasury bond issue and the irregularities thereof , which in fact is their sacred duty.
Perjury – No. 01
The learned PC Kodagoda must reveal , based on what valid grounds he said , there were death threats to Anika if he is relying just on a phone call received by Anika's brother .If that ground is true , the repercussions Kodagoda has to face owing to his lies will certainly affect his sister Geethani and brother Ajith because they are of the same blood . If the threat affected both ,the consequence too must be similar. But did that happen that way ? No.
Perjury No. 02
This revelation was proved untrue when Kodagoda told the Commission , Anika fled the country ( ahead of the threat ) as if she came to know of it ahead through light foretelling. This is because Kodagoda's written notification dated 17 th October to the Comic- mission discloses the threat was made on 14 th October to Vjitha Wijesuriya. However according to palpable evidence in our custody , Anika has left the country on 6 th October( long before the alleged threat was made) .
Hence if Anika has told Kodagoda about the threat and left the country on the 6 th , she had fled before the threat was made on the 14 th . In other words she had left the country based on an imaginary threat or on predictions of a light foreteller , and not on a real threat since the supposed phone call threat has been made 8 days after she left the country.
Besides , no complaint had been made to the police here or in London where Anika is now, that there were death threats to her before or since 17 th – the date of written notification about the death threat.
Perjury No. 03
The learned PC Kodagoda must reveal to the world the truth pertaining to the outrageous lie he uttered. Anika during the whole of the first week of October was relaxing at super luxury Surf Goddess Retreat Hotel , Bali Island . While she was there , a photo of hers when performing Yoga was sent to her Instergram account on 4 th October. At the same time during a conversation with her friend Antonyanyan she had disclosed she will be travelling to London after her stay at Bali (photograph is herein) .
Accordingly , en route to London , she had boarded the aircraft EK 349 belonging to Emirates airlines and arrived in Colombo on 5 th October at 1.55 a.m. After clearing her Immigration –Emigration entry rigmarole she left the airport at 2.08 a.m.
Thereafter her father Nihil Wijesuriya , her brother Vijitha Wijesuriya and herself transacted a large scale sale of shares belonging to Asia 2000 Investment Corporation Co. which is the main shareholder of East West Properties PLC Co. belonging to them .

In fact Anika disembarked in Colombo on her way to London to sign those papers . After completing that task as revealed to Antonianyan she left by airplane EK 655 belonging to Emirates Airlines the following day - 6 th at 10.10 p.m. Again on 9 th October she released a photograph of London stating ' Loving London' via Instergram account (photo herein).
From the foregoing revelations anybody can gauge what amount of despicable lies Yasantha Kodagoda PC , the additional solicitor general has uttered shamelessly . He is not only guilty of perjury but also of prostitution of his lofty official position .
Perjury No. 04
What is more wicked and outrageous about the Kodagoda mendacity is his revelation that Shanil Nethikumar who supposedly gave the threatening call on the 14 th is a close relative of Ravi Karunanayake in order to decorate the lie, when Shanil is not related to the latter at all , and is only connected to the famous Salaka owners.
In fact he is a relative of minister S.B. Dissanayake as Shanil's sister is married to S.B.'s son. It is said , Shanil is to tie the matrimonial knot with minister Mahinda Samarasinghe's daughter. At all events , it is rumored there exists a dispute over a woman between Shanil and Vijitha Wijesuriya to whom he is supposed to have given a threatening call.

Isn't it therefore clear the hidden aim of the AG's department chiefs to falsely allege Shanil is a relative of Ravi and implicate him in the treasury bond inquiry and unconnected matters in order to sling mud at the political enemies ? This incident clearly bears out that these black coat comedians have transformed the Bonds commission into Bonds Comic -mission solely and wholly for them to indulge in worst villainies and perfidies.
Death threat and fleeing from country –true picture
The writer of this article himself had faced actual death threats via phone calls and otherwise , consequent upon which the writer had to flee the country fearing for his life. That experience was real and therefore extremely agonizing as opposed to the falsehoods concocted by Kodagoda . In any event that experience shall be recounted here even briefly to make one understand the truth vis a vis concocted falsehoods .
It was the day before the presidential elections 2010 , Prageeth Ekneliyagoda , a Lanka e news staffer went missing. The day after presidential elections the writer along with his wife and children had to flee their home following information received , to a safer place. About 30 mins. later an unidentified armed group in black attire in a 'Cab' and motorcycles arrived at the writer's residence . The writer had fortunately by that time gone from there. That night about 40 threatening calls were received within 20 mins. The killers warned no matter where the writer , his wife and family are hiding , they cannot escape and they will somehow be murdered.

As the incoming threatening calls were unending , the phones were switched off. All the unfamiliar phone numbers were written on a paper and a complaint was lodged with the police subsequently. As police complaints were unavailing , complaints were made along with the phone numbers through which the threats were received to Ranil Wickremesinghe the opposition leader at that time and Karu Jayasuriya ,as well as the SL representatives of European Union, the foreign diplomatic missions of Canada , America, Australia, International media Institutions , and several NGOs requesting them to probe into the threats and intimidation faced by the SL media personnel .
One foreign mission which investigated informed the phone numbers are not actual phone numbers, those are fake and generated by computers. Finally after being in hiding at various places , fled the country on the advice proffered by local and international organizations when it came to a point it was impossible to stay here.

Even after leaving the country the threats did not cease. During the period of the killer regime the two legged 'hunting dogs' came in search of the writer on 6 occasions to the country where the writer was. These threats however have not ceased even today. President's black coat hanger on was also on the hunt searching for the address.
Therefore , fleeing the motherland and moving into another country is not that simple or easy task as painted by Kodagoda if one is truly facing threats. It is not a pleasurable exit. I don't think there is anyone in the country who is that crazy to flee the country simply because some stray individual gives a call to a brother of the one who is hunted and threatens 'I shall kill you.' If there is such a fleeing crazy idiot that is only Anika of black coat fibber Yasantha Kodagoda.
Lies about phone call murder threats …
Regarding Police offcers and lawyers like Yasantha Karannagoda who drive people into despair by falsely alleging there were death threats, the writer has personal experience . In order that the people shall know who lawyers like Kodagoda of the AG's department are , details of Kogagoda is being revealed herein.
After the writer left the country the rulers at that time set fire to the Lanka e news portal . Their next move was to persecute the news editor Bennet Roopasinghe , a senior journalist .
A missed phone call was received by Bennet . It is a practice when an editor gets a missed call , to respond by giving a call . Bennet therefore gave a call .Because he was busy and there was no answer he terminated the call in 20 seconds. What an officer like Kodagoda did was , lodged a complaint that he received a death threat call from Bennet's phone.
The individual who gave the missed call was their pawn. Bennet who was arrested on that complaint was remanded for two weeks on the false grounds that he made death threats . Bennet who got disgusted of the journalist profession thereby left Lanka e news to join another media Institution.
So that was an unforgettable experience - how people are put into trouble on frame ups after making false complaints against them that they made death threats .
How did Late Nandadasa Kodagoda's son turn into a profusely lying stooge ?
Yasantha Kodagoda is the son of late Dr. Nandadasa Kodagoda . Father was a calm and composed soft spoken individual . Hence, it is perplexing how did an offspring of his become such an accomplished liar who resorts to subterfuges to serve the political agenda of villains ?
The writer had the opportunity to discuss with Yasantha when the latter made an intriguing statement . While betraying his lack of knowledge about the independent commissions of the present government, he said , officers ( specially officers of AG's department) of SL don't adhere to the practice of acting independently without the orders of the president or above.

When the writer pointed out that situation should be changed , Kodagoda after discussing for a while said , even he is not in the habit of acting without such orders . By this it can be understood why this black coat glib liar is stooping this low.
At any rate in conclusion the following regretful comment must be made …
Poor Kodagoda who had even the prospects of becoming the AG , following this unfortunate incident of which he is the sole architect , he is now facing the risk of losing his black coat and his job. More than the writer , Yasantha Kodagoda being an additional Solicitor General ought to know better the repercussions of his actions- what punishment he will have to face when he commits perjury and prostitutes his official position .
By Special correspondent
---------------------------
by (2017-10-26 18:17:02)
We are unable to continue LeN without your kind donation.
Leave a Reply