Mangala who slit the throat of friend peeps at the corpse through key hole !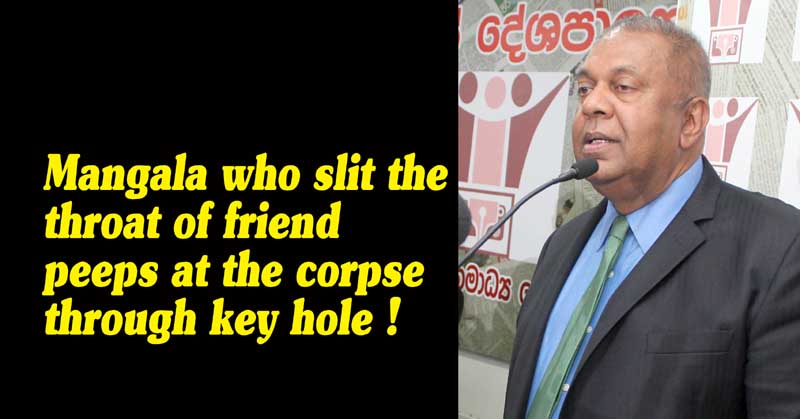 (Lanka-e-News - 07.Dec.2017, 9.30PM) Minister of mass media Mangala Samaraweera who was as silent as the inanimate grave until a month had elapsed since Lanka e news website was banned illegally , at last opened his mouth Tuesday (05 ).
That was , when he attended the conference entitled 'Media politics' convened by the professional journalists Association. The secretary of the Association Lasantha Ruhunage issuing a notification pertaining to the illegal ban imposed on Lanka e news website demanded that the president , Prime Minister or Media minister should issue a statement in that regard. Prior to the mass media minister's speech when he was reminded of the notification , and that he should make a statement, the minister during the course of his speech stated thus :
" I shall speak a few words about the LeN ban. Today no website can be banned. Even attempting that is a retrograde step. Even if a website can be obstructed via technology for a time , that can be accessed through proxy . I still read Lanka e news articles through this method just as before . Hence in the 21 st century the ban is not of any significance. '
Truly Samarawera as a media minister should be ashamed of what he said. If the mass media minister himself has to read the news website via proxy , he should immediately resign his portfolio. This is solely and wholly because he is admitting and accepting media freedom has been buried by himself and none else.
In any case , Lanka e news considers this statement made by Samaraweera before the media association as only to demonstrate to them he is 'clean', and not the truth. Lanka e news was illegally banned on November 8 th , and the advertisements which were being published through the website were obstructed on August 6 th.
That was after the present finance and media minister Mangala Samaraweera assumed those duties. The advertisement that was published by Lanka e news of Lotteries Board (after it was once again brought under the purview of the finance ministry )was withdrawn and given over to the website run by minister's 'parangi' secretary .
In addition the arrears of payment amounting to about Rs. 100,000.00 owed to Lanka e news by that time , due to the advertisements that were published were also held back - not paid until today. Two advertisement fees amounting to Rs. 80,000.00 of 'Selacine' establishment under the media minister himself have also not been paid until today. In other words we have been cheated .

It is worthy of note ,not only obstructing the website but even obstructing the funds necessary to carry on the website must both be treated as media freedom erosion.
During the corrupt despotic era of Mahinda Rajapakse , before Lanka e news portal was set on fire and banned , the advertisers of ours were threatened and intimidated from giving us advertisements. The actions were so venomous and vicious that an Institution which was giving advertisements to us was intimidated and threatened at least 6 times every day by the mad racist criminal monk Galagodaathe Gnanassara the notorious devil incarnate .
The Institution was warned if the advertisements that are being given to Lanka e news are not stopped , the criminal monk would arrive with his 'sangha army'and lay siege to it. Thereafter the advertisements were halted .We see no difference between Mangala and Gnanassara when it concerns media suppression and advertisement bans, and the methods employed.
In the circumstances we reckon the statements made by media minister Mangala before the professional media association yesterday in connection with Lanka e news as only an eye wash and as a cunning hypocritical utterance to show he is 'clean'.
If the minister truly wants to flaunt his 'purity' and that he is clean , he must first pay the sum of Rs. 180.000.00 which he owes to Lanka e news, or at least he must inform us that he robbed that money to meet part of the budget deficit , in which case we can remain silent thinking that we have given charity to the 'needy'.
During the despotic era of discarded Rajapakses , when banning Lanka e news website , even Lanka X news website which was run by Mangala Samarawera was proscribed. At that time we as friends were in the same boat . Today , after becoming the media minister and joining with his president , he says without any qualms after banning the website that he accesses it via proxy
This is worse than slitting the throat of a friend , and looking at the murdered friend's corpse through the keyhole on the sly. It is time the present friends of Mangala who are with him today also turn most wary about him. They must understand when the neighbor's wall is ablaze their own is at stake.
---------------------------
by (2017-12-07 16:38:13)
We are unable to continue LeN without your kind donation.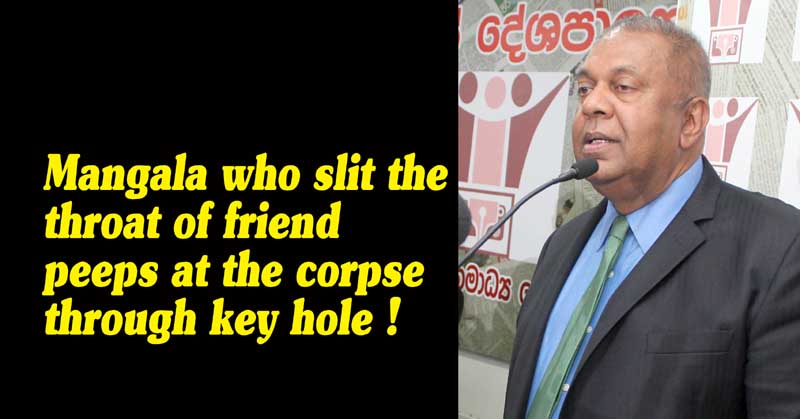 Leave a Reply