Sirisena seeks one more year based on a conspiracy with SC judge – True legal position herein (Video)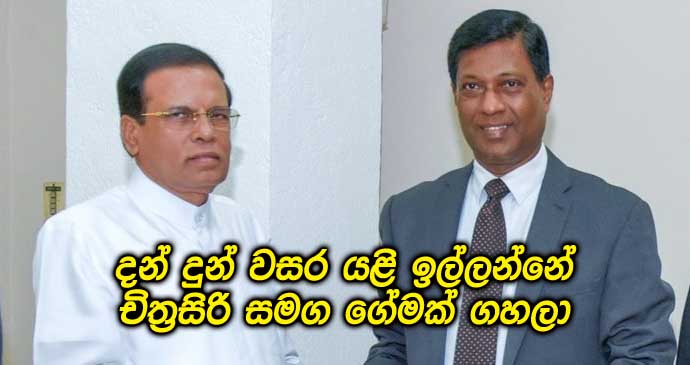 (Lanka-e-News- 11.Jan.2018, 8.25AM) President Sirisena has inquired from the Supreme Court (SC) whether he can be in power for an additional year as though he is an ignoramus and an infant with a soother in the mouth ,based on a premeditated plan , according to reports reaching Lanka e news.

This is preplanned because there is nothing so confusing in the 19 th amendment to prompt president Sirisena to make such infantile clarifications . The following views were expressed by legal luminaries in response to queries raised by Lanka e news …
President Sirisena is making this inquiry from the SC after reducing the term of president to 5 years via the 19 th amendment, citing the grounds that he took his oath as president under the old constitution and therefore he is entitled to a six year term.
Nineteenth Amendment to the Constitution however states as follows…
3. Article 30 of the Constitution is hereby repealed and the following Article substituted therefor:-
30. (1) There shall be a President of the Republic of Sri Lanka, who is the Head of the State, the Head of the Executive and of the Government and the Commander-in-Chief of the Armed Forces.
(2) The President of the Republic shall be elected by the People and shall hold office for a term of five years.
Section 49 of 19th Amendment:
49. (1) For the avoidance of doubt it is hereby declared that,–
(a) the Seventh Parliament in existence on the day preceding the date on which this Act comes into operation, shall, unless dissolved earlier, continue to function until April 21, 2016 and shall thereafter stand dissolved;
(b) the persons holding office respectively, as the President and Prime Minister on the day preceding April 22, 2015 shall continue to hold such office after such date, subject to the provisions of the Constitution as amended by this Act; and
(c) every person holding office on the day preceding ……..
This clause is crystal clear . Any law has force only from the day it is passed. In instances which are otherwise , those should be specially mentioned. Accordingly , this has been clearly explained sans any issue at all under section 49 of the constitutional amendment that this law governs the past.
Hence , Maithripala Sirisena holding the office of president is bound by the directives of the 19 th amendment , meaning that his term undoubtedly ends in 5 years, infantile pretenses of his notwithstanding.
This is a fact president is not unaware. It is well to recall president Maithripala on 2015-01-26 before state employees at Thopawewa Vidyalaya said, he attempted to reduce the presidential term to 4 years , but the constitution draftsmen told him the presidential term should last 5 years. The president on that occasion spoke with Peacock pride that his executive presidency term is reduced by one year , and that is in keeping with his policy (the relevant video footage is hereunder)
Then what is this sudden turnaround in Sirisena's much boasted policy ? Why is he seeking to add another year to his term which he trimmed . Obviously it is because president Sirisena has got the taste of corrupt power ,and he is drooling over it.
Lanka e news reported earlier on how his son in law who is a confirmed loafer is wearing a wrist watch worth Rs. 8.8 million and a waist belt worth Rs. 6 million ; and son in law and son are wearing shoes worth Rs. 300,000/- each. Besides , already Sirisena family is owning a number of valuable properties in Colombo. (We shall reveal details in a subsequent report). After amassing such monumental wealth and wielding corrupt power , can president Sirisena be expected to do better than seek an extension of his term by foul means ?
President Sirisena whose appetite has grown on what he gobbled greedily and ravenously cannot be controlled . He is therefore seeking to add another year to his presidential life so that he and his family can wreak havoc on country's economy and complete their own deadly mission to the detriment of the country.
Sirisena is now greedy about the years gone by of his term . Owing to this Lanka e news is in receipt of information that he is seeking a SC conspiracy to extend his term , and the one who had given him the wrong silly idea is SC judge K.T. Chithrasiri . the latest henchman of Sillysena. 'Request SC opinion , and we shall look after the rest ' was the advice of Chithrasiri .
The Bar Association (BASL) is scheduled to hold a meeting at the SC complex to brainstorm their ideas on this issue tomorrow. However , as BASL has by now become a tangled mass of excreta , whose sordid biddings it will serve cannot be predicted.
In the circumstances , law abiding citizens and lawyers for justice are of the view , it is only in the chief justice any faith can be reposed.
Hereunder is the video footage of president's twisted tongue without ball bearings
---------------------------
by (2018-01-11 03:15:19)
We are unable to continue LeN without your kind donation.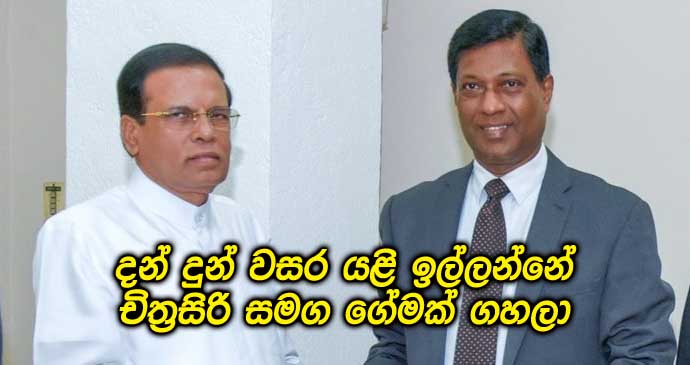 Leave a Reply