'No agreement reached between P.M. and myself' mendacious president's press release says…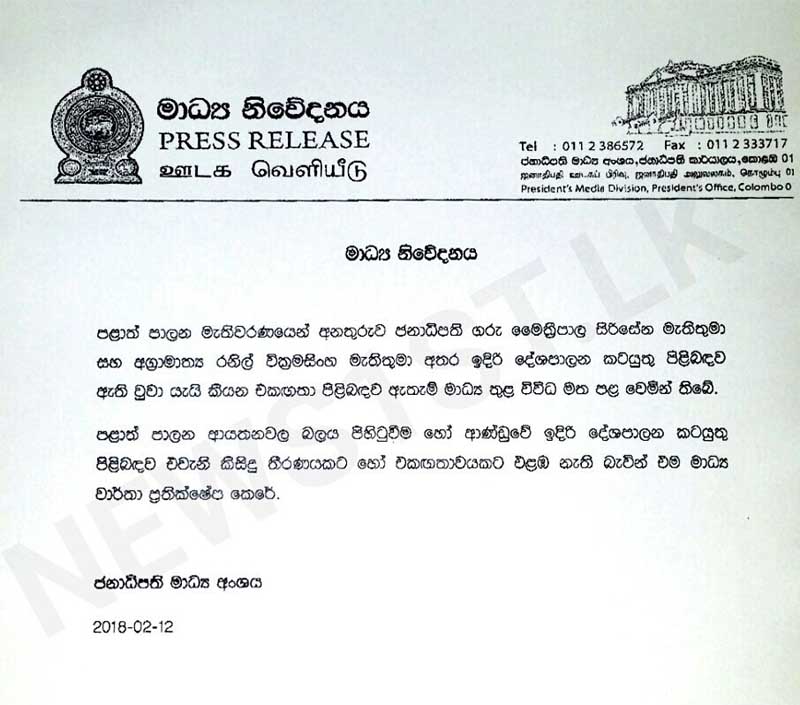 (Lanka-e-News - 12.Feb.2018 6.00PM) There had been no final decision reached during the discussion between president Maithripala Sirisena and Prime Minister Ranil Wickremesinghe regarding the local government bodies to be appointed or on the political course of the government in the future, a presidential media communique released this evening ( 12) revealed.
The text of the communique is as follows :
Media communique`
In the wake of the local government elections results , various media are expressing views regarding the discussion between His Excellency the president Maithripala Sirisena and the Hon. Prime Minister Ranil Wickremesinghe , and the agreement reached between them as regards the future political affairs. However, as no final decision had been reached pertaining to the the local Councils to be appointed or the government's future political affairs those media reports are hereby repudiated.
Presidential media division.
2018-Feb. -12
Lanka e news in connection with the discussion between the president and the P.M. reported under the caption 'No change in people's mandate of 2015-01-08 ;Ranil -Maithri together to establish local councils –Govt. will go on until 2020 !
-president and P.M. discuss and decide finally !'
However , the presidential media later denied this report thereby making a vain effort to portray, the affairs of president are honorable but the affairs of the P.M.'s post are dishonorable .
It is a well and widely known fact that the president as of late had made mendacity and doing U turns in his stances and speeches his favorite hobby and habit. What he says today is not what he says tomorrow going by his absurd utterances and pretenses which in fact earned him the pet name 'Sillysena'. To many politicians tomorrow never comes after making promises but to the president not only tomorrow never comes , but even his promises for tomorrow are never delivered.
---------------------------
by (2018-02-13 22:14:37)
We are unable to continue LeN without your kind donation.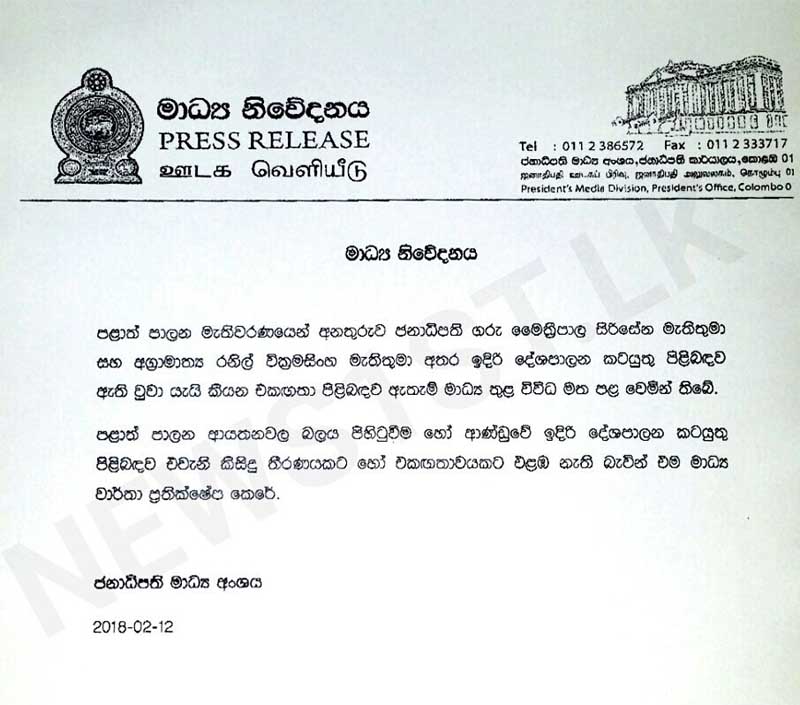 Leave a Reply