Sirisena who roared like a lion 'with the 96 members can form separate govt.' reborn as pavement dog !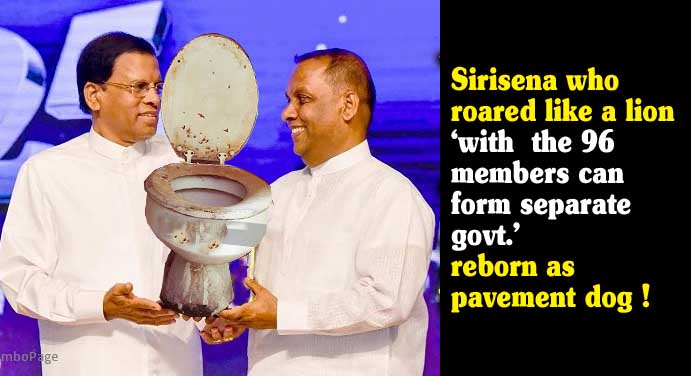 (Lanka-e-News - 22.Feb.2018, 11.30PM) UPFA general secretary Mahinda Amaraweera who claimed that they have resigned from the consensual government on 18 th night , and who sought to form a separate government together with the rogues of the Blue Brigand only finally bit the dust most humiliatingly . Now in his characteristic uncouth policy-less faceless style said in Parliament today , the UPFA has not left the consensual government ,in another attempt to curry favor with it again after realizing the odds are heavily against his group of unscrupulous villains.
This unscrupulous somersaulting shameless political scoundrel gave this reply when Anura Dissanayake questioned , whether the consensual government is still there ?

'We have not withdrawn from the agreement of the consensual government between the UPFA and SLFP that was passed in parliament . We are still in that ,' said Amaraweera thereby making all those present to roll with laughter at his expense over his self degrading utterances.
Anura Dissanayake pointed out , the agreement passed on 2015 -09-03 on the basis that the consensual government will last only for two years , has now continued for 2 years four months after the term had terminated .Hence , if the cabinet that has expanded and the consensual government are to continue , that resolution should be renewed.
The P.M. in his reply said , the number of members of the cabinet was increased in accordance with article 46(4) of the constitution , and as nobody of the consensual government had left it , that article still applies.
No matter what , at the end of the day , it is a pity it is president Maithripala Sirisena the leader of the UPFA and the SLFP who lost his entire prestige and repute so much so to fall to the level of a two penny half penny president . The rare specimen of a president Sirisena who had by now proved he is not only faceless , policy -less and rudderless ,changed his hypocritical colors even faster than a chameleon . What he says in the night is not what he says in the morning . Giving full freedom and flexibility to his pliant double tongue , before the recent elections he exclaimed wearing a Lion's mask , 'if the 96 UPFA members are aligned with him , a SLFP government will be formed.' He even said with Peacock pride ' instead of walking in front of a pack of dogs it is better to trail behind a troop of Lions'
After the recent elections when Sirisena who is an epitome of ingratitude tried to send out Ranil who was mainly responsible to put Sirisena on the pedestal of president, the 96 UPFA members stood alongside Sirisena .
The Alliance group which was with Rajapakse said , if Sirisena is forming a separate government , they would support Sirisena alias Sillysena unconditionally without accepting ministerial portfolios. Lo and behold ! Sirisena who roared like a lion but spoke unlike a lion with a double tongue then to boast he would form a separate government and show, is today in a state worse than a dog that sleeps on the pavement . Pariah dogs barking at thoroughbreds is not uncommon, and Sirisena did exactly that before he met his Waterloo.

His own secretary Amaraweera retracting his own words , now stammers to shamelessly say , ' we did not leave the consensual government'. Is Amaraweera wearing anything to cover his bottom half is a matter for conjecture.
---------------------------
by (2018-02-22 19:39:42)
We are unable to continue LeN without your kind donation.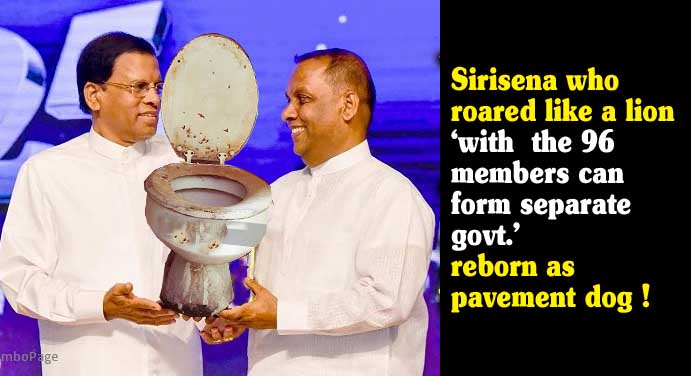 Leave a Reply