U.R –you are eating feces or food ? BASL president says one thing in Parliament, another in court..!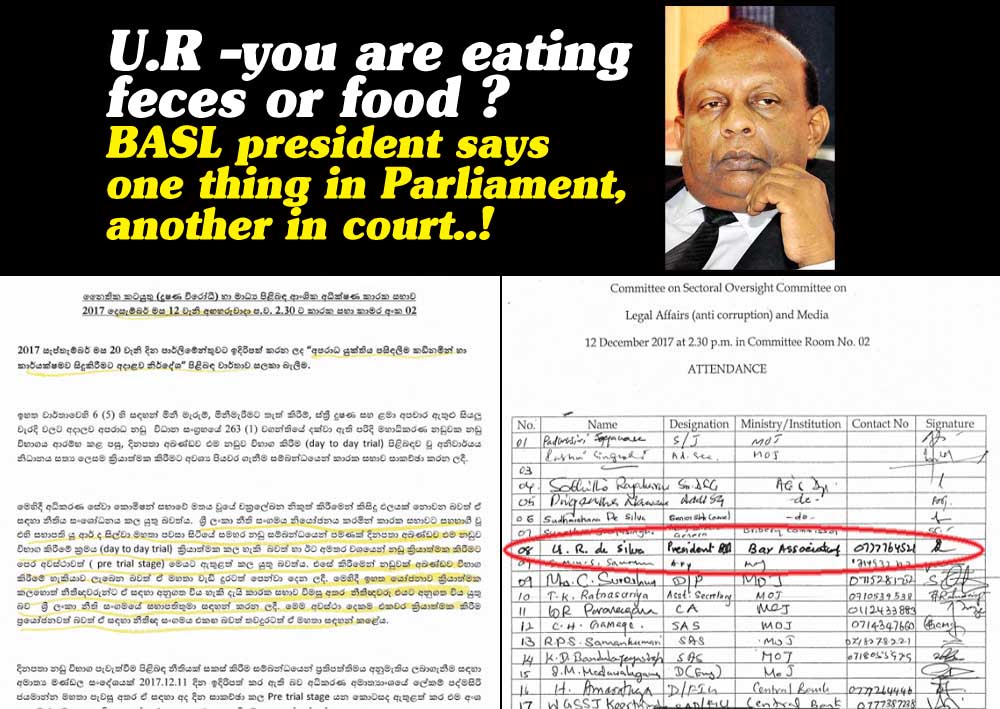 (Lanka-e-News - 22.March.2018, 11.30PM) A recognized professional organization is one which is not expected to deceive or dupe the country when making its pronouncements specially on grave issues concerning the nation. Yet the bulk of shameless unscrupulous officers of the Bar Association (BASL), a professional organization have practiced that very deception on the people by making one pronouncement earlier and another diametrically opposite later on a most grave legal issue thereby insulting that very sublime body to the detriment of the entire country and its future . The shameless officers of the professional association who are a disgrace to their profession itself revealed one thing in parliament in December last year , and are saying another thing now in courts. There is cogent evidence bearing testimony to this outrageous perjury .
It is an indisputable fact that to a country what is most paramount is hearing and concluding legal cases expeditiously without delays, though black coated sharks may relish the idea of postponement of cases .
The sectoral monitoring select committee relating to legal affairs (anti corruption) and media represented by all parties , met at 2.30 p.m. on 12 th December 2017 (Tuesday) at Parliament select committee room 2. On that occasion the committee explored methods to make recommendations in order to expedite court hearings and conclusion of cases in Sri Lanka - that is ,recommendations t o swiftly mete out justice in criminal cases.
To this , the president of the BASL ,U.R. De Silva who attended this discussion as a representative of the Association said , a day to day trial can be conducted without interruption pertaining to some cases only. However in addition to that a pre trial stage should be incorporated , in which event hearing trials continuously will be rendered possible.
When the Committee inquired from Silva if that proposal is implemented whether the lawyers will get accustomed to that , he answered in the affirmative , while adding it will be useful if both those are implemented at the same time and the BASL is in concurrence in that regard.
These views are clearly incorporated in writing in the report of the select committee relating to the conclusions reached on that day. (Copy thereof is with Lanka e news)

Nevertheless ,shockingly and most shamelessly ,the BASL which was of that view then in parliament , has now filed a petition in the supreme court when that draft bill is being presented, alleging that bill is illegal.

By this conduct hasn't the BASL dragged this lofty Association down to the level of Mariyakade Josie akka's seetu association run by her U gly R owdy sons who know only what is low and below of Josie akka , and not law ?
The photograph below depicts the Parliamentary committee report with the section referred to in the afore noted paragraph confirmed by U .R . De Silva who has also signed the attendance signature.
---------------------------
by (2018-03-22 19:23:46)
We are unable to continue LeN without your kind donation.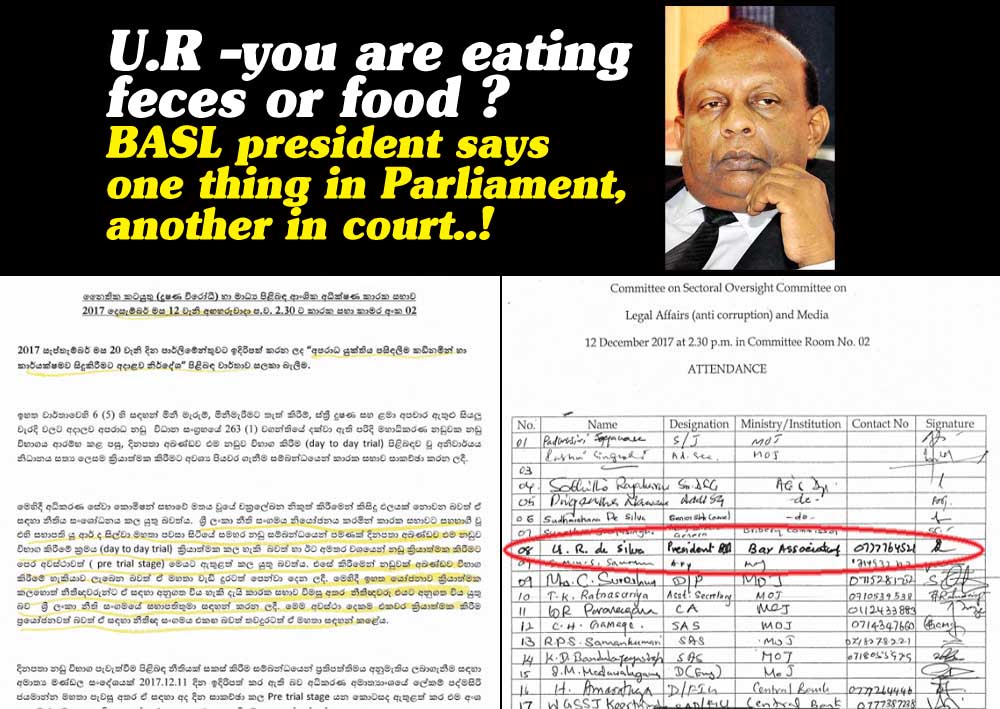 Leave a Reply