UNP to leap forward : Make Kiriella president and Akila Viraj secretary of party ;get Rajitha and Fonseka to the vanguard !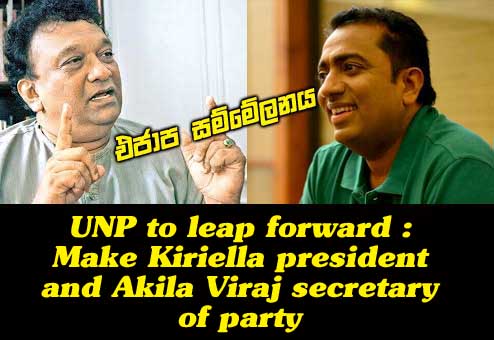 (Lanka-e-News - 28.March.2018, 11.30PM) If the UNP is to take a leap forward , at the upcoming convention , the present president and the secretary of the party shall be replaced with capable talented individuals , and the leadership council which reaped fruitful results shall be given back the reins , a large number of UNP activists have urged.
A number of UNP activists speaking to Lanka e news said , Party president Malik Samaraweera is only concerned with his deals and is not doing anything towards party's benefits .Hence he should be removed . A number of names have been proposed for that post and among them Lakshman Kiriella is leading.
The gravest accusation mounted against UNP Gen. Secretary Kabir Hashim is that he never answers any calls , and he is an arrogant buffoon.
All those who phoned Lanka e news were of the view Akila Viraj Kariyawasam is best suited for the secretary post. Akila already holds the post of deputy secretary . Akila responding to the query whether he is ready to accept the general secretary post , said , he is ready to accept the position.
When young Akila was taking over the responsibilities of education minister many expressed doubts about his abilities , yet he discharged those responsibilities including those of Cultural ministry duly and efficiently after he took over . It can be presumed by entrusting him with the post of secretary the party is going to gain , not lose.
Though he is young it is now 15 years since he entered parliament . The opinion of UNP activists is he has more experience than is needed to hold the Gen. secretary post.
The leadership council proposals are vital at this juncture to propel the UNP forward. Earlier on , after a leadership council comprised of 6 members were appointed , and at the subsequent Uva province election , Harin Fernando was fielded. His victory laid the necessary foundation for the 2015 success of the UNP. This is practical proof that the leadership council has contributed to the party's victories. Hence it is the view of many , a leadership council shall be appointed again.
Some opine this time a leadership council constituted of 9 members which includes seniors and young leaders shall be appointed. However it is our view , the names and details proposed by the party members are not appropriate for publication right now.
It is also the view of the majority who spoke to Lanka e news , no communal sidekicks and stooges of Maharaja should be given any post . It is individuals like Rajitha Senaratne and Field Marshal Sarath Fonseka who should be given leadership roles , they pinpointed.
The same group also insisted remedial measures shall be taken as regards Ravi Katunanayake who worked with commitment for the UNP but became victim of Maithripala's venom and vengeances , and who also suffered injustice within the party .

The crucial UNP annual convention this year is scheduled for 29 th of this month.
---------------------------
by (2018-03-28 21:04:54)
We are unable to continue LeN without your kind donation.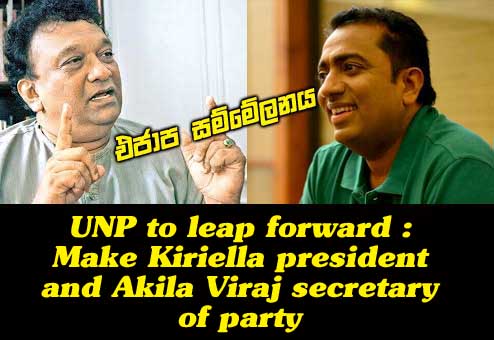 Leave a Reply