No confidence motion : TNA to support P.M.; 15 senior SLFP members too for P.M; Sirisena's conspiracy recoils- SLFP splits further !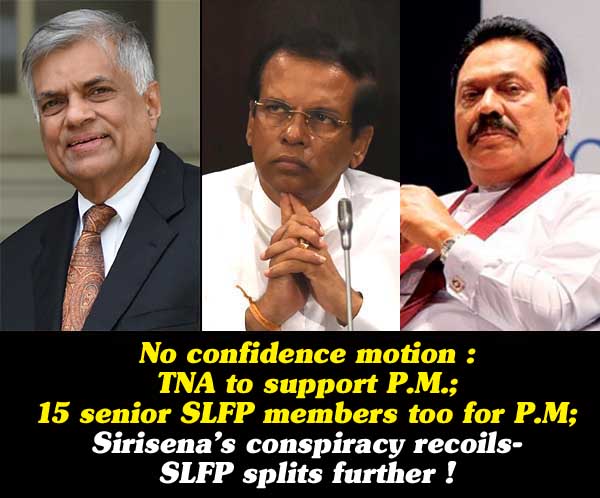 (Lanka-e-News - 28.March.2018, 11.30PM) Following the desperate and diabolic attempts of president Maithripala Sirisena via conspiracies to bring a no confidence motion against prime minister Ranil Wickremesinghe , the very political leader who put Sirisena on the pedestal of president , the latter is facing a graver crisis himself- his own SLFP group is now threatened with a split again based on reports reaching Lanka e news.

This is mainly because 15 members of Maithri's SLFP group deciding to vote in support of the P.M. 15 senior members including the party general secretary Duminda Dissanayake who have informed the UNP they will be definitely voting against the no confidence motion.
Meanwhile bankrupt self seeking politicos like S.B. Dissanayake and Thilanga who were chased out by the masses but entered parliament through the back door again and are Sirisena's faceless henchmen have said , they will vote against the P.M.
At a press briefing on the 27 th ,S.B. said , he cannot refrain from voting in favor of the no confidence motion brought forward by the Alliance.
Though the working committee of SLFP Maithri group was to meet last Sunday to decide on the stance to be taken in regard to the no confidence motion , they have still not held the meeting because the Maithri group is definitely going to split .
It is a well and widely known fact ,hopper gobbling Maithripala Sirisena alias Sillysena who proved to the world , a serpent that gobbles hoppers is more dangerous than a serpent gobbling eggs , and was responsible to split up the SLFP party , is now precariously perched on a 4 % popularity . Being a Sillysena and political opportunist who does not know how to reform himself , sadly is once again engaged in silly and stupid ' sordid games' to split that 4 % too into half after splitting the SLFP .
History has always proved such a hypocrite hasn't a future not only in politics but even in life. Inescapable retributive justice is only drawing him closer to his irretrievable disaster.

Meanwhile Sumenthiran M.P. of the TNA making a public announcement revealed , the TNA will take steps to ensure that the government led by P.M. successfully completes its efforts to find a political solution for the national issue of the Tamil people through a new constitution , and help it reach its goal which is half finished. In other words he said , the 16 members of the TNA will be casting the votes in favor of P.M. in the no confidence motion.

---------------------------
by (2018-03-28 21:08:56)
We are unable to continue LeN without your kind donation.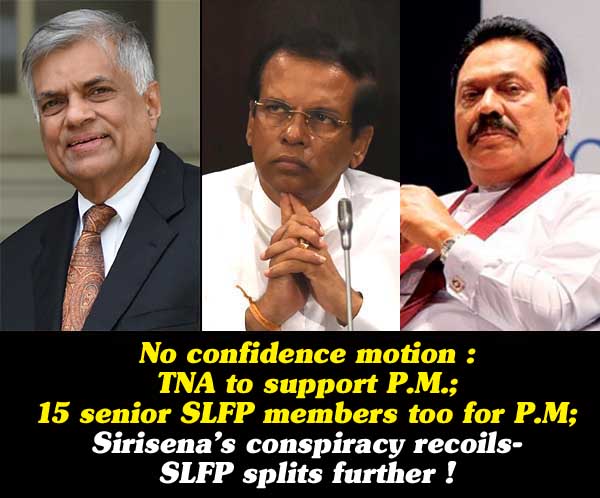 Leave a Reply