Gamarala's 'setting fire to everything' provokes ire and fire ! Good governance King of the Sangha to stage fast unto death in front of president's house; Civil Organizations too boycott president ! (Video)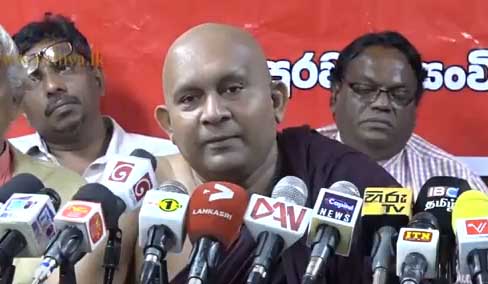 (Lanka-e-News - 08.April.2018, 8.10PM) The Maha sangha and leaders of civil organizations are enraged over the disgraceful and self degrading statement 'if I am to go I shall set fire to everything before that' made by president Gamarala in a state of his characteristic uncontrollable insanity , when refusing to root out the ministers (serpents ) who while being parasitic on government of good governance are also hostile to same .
King of the sangha most Ven. Dr. Dambara Amila Thera of good governance warned , if the president does not oust these serpents ( ministers) he would stage a fast unto death in front of the president's house . The Ven. Thera issued this dire warning when addressing a media briefing on the 6 th. The Ven. Thera went on ask what more is there for the president to set fire to after burning to the ground all the good governance promises throughout his term ? Is there anything more left for him to set on fire?
Meanwhile the 48 civil organizations which got together to make Gamarala the president are holding discussions to boycott the president if he does not dismiss these ministers (serpents) from their posts. The civil organization leaders have decided that they shall not participate in any of Gamarala's discussions ,and to boycott the functions president Gamarala is attending. As a first such move, Professor Sarath Wijesuriya who was to hand over a Rupavahini artistes' proposal to the president , had boycotted that function.
Dmbara Amila Threo's video footage as follows
---------------------------
by (2018-04-08 14:43:36)
We are unable to continue LeN without your kind donation.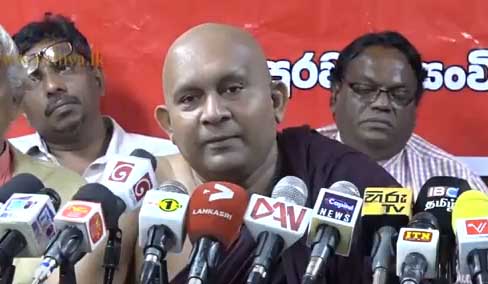 Leave a Reply