Firm stand against the serpents (ministers) to persist; UNP higher crust decides to table a single no confidence motion instead of 7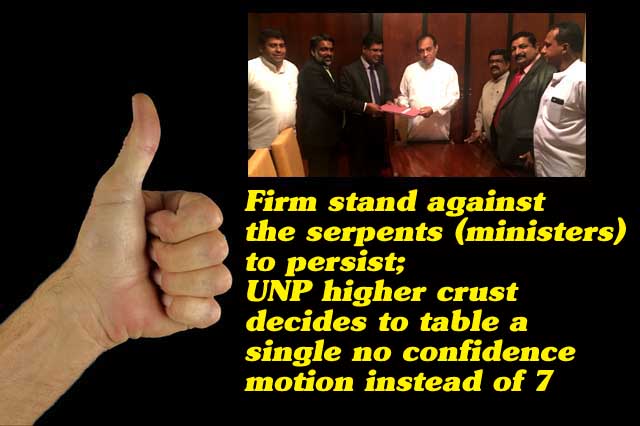 (Lanka-e-News - 08.April.2018, 8.10PM) The UNP working Committee decided at its meeting on the 7 th to hand over a single no confidence motion instead of the 7 separate no confidence motions that were handed over to the speaker on the 6 th against the six serpents (ministers) and the deputy speaker.
The Prime Minister Ranil Wickremesinghe had on the 7 th afternoon informed the back bencher MPs who propelled the no confidence motion to withdraw the 7 separate motions handed over on the 6 th , and forward only a single no confidence motion against all the 7 culprits who are indulging in the worst villainies and slimy activities against the very good governance government of which they are themselves ministers .
The deputy speaker has already handed over his letter of resignation to the president about a month ago , and if the president accepts that letter alone , then the no confidence motion will be only against the remaining six, the P. M. has pointed out. However he has not stated at that stage what action is to be taken against the other nine state ministers and deputy ministers who voted against the government .
The P.M. has informed instead of the UNP backbenchers taking a decision alone and forwarding the no confidence motion , they should jointly as the UNF's government group take a decision and act in furtherance of that.

In any event based on the situation that prevailed on the 6 th afternoon , Lanka e news posted a report on the 7 th captioned, '' UNP upper crust drools at the mouths ; after once again joining with the serpents wants no confidence motion to be withdrawn "
There isn't an iota of doubt , the majority of the legion of viewers of Lanka e news however will be most happy if a strong steadfast stand is taken against the two legged serpent ministers who are nibbling away at the very foundation of good governance.
---------------------------
by (2018-04-08 14:50:17)
We are unable to continue LeN without your kind donation.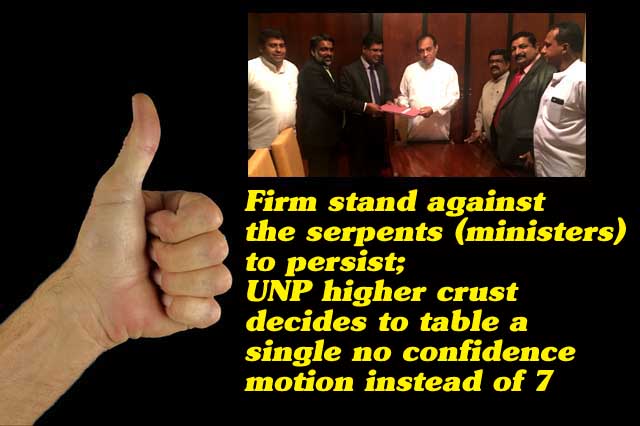 Leave a Reply