If P.M.'s erudite wife can be that simple why Commander's unqualified wife this pompous?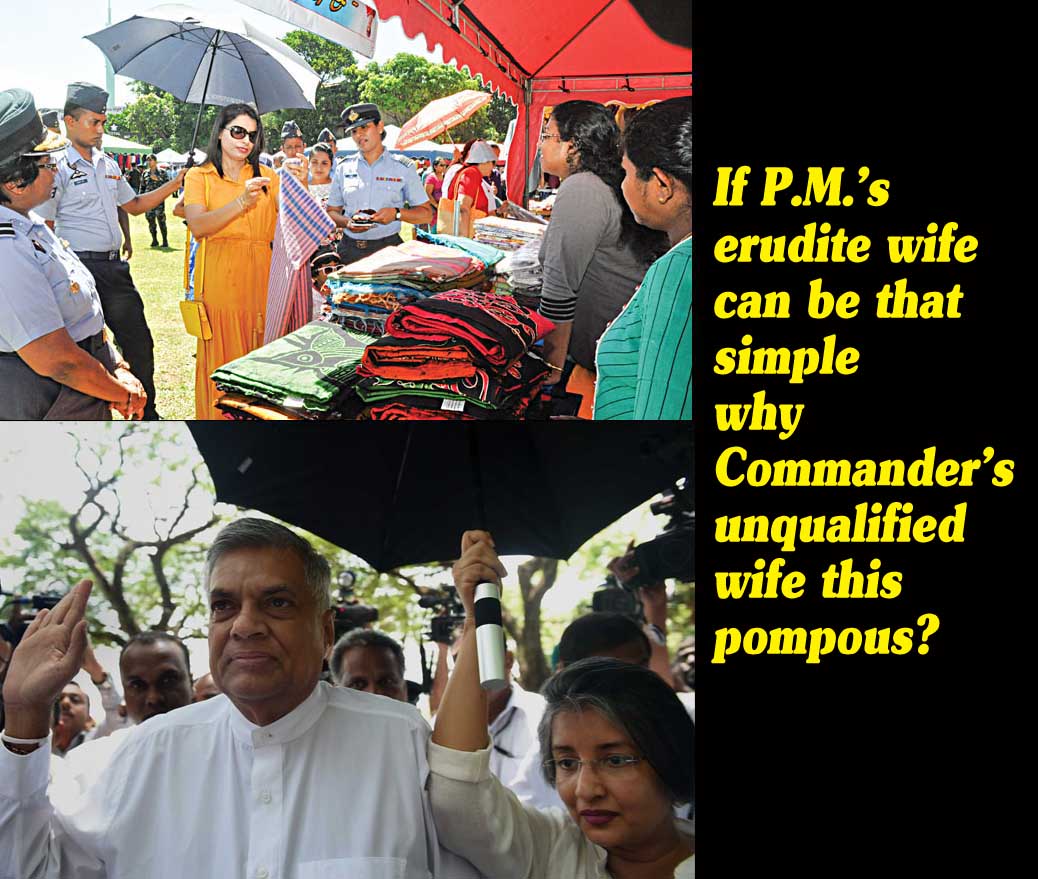 (Lanka-e-News - 13.April.2018, 10.00PM) Like in any other country in the world so in Sri Lanka , the members of the forces work for a salary . Therefore there are no special rules nor State laws governing them to confer special privileges or immunities on them. In countries where there exists a dictatorship or a military rule , the situation is obviously different.
In countries like SL where there is a viable democracy , neither do special rules and regulations nor special privileges or concessions attach to the officers of the armed forces any more than the other state officers.
It is owing to this reason ,the British during their rule appointed civil officers as secretaries to the three forces and the police , and the chiefs of the armed forces are considered as government department officers , and not as above the ministers . However in the past we noticed , political opportunists for their own selfish gains glorifying the soldiers as war heroes to use them as stooges to achieve the filthy and foul agendas of the opportunists. Owing to that the forces were given a place much more than what was really due though truly speaking these soldiers were taken down the garden path .

No country in the world identifies a soldier as a war hero (Ranaviru) . War hero is derived from the English word "Warrior'' . Even Field Marshal Paton and General McArthur who were immensely contributory to win the second world war , are described as skilled soldiers , and not as war heroes.
Even Napolean Bonaparte is a soldier and not a war hero . The reason is , a soldier is one who fought a war while abiding by all the laws , and strictly observing all the international war norms and possessed of qualities of a gentleman .He does not kill the enemies under him . He does not murder civilians , specially women and children. In the battle of the Waterloo , the ordinary civilians from the mountain top watched the war because they were aware true soldiers will not be a source of danger to them.

But to a so called 'warrior' who is cruelly obsessed with only victory has only one objective – winning at any cost . Such individuals have gone down history as brutal murderers .
In truth in SL presently there are no soldiers in the true sense. In SL what exists is a selfish group that considers itself as exclusive , and as beyond the reach of laws and above the reach of all . According to Saman Gamage of Divaina newspapers , they are immune from arrest. The people must tolerate and bear with with these murderers who ruthlessly killed journalist Prageeth Ekneliyagoda , and broke the limbs of journalist Keith Noyahr. Unbelievably , they cannot be thrown into jail for their murders ,while their mentality is most frighteningly cowardly and monstrous.
Though they are servants collecting a salary out of public funds they behave as if they are working on no payment basis while abusing state assets .Our members of the forces are government servants working for a salary A genuine government officer will not use the official vehicle to take his child to school , yet only a small group follows that rule. They are committing wrongs despite the fact the vehicle is not one belonging to their family.
If one wishes to know how many vehicles of the officers of the forces take their children to school , one has only to wait at the gate of a Colombo school during starting time or school closing time to confirm that. Besides, the wives of the officers of the forces go on their jolly rides and shopping in the official vehicles. What 's more ! those are driven by the soldiers who are paid salaries out of public funds. That is ,the public are being forced to pay for their sins and crimes.
We challenge the chiefs of the forces to prove whether there exists a law which permits their spouses to use the official vehicle or a soldier in uniform to drive it for her.
In addition , no permission has been granted to a State officer to use a soldier whose salary is paid by the State to attend to the door and window repairs of his house , clean their gardens , wash the dirty lungies and 'jungies' (knickers) of their wives, hold umbrellas for them, and bathe the dogs and bitches in their homes.
In other words these soldiers are being treated like slaves ,while the state pays their salaries. Can you beat that ! Recently when the wife of Air Force Commander went to an Avurudhu pola to purchase goods , it is a soldier of the Air Force in his official uniform (photograph depicts) who held the umbrella for her . Mind you for all these degrading tasks of the soldier discrediting the dignity of the forces ,it is the government which pays his salary ! What a shame ! Isn't this most detestable and deserves the worst condemnation ? Just because he is a chief of the forces , a soldier under him cannot be transformed into a slave , least of all to serve his wife. Isn't the one who exploits his subordinates and the lessor off this disgracefully is himself worse than a slave so to speak , no matter what his rank is ?

It will be well worth recounting an incident some years ago involving the Queen Elizabeth . When the Queen was inspecting a guard of honor , it began to rain , yet none came forward to hold an umbrella. The Queen neither took offense nor called for someone to protect her from the rain . This is considered as chivalry because sycophancy is frowned upon in those countries. Neither did the Queen encourage that sycophancy.
On the contrary , in SL a non entity who is just a wife of the Commander who has no official designation is brazenly and blatantly treating a soldier as a slave .While the government is paying salaries to perform respectable duties of a soldier, he on the other hand is being taken along by the Commander's wife to roam the streets ,and treated most disrespectfully to hold an umbrella for her when she is shopping. Of course that is understandable if her arms had been amputated or is a cripple , and unable to hold an umbrella.
In profound contrast to the avurudhu pola scenario involving the uneducated bumptious wife of the Air Force commander , the wife of the prime minister (P.M.) despite the latter being the second citizen of the country never gets anybody to hold umbrellas. In the photograph herein is P.M. with his wife . It is the latter who is holding the umbrella for him without any fuss . Couldn't they too have made an employee under them a slave ?
Unless and until this country rids itself of the false pride , pretenses and undue pomp and fuss at state expense , the country's future is going to be bleak. The P.M.'s erudite wife attends to her tasks herself and has no security detail whereas the uneducated wife from the backwoods, of the officer of the Air Force has a security contingent to trail behind her wherever she goes. Whither SL?
It is very unfortunate there is nobody to resist such worthless useless women in SL who have not even passed the GCE adv. Level and who are parasites , yet riding the high horse . Because it is difficult for them to rid themselves of their male fervor and 'high flying fever' , such wives perhaps have to necessarily move around with a security detail .
For Saman Gamage who is unhinged over the 'freak war hero' these are not noticeable. Keerthi Warnakulasuriya too gets his protruding bleeding piles ,only when an officer of the forces is summoned over his criminality to courts which is meant to dispense justice alike to everyone irrespective of rank and status .
If a minister of the government can be sent to jail, what is precluding these khaki coat scoundrels from being put behind bars ? Why don't the so called media Institutions and their media coolies spotlight this ?
To them the wronging forces even if they deserve a place next to feces for their crimes, they are higher than Lord Buddha and therefore they cannot be criticized. This is simply based on their warped slave mentality .
By a special correspondent
---------------------------
by (2018-04-13 19:50:03)
We are unable to continue LeN without your kind donation.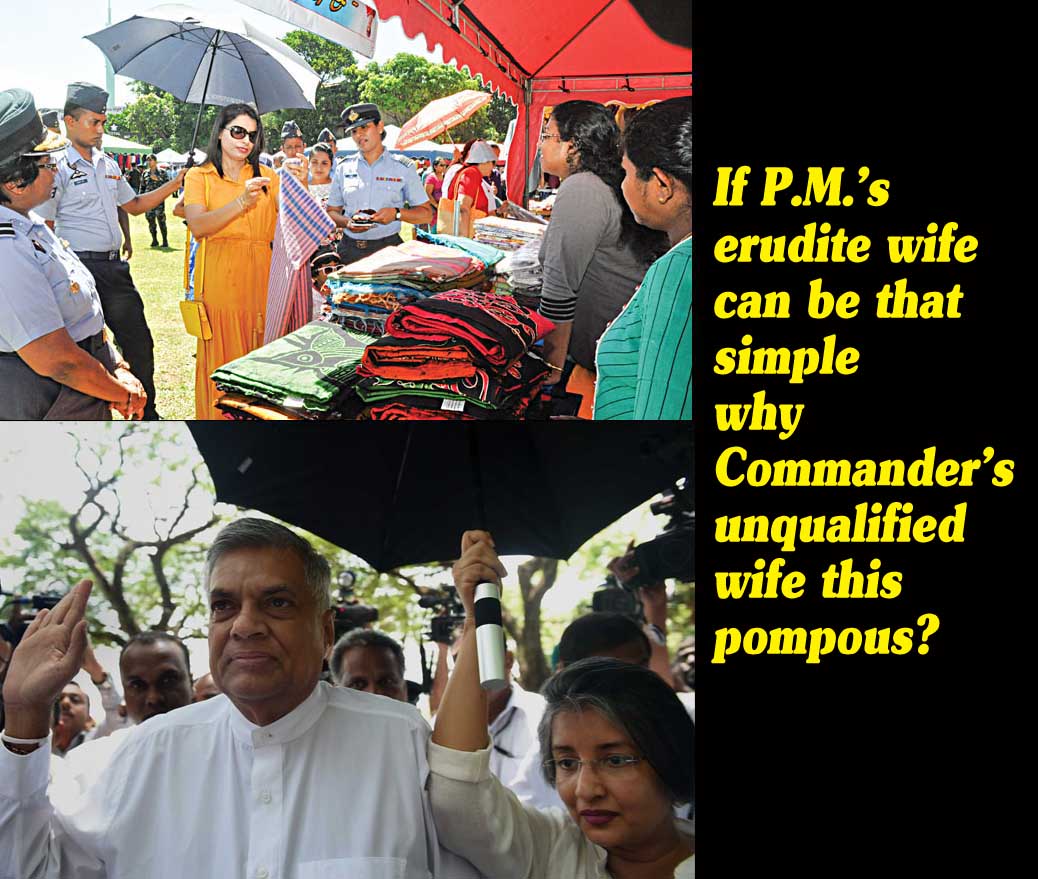 Leave a Reply